Savory Parfait with Crispy Chickpeas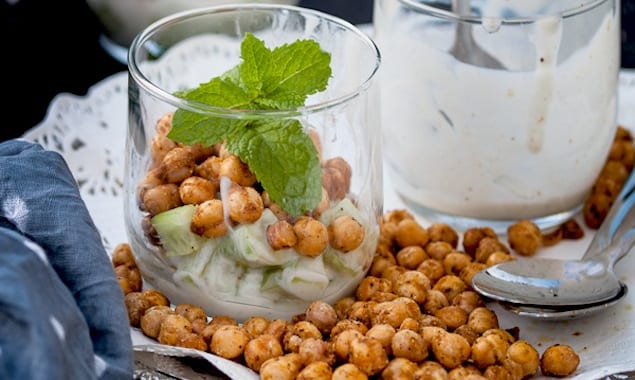 With cold yogurt and cool cucumbers, this is a great afternoon snack that still has some crunch. Chili powder, cumin, coriander, and mint add exciting flavor to a savory parfait.
By Lail Hossain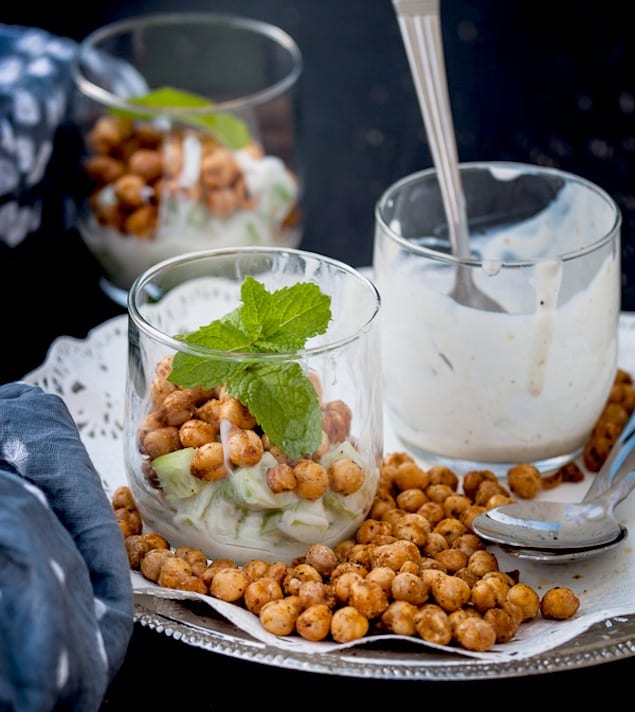 It's hot enough here in Texas without cooking behind a stove and the barometer will only go higher from now until the end of August. With cold yogurt and cool cucumbers, this is a great afternoon snack that still has some crunch.

Savory Parfait with Crispy Chickpeas
With cool yogurt and cucumbers, this is a snack that still has crunch. Chili powder, cumin, coriander, and mint add exciting flavor to a savory parfait.
Ingredients
1 cucumber, cut into small cubes
¾ cup yogurt
½ tablespoon sugar
2 tablespoon lemon juice (optional)
¼ teaspoon black salt
⅓ teaspoon roasted red chili powder
¼ teaspoon roasted cumin powder
¼ teaspoon roasted coriander powder
1 cup Crunchy Chickpeas
Sprig of mint, chopped
Instructions
Mix the yogurt, sugar, lemon juice and spices together. Add the chopped mint.
Check spice and seasoning and adjust per taste. If too spicy, add more yogurt.
Place the cucumber cubes in two serving bowls.
Spoon in yogurt over cucumber. Sprinkle generous amount of crunchy chickpeas on top before serving.
Notes
Try a variation with cilantro and the Bombay crunchy chickpeas.
Try adding other steamed vegetables and legumes to the parfait.
Buy the crunchy chickpeas at the store in the snack aisle or make your own by roasting them at 400 degrees until crisp.
Lail Hossain
Lail Hossain finds cooking to be an explosion of creativity. She is enthusiastic about modifying a laborious step of an old recipe, and experimenting with different ethnic recipes by adding her own spin to it yet keeping the recipes simple, healthy, and delicious. Originally from Bangladesh, Lail shares her journey of food, creativity and family in her blog "With A Spin". She is also very passionate about highlighting Bangladeshi cooking to the international culinary space.