Savory Bacon and Potato Pancakes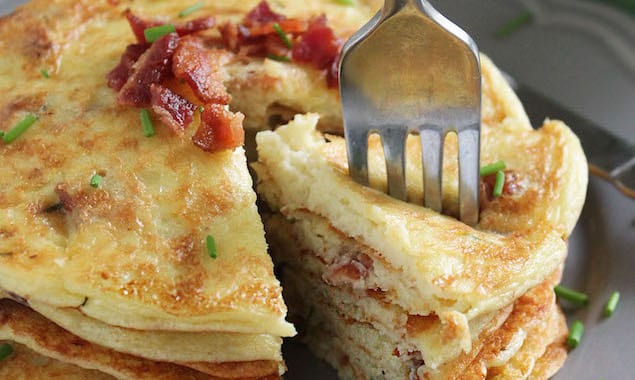 Made with potatoes instead of flour, these savory pancakes with bacon and chives are great for breakfast or as an appetizer. Plus, they are naturally gluten free.
By Shashi Charles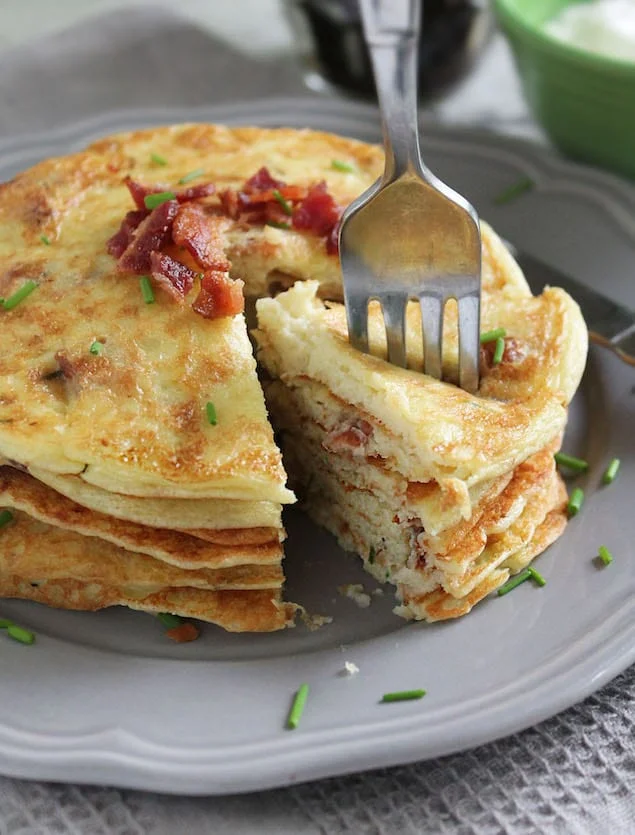 Most of the time, I just use bacon as a topping – I sprinkle a little on Breakfast Potato Skins or on Breakfast Beet Pizza. But you see, these pancakes have bacon IN them – but, there is just a tad bit of it.
These pancakes are a marriage of potatoes and bacon and eggs. These pancakes have no added flour in them – in any form. Just mashed up potatoes, coconut milk, eggs, chives, bacon and a pinch of salt.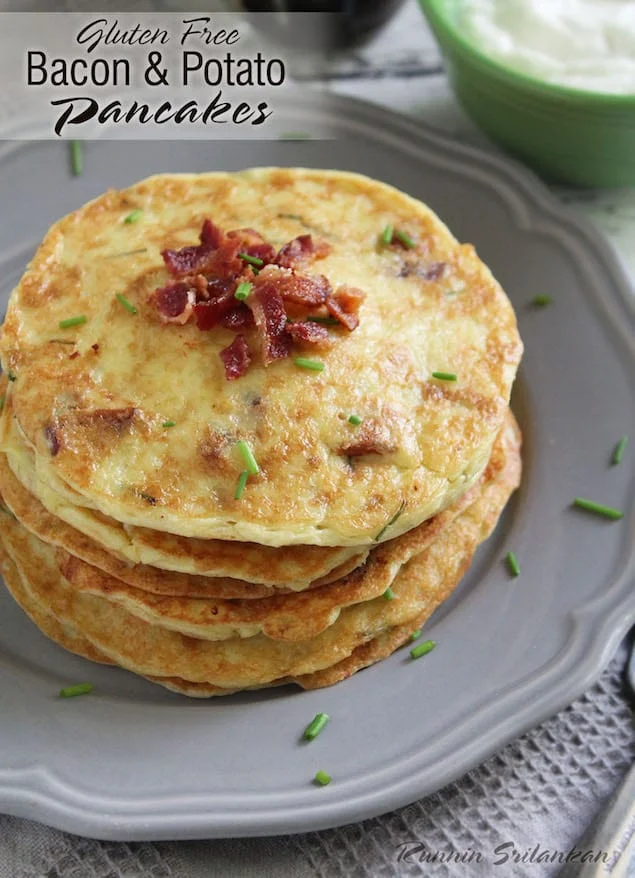 Savory Bacon and Potato Pancakes
Made with potatoes instead of flour, savory pancakes with bacon and chives are great for breakfast or as an appetizer. Plus, they are naturally gluten free.
Recipe Type:
Breakfast, Side
Ingredients
6 small yellow potatoes (cooked -boiled/microwaved- and peeled)
1½ cup full fat coconut milk
2 eggs
2 teaspoons chives chopped
4 pieces cooked bacon + 2 pieces cooked bacon for crumbling
¾ teaspoon salt
Instructions
Using a food processor or a ton of elbow grease, mix the potatoes and coconut milk togther
Add in the 2 eggs and mix till eggs are well incorporated
Add in the chives and bacon and salt and mi
Meanwhile, grease a pan and let it warm up on the stove with the temperature set a little below the medium heat mark
Ladle 2-3 spoonfuls of potato/egg/bacon mix onto hot pan nd let cook for 5-6 minutes
Flip and let cook 4-5 minutes
* Now all stoves are different, so just make sure your flame isn't high enough to burn these and not low enough to not cook these.
Shashi Charles
I am a healthy food lover - and tricking my loved ones into eating their veggies disguised as treats is my specialty! I am also a graphic designer by day and blogger by night and a mom 24/7!