Laura Bednarski combines orange chili chutney with seafood in a perfect celebration of summer.
By Laura Bednarski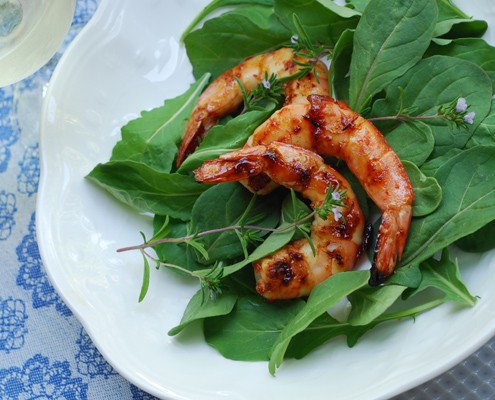 What inspires me? Well you need to be open to inspiration. Sometimes it is a plate or fabric, sometimes a food, in this case an herb. I was leaving work, I work as a commercial food stylist, and stopped at whole foods for some salmon. I left work with a bunch of produce and some odds and ends from the job. One of the items was an orange chili chutney. Immediately I thought of salmon on the grill. The sweetness of the chutney would give a nice charring to the salmon. On my way into the store I spotted a summer savory plant with purple flowers. Eureka.
The delicacy of the leaves would be perfect with the seafood that I had in mind. Upon my journey to the fish counter I spotted some shrimp. I had a long talk with the fish monger regarding the best salmon and shrimp. I had worked with shrimp during the day on a photo shoot and it stunk so bad I was quesy. It was also a mushy texture from being frozen and thawed, etc. For photo the taste matters not, it is all about the look so it did not bother me too much. For the home suburban kitchen I need non-stinking fresh shrimp for MY loved ones.
I do love shrimp but I admit it is not easy to find being of high quality here in the midwest. If we lived on a coast it would be an easier task. So I bought some salmon and shrimp and proceeded on my way to gather some more high quality items from the market. A nice chardonnay to go with my seafood? Splendid. Oh I love when things come together and a perfect meal is in the works.
I prepared a salmon on the grill as well as these beautiful shrimp. They were brushed with a chili orange glaze and then grilled over charcoal. Served over a bed or baby arugula and sprinkled with flowering summer savory.
See Also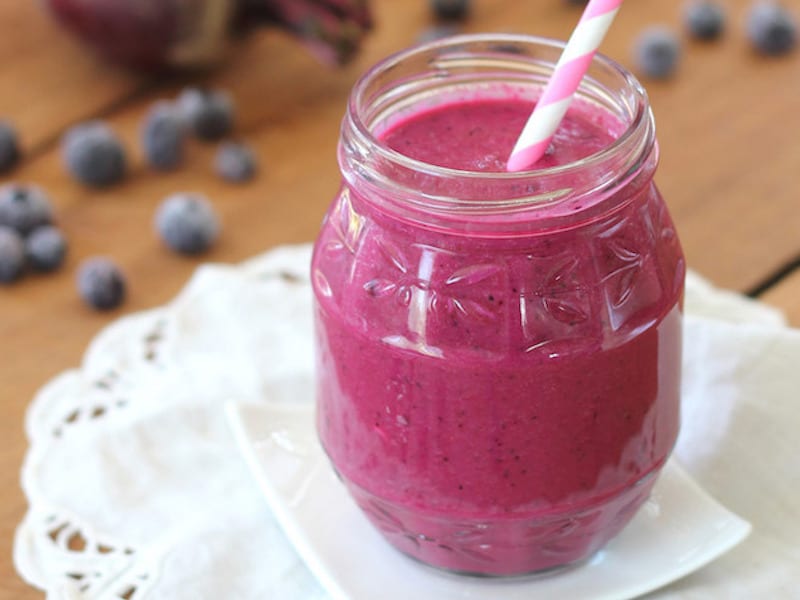 The summer savory was actually my inspiration for this one. When I saw the flowers and delicate leaves I thought light delicate and seafood came to mind. The shrimp were a perfect summer main course and the savory a perfect muse.
A glass of California Chardonnay was another light component to this perfect amuse bouche.
Summer savory is actually an herb that is not that popular in American gardens. But it is well known in European cooking. It is one of the herbs in the famous "herbes de provence" in French cooking.
In German cooking, the herb is called "Bohnenkraut," which translates as 'bean herb,' an appropriate name since German recipes often use it with beans. The romans also use savory. The Roman palate was fond of strong flavors, including spicy, sweet, and salty, and savory's strong flavor made it popular. Roman recipes that use summer savory include mussels steamed in a broth flavored with leeks, cumin, a sweet grape syrup and wine, and chicken baked with wine, leeks, dill, coriander, pepper and savory. It was also used to flavor vinegar for cooking.
The peppery delicate leaf of the summer savory was a perfect match for the baby arugula and sweet orange chili shrimp. Try it in salads of all types this summer I think you will be pleasantly surprised by it's kick of flavor. Take the delicate leaves from the stem before placing in salads. Enjoy.
Laura Bednarski
Laura Bednarski is a regular contributor to Honest Cooking. Laura has always had a love and passion for both food and photography. She pursued a degree from Purdue University in Food Science and then went on to work as a commercial food stylist in Chicago for many years. While raising her two children and cooking at home for a family she picked up her camera and found some great light and created a food blog "a suburban kitchen". In her suburban kitchen she creates seasonal food for her family and takes photographs. Her love of photography has been rekindled and her Nikon gets a workout on a daily basis as she searches for the perfect light to photograph all that she cooks/bakes.