Savoring Seoul: Unwind at Hongdae's No Stress Kitchen
No Stress Kitchen is tucked away in a back alley near the popular Bauhaus dog cafe in Seoul, Korea.
By Meagan Mastriani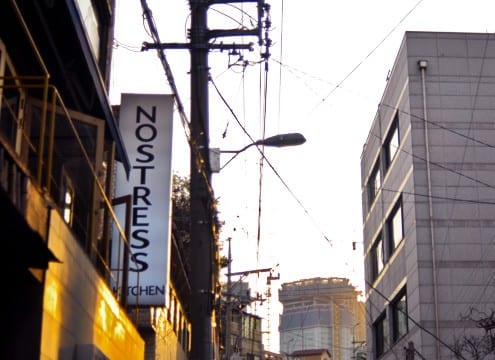 Moving is stressful, no doubt about that. I'm in the middle of relocating not only my apartment but also my job to the other side of Seoul, and these days the number of tasks on my to-do list is rivaled only by the number of bags beneath my eyes. During such a taxing transition, I could not resist the siren call of a charming Hongdae cafe called No Stress Kitchen.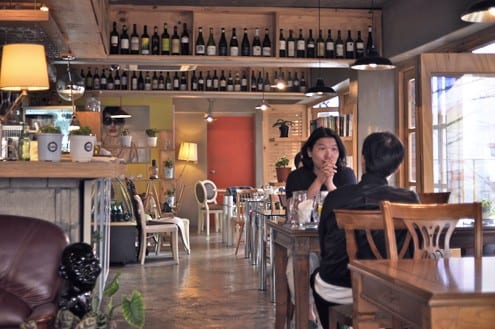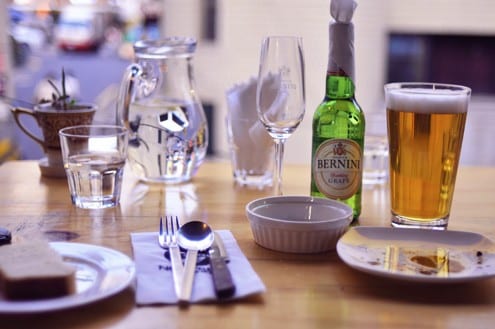 No Stress Kitchen is tucked away in a back alley near the popular Bauhaus dog cafe. It's perched on the second floor with a nice open balcony and large windows perfect for watching the dogs go on their walks. It's the ideal place to sip on a beer (try the Bernini sparkling variety!) and calm your mind.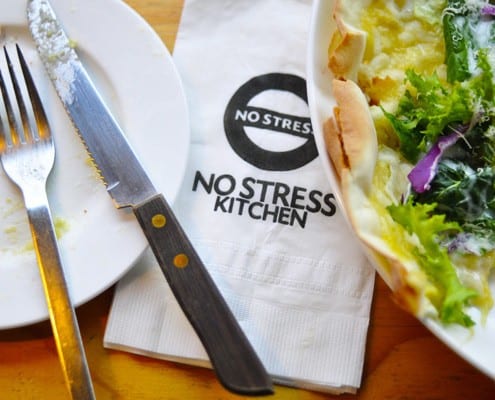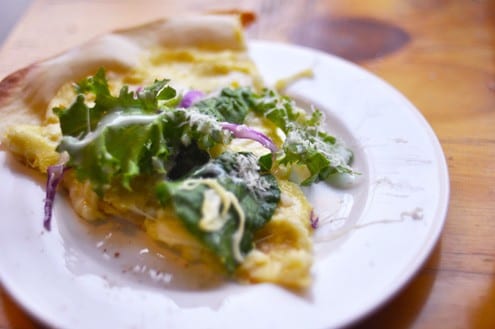 And when I'm feeling anxious, there is no greater comfort than food. This sweet potato pizza from No Stress Kitchen is a fantastic stress remedy. The rich cream cheese and sugary yams make it feel indulgent, like dessert for dinner. And the hearty greens make it feel just healthy enough so there's no guilt.
Though the sweet potato may not be a common ingredient in Western pizza, it's a popular topping here in Korea. Some pizza chains even bake yams into the crusts. I've tried a few of the varieties, and I can say that the sweet potato pizza at No Stress Kitchen is my favorite. For me, this was the stand-out item among otherwise standard cafe options of salads, pastas, and waffles.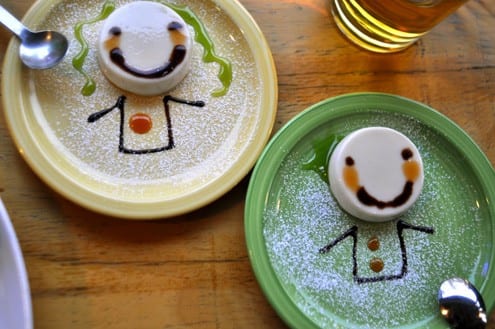 But more than a picturesque balcony and tasty pizza, what really relieves stress is a smile. The folks at No Stress Kitchen seemed to know exactly what I needed when they sent out these "service" (the Konglish word for "complimentary") coffee-flavored mini-flans at the end of the meal. As my dessert grinned up at me from the plate, I couldn't resist grinning myself.
I can't say I felt no stress at "No Stress Kitchen." For a chronic worrywart like me, there could be no such place. But I can say I left the restaurant feeling better than when I entered it, and that's all I could ask for. Besides, "Less Stress Kitchen" just doesn't have the same ring to it.
Meagan Mastriani
Meagan Mastriani is a culinary photoblogger living in Seoul, South Korea. As a lover of the city's flourishing independent cafe scene, she spends much of her time exploring backstreets to find hidden treasures. With an eye for art and design, she is usually attracted to places that are both visually and gustatorily pleasing. She invites friends and fellow food enthusiasts to join in her adventures as she discovers the best that local eateries have to offer and hopes to entice you to visit her beloved city.