For those hungry travelers with no time to visit Korea's countryside, there is a way to experience temple dining in the city.
By Meagan Mastriani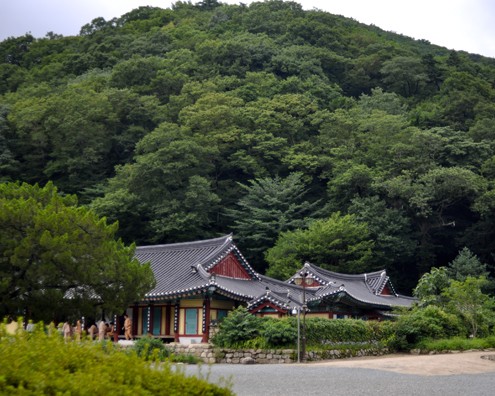 Many visitors to Korea travel to the mountains to spend at least one night in a secluded temple, living the life of a Buddhist monk. It's a truly special glimpse into a community unfamiliar to most outsiders. In my humble opinion, the templestay experience is so unique that a long trip to Korea would hardly be complete without it. Highlights include powerful chanting and meditation, yoga practice, and surprisingly, the food.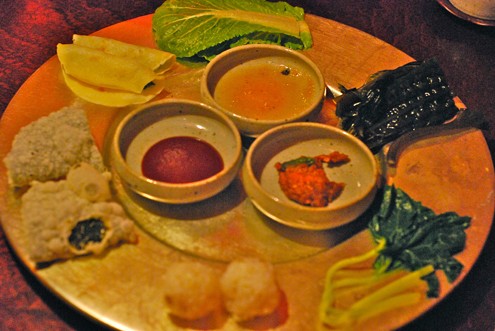 Yes, the food. Korean temples don't get enough credit for their delicious cuisine – a vegan blend of vegetables, fruits, roots, barks, and grains, served with an emphasis on gratitude and simplicity. Buddhists have a strict policy against wastefulness, which translates to the use of just about any and all edible plant matter in their cooking. Whatever is available will be eaten, and it's considered poor form (and in some temples, it's absolutely prohibited) to leave food on your plate at the end of a meal. Luckily, the meals are so tasty that you probably won't mind finishing everything off.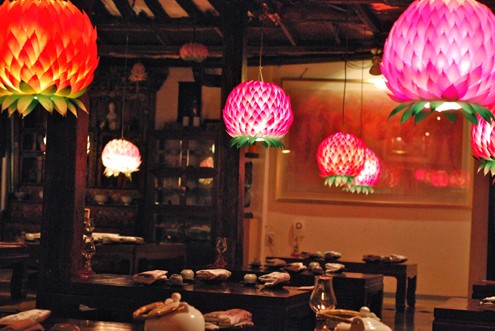 For those hungry travelers with no time to visit Korea's countryside, there is a way to experience temple dining in the city. Located in Insadong, Sanchon restaurant offers visitors the full range of traditional temple fare, complete with cozy scenery and musical entertainment. Sanchon is housed in a hanok, a typical historical Korean home. Inside are warm wooden floors, shelves full of Buddhist trinkets, lotus lanterns, and low tables surrounded by sitting mats. It has the charm of the country in a convenient city location.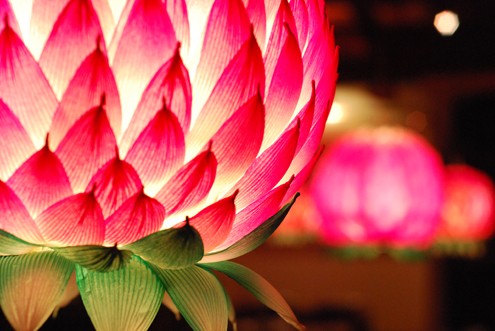 Sanchon was founded by Kim Yon-shik, a former monk who was such a fan of temple food that he wanted to acquaint city-dwellers with dishes usually prepared in the mountains and forests. Over the past 3o years, he has studied traditional food and created an authentic spread that stays true to the rules of Buddhist dining — there are no additives and very few spices in the food. The menu changes often according to season and availability, just like in a temple.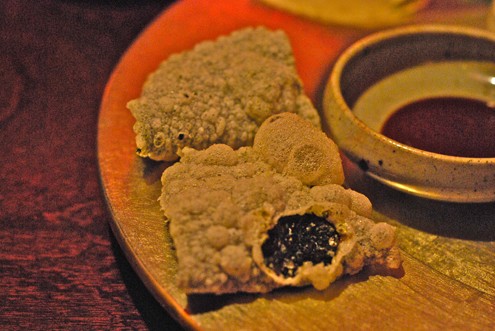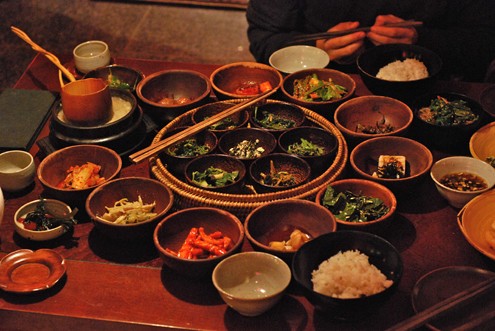 Although Sanchon's foods are earthy and basic, the presentation is anything but. Both lunch and dinner come as part of a "set meal" that includes multiple courses with as many as 18 different dishes. Countless snacks appear in so many bowls and trays that there is hardly room on the table for them all. Somehow the server manages to find a place for everything, and it's a stunning arrangement of concentric and tangential circles (this wealth of food may not be exactly in line with Buddhist philosophy, but it is, after all, a restaurant and not a temple).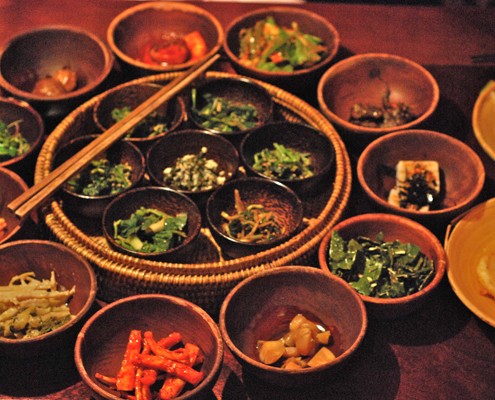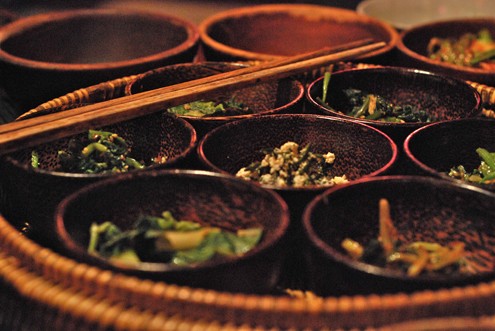 Although the meals frequently change, the courses usually include soup, stew, assorted boiled greens and wild vegetables, a few kinds of vegetable pancakes, potatoes, tofu, and (of course) kimchi. A pot of green tea accompanies each meal, along with a shot of strong cinnamon tea and honey/mugwort rice cakes for dessert.
If you're like me, you probably won't be crazy about every dish you try. (There was one I remember distinctly tasting of nail polish remover!) But trying it all is part of the experience, and with so many dishes, you're bound to find lots of winners. There are so many different natural flavors that it would be difficult for even the pickiest eater not to like some.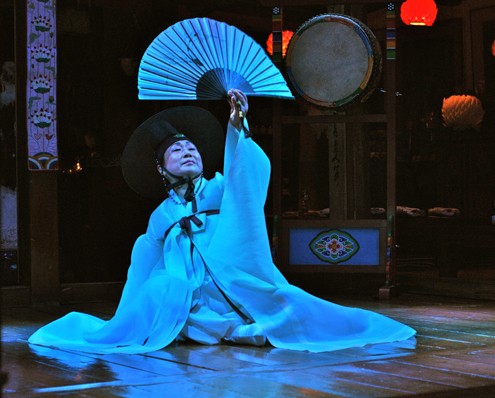 As a finishing touch to the temple simulation, Sanchon stages several folk dance numbers each night. It's another way of bringing traditional country customs to the modern city. Sanchon may not be a perfect substitute for the real templestay experience, but it's a wonderful restaurant in its own right. Anyone craving a taste of Buddhist culture or just a plate of fresh, healthy food in Seoul should be sure to spend an evening in this unique establishment.
Meagan Mastriani
Meagan Mastriani is a culinary photoblogger living in Seoul, South Korea. As a lover of the city's flourishing independent cafe scene, she spends much of her time exploring backstreets to find hidden treasures. With an eye for art and design, she is usually attracted to places that are both visually and gustatorily pleasing. She invites friends and fellow food enthusiasts to join in her adventures as she discovers the best that local eateries have to offer and hopes to entice you to visit her beloved city.