PARTNER POST: Let Pomì's premium quality, Italian tomatoes bring the fresh and healthful taste of Italy to your cooking, no matter the cuisine.
A bowl of this hearty sausage, kale and lentil stew in a tomato-based broth will warm you to the core while filling you up and bringing loads of nutrients to the table.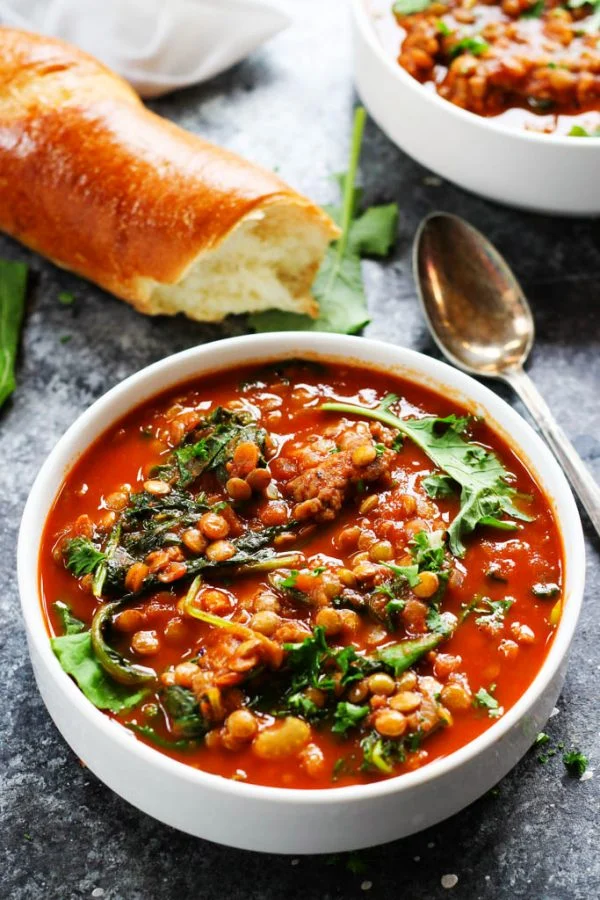 Growing up, we ate a lot of processed foods – Hamburger Helper, Macaroni & Cheese, Lunchables. Somehow I survived… I also ate a lot of canned soup. The lentil soup from Progresso was one of my favorites. I recently tried it again… Ummm… Huh… (scratching head). How did I survive?
Time to step things up a notch – Let's give that lentil soup an upgrade.
The first thing I decided needed to be thrown into the mix was sausage. I went with mild Italian sausage… Debating first on using spicy sausage. I decided that it might be a bit too spicy, and figured that I could spice things up at the end with some red pepper flakes if it needed it. This is also great for those who don't really care for the heat. You can totally customize this soup to fit your tastes – I threw in a teaspoon of red pepper flakes at the end to give that hint of spice. However, you could totally leave them out if you want. Or, really light things up by throwing in more.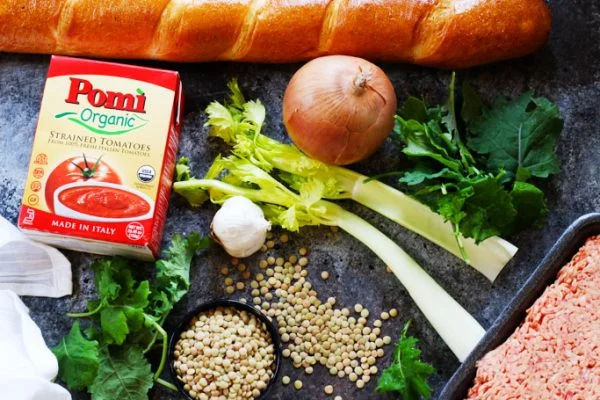 I used some of my homemade slow cooker bone broth as the stock (I had it on hand in the freezer), but you can swap it out for some boxed chicken broth too. They'll both work just fine and will be amazingly seasoned at the end of the cooking process. That's because the lentils cook in the stock. They'll simmer away in there with some crushed Pomì tomatoes and will soften up to a wonderful, almost creamy texture. Once they reach that perfect texture, and the soup is nice and thick, we'll add in some kale at the end. I'm using baby kale. I prefer the texture and find it to not be quite so bitter as the "adult" version. Look for it in tubs by the pre-packaged salad mixes. Don't be shocked by the 5 cups that we're adding in there. It'll look like way too much at the beginning, but in just a few quick minutes, it shrinks down to almost nothing. I love knowing that I have 5 cups of nutritious kale packed in there – Hello healthy! Not to mention, all that fiber that the lentils add too… I'm making up for aforementioned Hamburger Helper.
To finish it all off, I added in a splash of red wine vinegar and a sprinkling of fresh parsley – It just helps to brighten up everything at the end. Don't forget to season with salt and pepper too – You'll need a good sprinkling of both, but it will depend on the salt content of your chicken stock… So, dress it up at the end to your liking. The end result? So much better than the stuff from the can! I mean, SO much better…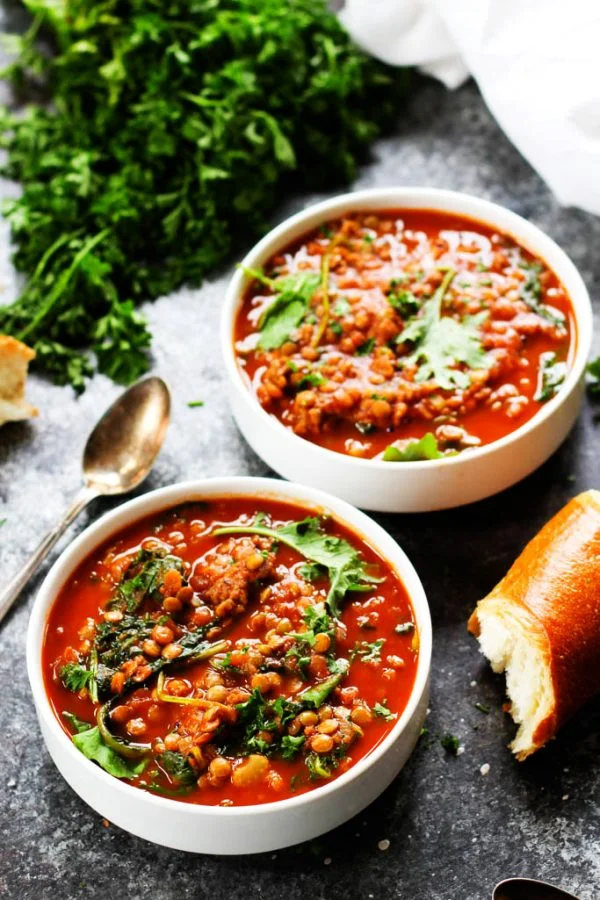 Be sure to check out Pomì's online cookbook for more great recipe ideas!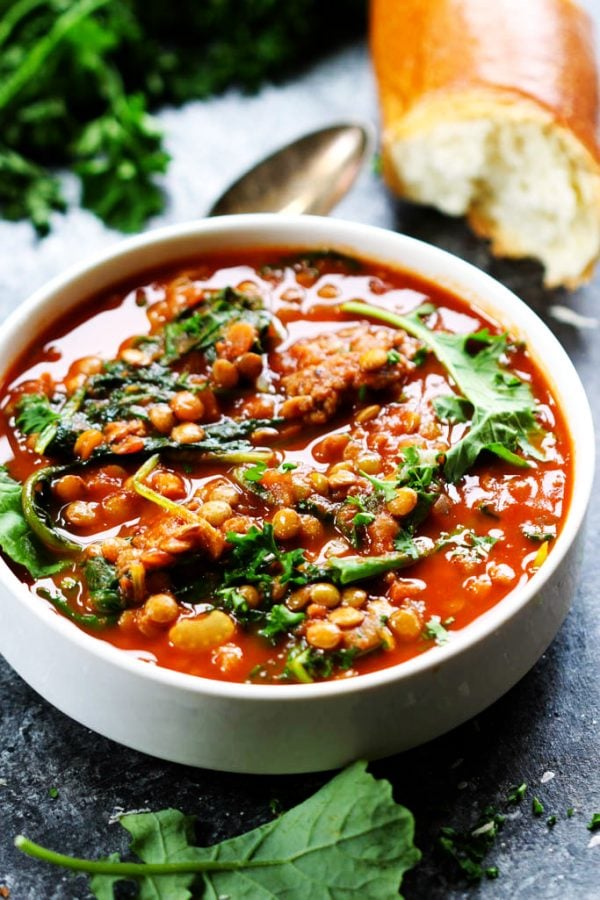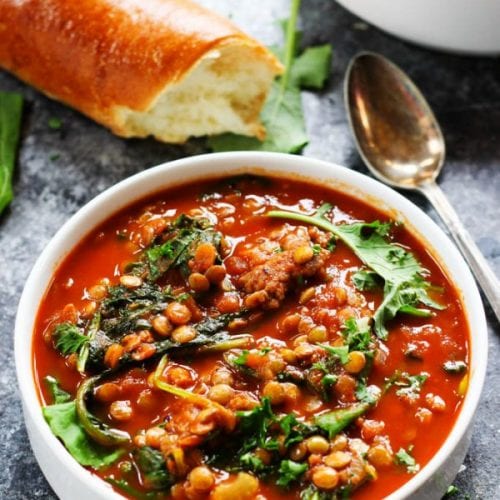 Erin Lynch
Ingredients
1

lb.

bulk mild Italian sausage

1

medium yellow onion

diced

2

celery stalks

with leafy tops, thinly sliced

2

cloves

garlic

minced

4

cups

bone broth or chicken stock

2

cups

dried lentils

1

tsp.

crushed red pepper flakes

1

26.46-oz. box Pomì strained tomatoes

5

cups

loosely packed baby kale leaves

2

tsp.

red wine vinegar

Salt and pepper

to taste

¼

cup

chopped fresh parsley
Instructions
In a large Dutch oven or heavy pot, cook sausage over medium-high heat until the meat crumbles and begins to brown, about 5 minutes. Add onion, celery and garlic and cook until softened, about 5 minutes.

Add stock, lentils, red pepper flakes and tomatoes and bring to a boil. Reduce to a rapid simmer, partially cover, and cook until lentils are tender, 30-35 minutes.

Add kale and simmer, uncovered, until tender, 2-3 minutes, Stir in vinegar and season with salt and pepper, to taste. Sprinkle with chopped parsley before serving.
Erin Rebecca
I'm Erin - a self-taught weeknight cook. I occasionally like to delve into the more complicated recipes, like homemade pasta, Cioppino, and boeuf bourguignon. But for the most part, I work full-time, come home, pour a glass of vino and start cooking away.