Sprinked with parmesan – the result is a bubbly roll of cheese-y and saugage-y goodness.
By Amber Massey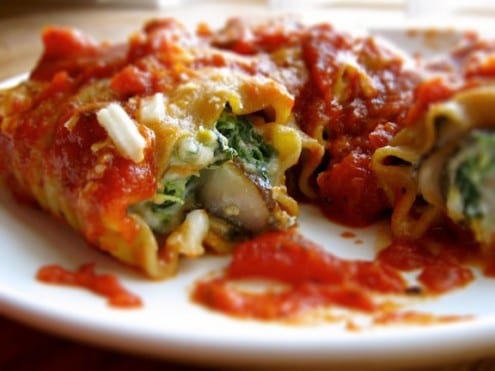 These little roll ups of the lasagna kind are all over the web.  By 'web' I mean Pinterest. I pretty much go from work.. to pinterest.. back to work.. lunch.. pinterest, and pinterest some more. Then again in the afternoon.  Most of it, anyway.  I will say I have developed some awesome recipes off of ideas that I find on there.  So it isn't completely a wash. 
After reading dozens of lasagna roll recipes, I came up with my own simple combo for the filling:  chopped spinach, cream cheese, Parmesan, and Italian blend cheese.
No eggs.  No ricotta.
See Also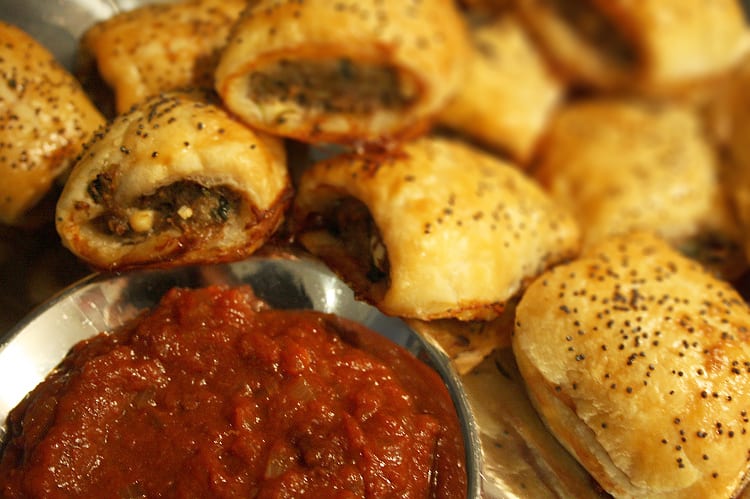 After cooking my noodles, I laid them flat on a couple layers of paper towel, so they would be easy to roll.  For a dozen rolls I used 1/2 package of uncooked sheets, about 6 noodles- and then cut them in half horizontally.  Cutting my noodles in half allows me to skip a few more calories from the carbos, but providing a more flavorful bite with just about 2 tablespoons of filling in each roll. Using jarred tomato sauce made this an extra fast prep & bake one dish meal.  Tomato Basil is probably my favorite, and typically lowest in fat, sodium, and over all calories per serving. Be mindful of the sodium content in some of those jarred sauces.  It is best to take a few moments and compare food labels.  Sprinke with the remaining parmesan before it's finaly desination- the steamy oven! The result is a bubbly roll of cheese-y and saugage-y goodness.  In the seven years I've been married, lasagna rolls are a first for me- making and eating.  
Thank you pinterest for the official introduction. 
Have you made lasagna rolls before? If you haven't, I suggest you start.
 

Sausage & Spinach Lasagna Rolls
Ingredients
6 uncooked whole wheat lasagna noodles
2 (4-ounce) links chicken sausage, casings removed
1 (10-ounce) box frozen chopped spinach, thawed and squeezed dry
1 (4-ounce) block reduced fat cream cheese
1 cup shredded reduced fat Italian blend cheese
¼ cup grated Parmesan cheese
2 cups lower sodium tomato pasta sauce of choice
Instructions
Preheat oven to 375 degrees. Cook lasagna noodles according to package directions, omitting salt and fat.
Drain and lay noodles flat on a paper towel lined work surface. Cut each noodle in half resulting in 12 noodles total.
Heat a non-stick skillet coated in cooking spray over medium high heat. Add sausage and curmble, cooking until no longer pink. Remove from heat and allow to cool slightly.
Combine chicken sausage, spinach, cream cheese, Italian Blend cheese, and 2 tablespoons Parmesan cheese in a medium bowl.
Spray a casserole dish with cooking spray and spread ½ cup tomato sauce evenly over the bottom.
Working with one noodle half, spoon 2 tablespoons of filling onto the end closest to you and roll from bottom to top.
Place seam side down in the casserole dish. Repeat with remaining noodles.
Top rolls with remaining pasta sauce, spreading evenly over the top. Sprinkle with remaining Parmesan cheese.
Bake at 375 uncovered for 20-25 minutes, until sauce is bubbly and cheese is golden.
Nutrition Information
Serve Size:
3 rolls
Calories:
367
Fat:
13 g
Carbs:
36 g
Fiber:
6 g
Protein:
24 g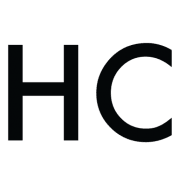 Amber Massey
Amber Massey is a southern-raised, food-loving, registered dietitian focusing on the culinary world of dietetics. Personal chef, author of her blog, Chocolate Broccoli, and accidental lover of food photography, Amber takes pride in healthy recipe development as well as culinary and nutrition instruction through personal and public cooking classes, public speaking, and media outlets. Amber can be seen in print for her nutrition expertise, as well as multiple magazine publications for her culinary creations, including Taste of Home, Healthy Cooking, Simple and Delicious, and Country Women's Magazine.