Saúde! Homemade Coconut Liqueurs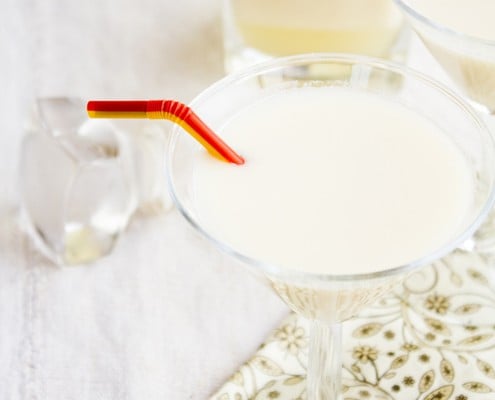 These drinks are ultra easy and quick. Basically just combine four-five ingredients and get coconut heaven. Take a sip and you'll instantly be transported to Portugal, Brazil or Cuba.
By Tamara Novacoviç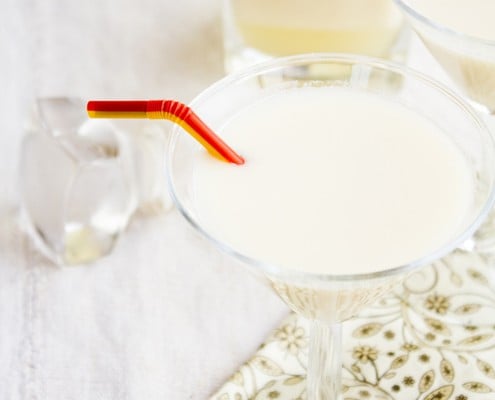 Don't you just love coconut? Coconut is one of my ultimate summer flavors and pleasures.  And this is the short story of how coconut milk, heavy cream, some pineapple juice and sugar turned plain rum into an exotic treat.
I love home made liqueurs. With a minimum amount of time and effort, you can have so many different flavors, colors, types…adequate for so many different palates and moods. An infused liqueur lends flavor to alcohol, it evokes the joy of hot summer days, sandy beaches and relaxing afternoons.
Batida de Coco (such a fun name) is a Brazilian coconut flavored liqueur based on rum or cachaça. You can drink it on its own, add it to the cake fillings, sorbets, combine it with juice to make delicious cocktails…Endless possibilities.
Piña colada is similar, but flavored with pineapple juice.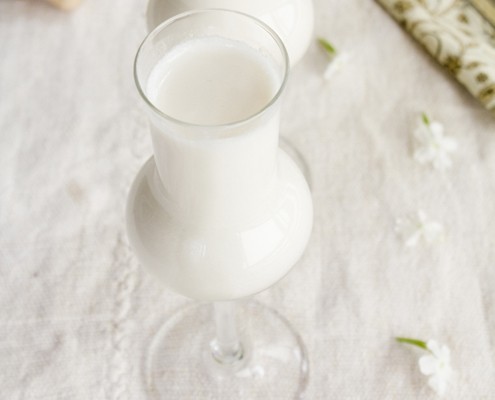 These drinks are ultra easy and quick. Basically just combine four-five ingredients and get coconut heaven. Take a sip and you'll be in Portugal, Brazil, or Cuba, enjoying summer sun on a sand beach, or standing on the street in the middle of Havana, surrounded by street dancers and beats of Cuban music, sticky hot air, colorful summer dresses…with your Batida de Coco or Piña colada  in your hand.
Home made coconut liqueurs
Take a sip of these simple liqueurs and imagine being on a sandy beach, under the hot sun and by the ocean...
Ingredients
For Batida de Coco:
3.8 cups (900 ml) coconut milk
0.4 cup (100 ml) heavy cream
0.8 cup (200 ml) rum or cachaca
¾ cup (170 g) sugar
For Pina Colada:
3 cups (700 ml) pineapple juice
3 cups (700 ml) coconut milk
1.7 cups (400 ml) heavy cream
⅞ cup (200 g) sugar
1¼ cups (300 ml) dark rum
Instructions
For Batida de Coco:
Combine coconut milk with heavy cream and sugar, put on low heat, cook for several minutes stirring constantly. When sugar dissolves, remove from heat and let cool.
Pour rum or cachaca in it, stirr to combine, pour into bottles. Keep in fridge.
Serve with ice cubes. Keep in fridge, shake well before use.
For Pina Colada:
Combine all ingredients except rum and heat on medium heat for 10-15 minutes.
Remove from heat, stir in rum, let cool and pour into bottles. Keep in fridge, shake well before use.
Tamara Novakoviç
Tamara Novakovic is a passionate self-taught cook, food blogger, freelance food writer and photographer behind bite-my-cake.blogspot.com. Her life journey has led her through Faculty of Humanities in Zagreb, Croatia to discovering passion for making cakes. She is currently a weekly food columnist for Croatian newspaper V magazine and food magazine Repete.