Saturday Sugars with Dark Chocolate and Italian Basil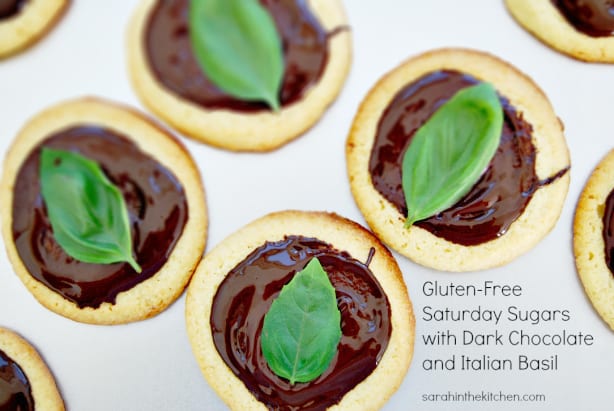 Since this is really sweet, you pair it with dark chocolate with 88% cocoa and a pop of basil.
By Sarah Platanitis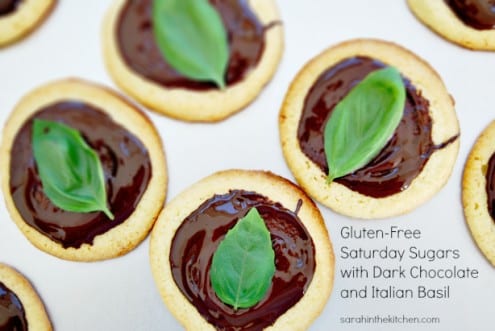 Sigh. It's pretty safe to say that I'm not a very good baker. Thankfully, I didn't run out of ingredients but came pretty darn close. Since the new product is really sweet, I decided to pair it with dark chocolate with 88% cocoa and a pop of basil. They're like Milanos and I think these are going to be my new signature cookie. They go very well with ice-cold lemonade.
Saturday Sugars with Dark Chocolate and Italian Basil
Since this is really sweet, you pair it with dark chocolate with 88% cocoa and a pop of basil.
Ingredients
2 cups gluten-free all-purpose flour
½ teaspoon baking powder
½ teaspoon xanthan gum
¼ teaspoon salt
1 stick unsalted sweet butter, softened
⅔ cup sugar
1 large egg
1 teaspoon vanilla extract
⅔ cup Monk Fruit In The Raw
3 oz. dark chocolate
Basil leaves
Instructions
In a bowl, combine the flour, baking powder, and salt and set aside.
Use a stand mixer to beat the butter and sugar. Add the egg and vanilla. Gradually add in the Monk Fruit In The Raw until combined. Reduce speed and gradually add dry ingredients until together.
Turn out dough onto plastic wrap. Use the wrap to shape the dough into a cylinder shape. Wrap dough and chill in refrigerator at least 2 hours.
Preheat the oven to 350° F and line two large baking sheets with parchment. Place the cylinder of dough on a cutting board and use a large knife to cut rounds a little thicker than ¼?. Working quickly, give the rounds a little pat then press a 3-1/2? cookie cutter to cut shapes. Place cookies on baking sheet about 2-inches apart. Repeat until finished.
When oven is hot place cookies on center rack in oven. Bake for 10 to 12 minutes or until the cookies are firm when pressed in the center and evenly pale gold in color. Let the cookies rest for 1 minute then transfer the cookies to a wire rack and cool completely before decorating.
Sarah Platanitis
Sarah grew up a "restaurant kid" and spent most of her childhood pretending to be Julia Child. Her blog (sarahinthekitchen.com) is a place for kitchen musings and her food writing, photography and illustrations.