Sardine and Avocado Bruschetta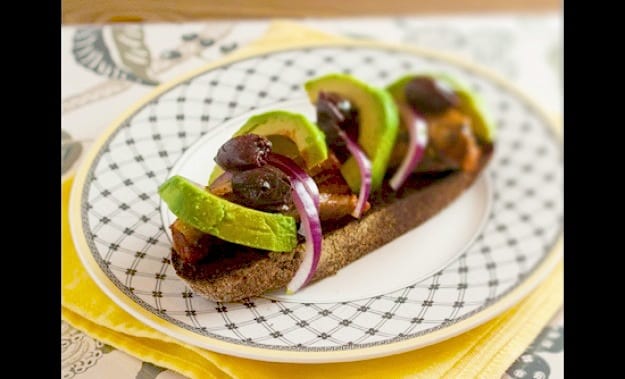 This is not a low-fat recipe, but it's one that is chock-full of all those good fats we're supposed to be eating–omega-3s in the sardines, healthy monounsaturated fat from the avocado, and of course the elixir of the gods, olive oil.
By Sara Clevering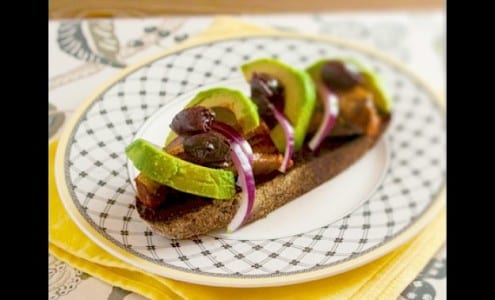 Sardines are my favorite "fast food," and I've admitted before that I'll open up a can and eat them with toasted crusty bread as a meal when I'm too busy to do more. But with not much more effort, and thanks to inspiration from the lovely Argentinian food blog Momentos Gastronomicos, I've recently bumped it up a notch. I made a few modifications to Rocio's recipe, making it a bit more pantry friendly: using BELA's tomato-packed sardines in lieu of fresh tomatoes.
Sardine and Avocado Bruschetta
This is not a low-fat recipe, but it's one that is chock-full of all those good fats we're supposed to be eating–omega-3s in the sardines, healthy monounsaturated fat from the avocado, and of course the elixir of the gods, olive oil.
Author:
Sara Clevering, adapted from Rocio at Momentos Gastronomicos
Ingredients
Two slices of artisan bread
several garlic cloves (depending on size)
olive oil
one avocado
one small red onion (you will not need the whole onion)
one can BELA sardines packed in tomato sauce
olives (kalamata-style or oil packed)
Instructions
Rub each slice of bread with a cut garlic clove. Toast under the broiler until lightly browned, remove from the oven, and drizzle lightly with olive oil.
Meanwhile, cut your avocado in half, remove it from its skin, and slice cross-wise into semi-circles. Do the same with your onion (slicing into thin half-circles).
Arrange the canned sardines evenly over both slices of bread, then alternately layer on the avocado and onion. Top with a few olives, serve immediately, and enjoy.
Sara Clevering
Sara sees cooking and baking as a delicious way to connect with the past and travel the world from her kitchen. She is commited to preparing homemade, unprocessed meals for her family and is always looking for tricks to fit this into a busy schedule. Sara is currently in the Boston area after several years living in London, Spain, and the Czech Republic, and travelling extensively in Eastern and Western Europe, always making sure to experience local culture through food. She also blogs with her sisters at www.threecleversisters.com