Sara Clevering with a pasta that is as delicious as it is unexpected – Sardine and Fennel Penne.
By Sara Clevering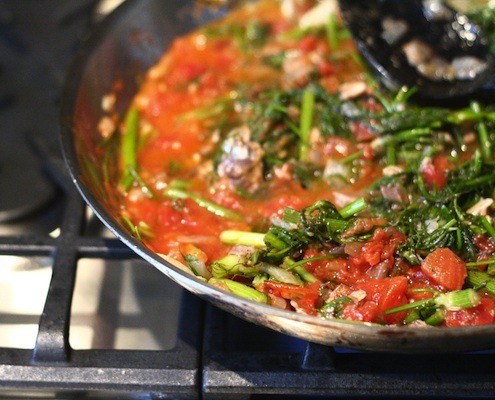 I know this is going to be a hard sell, but bear with me.  Might I suggest, the next time you are in the store, not to breeze by the canned sardines? Now, before you wrinkle your nose (and if you are wondering, yes I did develop a taste for these when I was pregnant), let me point out the following.
– As a fatty fish, sardines are high in omega-3s, calcium (don't buy them de-boned, as unlike many fish you can eat the bones)  and are one of the only food sources of vitamin D.
– As a small fish, low on the food chain, sardines are generally low in mercury.
– As a small fish that reproduces rapidly, sardines are sustainable.
It's the trifecta!  But wait, folks, there's more:  they are, in stark contrast to most of your pescatarian options, cheap. Now, I'm perfectly content to pop open a can and eat on a slice of toasted bread when I'm too busy/tired/lazy to cook.  But I'll up the ante and provide you with a more elegant way to enjoy these.
Sardines and fennel are a classic combination in Sicilian cooking:  a delicious, if possibly unexpected, pairing.  The two flavors work well together:  the clean, almost licorice flavor of the fennel brightens the fatty fish, and throwing in a few fennel seeds just enhances this combination.   While you might ideally use fresh sardines, I've modified the recipe to use the more readily available, canned variety.  This results in a recipe that is very pantry-friendly (especially if using fennel bulbs).
You can use one or two cans of sardines as you prefer (I probably don't need to tell you my preference).  I order my sardines in bulk from Vital Choice , whose cans are packed full of meaty fillets, but you can of course grab them at the grocery store.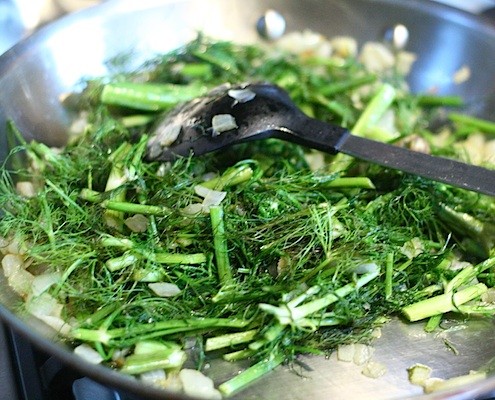 Print
Sardine and Fennel Pasta
---
Author:

Sara Clevering

Total Time:

35 minutes

Yield:

4

1

x
1/4

c (60mL) olive oil

1

small onion or several shallots

2

c fennel tops (approximately

3 ounces

/

80g

) or chopped fennel bulbs (approximately

6 ounces

/

170g

) or a combination; approximately 1-2 bulbs, exact measurements are not critical.

1

28 oz (

800g

) can of whole tomatoes

1

t fennel seed

2

cans (about

8 ounces

or

225g

) of bone-in sardines, packed in olive oil
Salt and pepper to taste

1

lb (500g) penne or other pasta
---
Instructions
Put a pot of water to boil for the pasta.
Heat the olive oil until shimmering in the pan. Finely chop the onions and saute until the begin to soften. If using fennel bulbs, chop fine and add with the onions. When the onions are soft, roughly chop the fennel fronds (if using) and add to the pan and cook until they brighten in color.
Drain the tomatoes and roughly chop. Add to the pan along with the fennel seed. Bring to a boil, then lower to a simmer for 5-10 minutes. Add the sardines and heat through. Add salt and pepper to taste but be careful as canned sardines are briney already.
Meanwhile cook the pasta and drain. Stir in the sauce and serve.
Notes
If you can find fresh fennel with full leafy tops still attached, you can use the fronds and the thinner stalks for this recipe, and use the bulbs for something else. Otherwise, use the bulbs and chop them fine.
I've deliberately kept this simple, but you can make this even more traditionally Sicilian in any of the following ways:
–Add a few anchovies and cook for 30 seconds just before adding the tomatoes.
–Add saffron or currants soaked in hot water along with the fennel seed and tomatoes.
–Add toasted pine nuts or fried bread crumbs as a garnish.
Prep Time:

10 mins

Cook Time:

25 mins
Sara Clevering
Sara sees cooking and baking as a delicious way to connect with the past and travel the world from her kitchen. She is commited to preparing homemade, unprocessed meals for her family and is always looking for tricks to fit this into a busy schedule. Sara is currently in the Boston area after several years living in London, Spain, and the Czech Republic, and travelling extensively in Eastern and Western Europe, always making sure to experience local culture through food. She also blogs with her sisters at www.threecleversisters.com