Nagalakshmi Viswanathan with her own personal take on the classic Spanish drink.
By Nagalakshmi Viswanathan
Even into my early twenties, I never acquired a taste for alcohol. Except for the occasional glass of the sweet homemade wine that my parents' friends used to bring over at Christmas, I have stayed away from them mostly. When I moved to another city for work, things changed around a bit. Happy Hours and Ladies Nights became part of my evening plans as my circle of friends grew.
In spite of it all, I still swear by some good old red wine or my absolute favorite drink, the Sangria. I've tried Sangria in many places and, not surprisingly, they all taste significantly different. So here's Sangria made my way, the way I enjoy the most.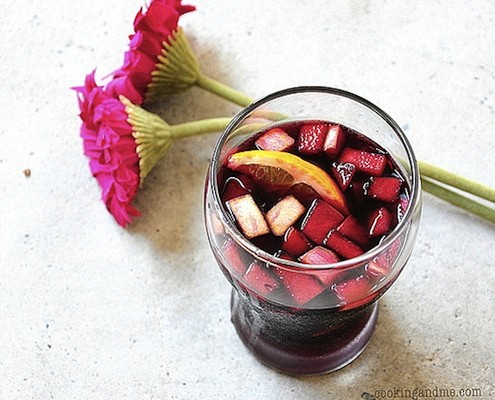 Every Sangria is made different. Here's the classic drink - my way.
Ingredients
500 ml red wine
2 tbsp brandy
1 apple, cut into tiny pieces
½ an orange, cut into chunks
Juice of half a lemon
2-4 tbsp sugar
Instructions
Mix all the ingredients and refrigerate 4 hours or overnight.
Serve chilled.
Nagalakshmi Viswanathan
Nagalakshmi, aka Nags, is the cook, writer, and photographer behind Edible Garden. She loves most things edible, loves traveling to places just for the food, and hardly ever leaves home without her camera. Her specialties are Indian food, making baking look easier than it actually is, and finding new and unique ways to use her Kitchenaid. She lives in Singapore with her husband and a small herb garden in her balcony.