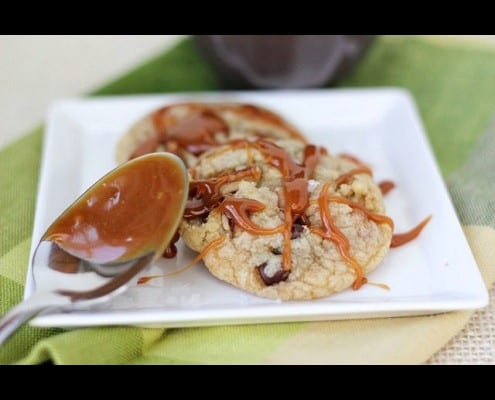 If you are a fan of salty-and-sweet, this cookie is for you.  The sea salt and pecans add perfect salt companionship to the chocolate and caramel.
By Cassie Laemmli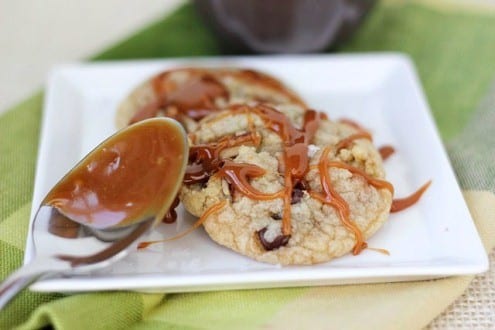 I am a fan of classic combinations.  Strawberries and chocolate; chili and cornbread; spaghetti and meatballs; and etc.  I'm esepcially fond of the "turtle" combo: chocolate, caramel and pecans.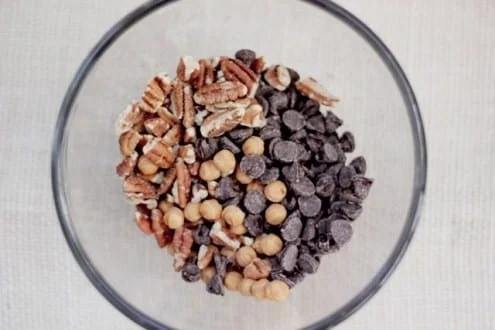 I've long been a lover of caramel so any excuse to sneak it into cookies, I'll take.  I just adore this combination, especially the mix of sweet and salty, crunchy and chewy.  I don't think I've ever met a cookie that I don't like and I'm very much a fan of this recipe.
If you are a fan of salty-and-sweet, this cookie is for you.  The sea salt and pecans add perfect salt companionship to the chocolate and caramel.  It's the ultimate cookie flavor marriage.  The base of this cookie recipe is from my favorite-ever chocolate chip cookies from Cook's Illustrated New Best Recipes Cookbook, which is my favorite-ever cookbook, too.  I use this base recipe for countless cookies and they always turn out so soft and chewy.  I attribute this to the melted butter, the brown sugar content being higher than granulated, and the added egg yolk.  The dough can't be beat either.  Please don't make these without trying the dough, ok?!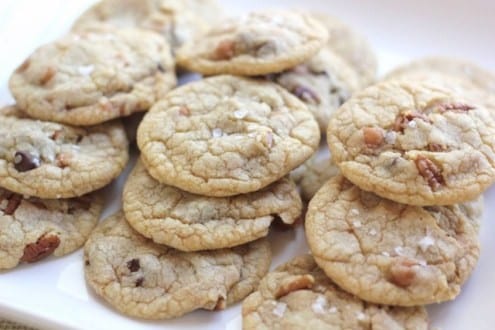 A classic sweet and salty combo: chocolate, caramel and pecans.
Ingredients
¾ cup (1½ stick) butter
2 cups + 2 Tbs. flour (10⅝ ounces)*
½ tsp. baking soda
½ tsp. salt
1 cup brown sugar (7 ounces)*
½ cup sugar (3½ ounces)*
1 egg
1 egg yolk
1 tsp. almond extract*
½ cup semi-sweet chocolate chips
½ cup caramel bits
½ cup chopped pecans
⅓ cup caramel sauce
1-2 tsp. coarse sea salt (I used Maldon)
Instructions
In a medium microwave-safe bowl, melt the butter. Set aside and allow it to cool for 10 minutes.
In a medium bowl, measure flour, baking soda, and salt and whisk until combined. Set aside.
Add both sugars to the butter and mix by hand. If you prefer, you can use a mixer. Add the egg and egg yolk and mix to combine. Stir in the almond extract. Slowly stir in the dry ingredients and mix just until combined.
Add the chocolate chips, caramel bits and chopped pecans and mix thoroughly. If the batter is tough, use your hands to get everything combined.
Scoop dough onto a lined baking sheet; I used a 1¼ ice cream scoop for my cookies. Chill the dough for 15 minutes.
Bake in the preheated oven for 10-12 minutes. Be cautious not to over-bake.
Transfer to a wire rack and dust lightly with sea salt. Let the cookies cool completely. Once cooled, drizzle with additional caramel sauce and chopped pecans, if desired.
Notes
If you prefer more chocolate, feel free to add more chocolate chips, or add chocolate drizzle in addition to, or instead of the caramel drizzle. To ensure accuracy in these cookies, I highly recommend measuring the flour and sugars by weight. I've tried it both ways and the texture is much better when the ingredients are measured by weight. If you are out of almond, or don't care for the flavor, feel free to substitute vanilla. I liked the way the almond and pecans complimented each other in these.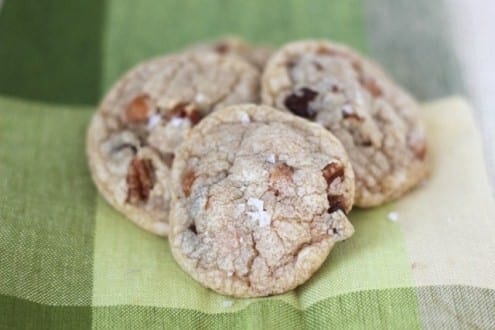 Cassie Laemmli
Cassie Laemmli is a Kansas City-based foodie and author of the food blog Bake Your Day. She loves people and has a passion for living life well; especially living well through food. Cassie believes that food is nostalgic, it is comforting, it brings people together, and it builds community. She shares stories about her life and her love of food, along with recipes that are made from fun, accessible and affordable ingredients.