Salted Caramel Swirled Brownies with Pistachios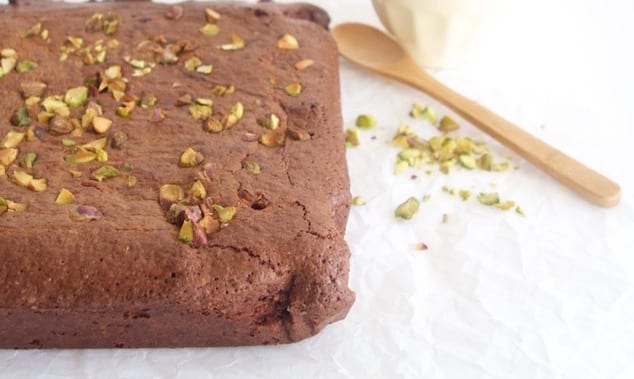 Rich chocolate brownie batter is swirled with salted caramel and topped with crunchy green pistachios before baking. Beautiful and delicious.
By Eva Lambooij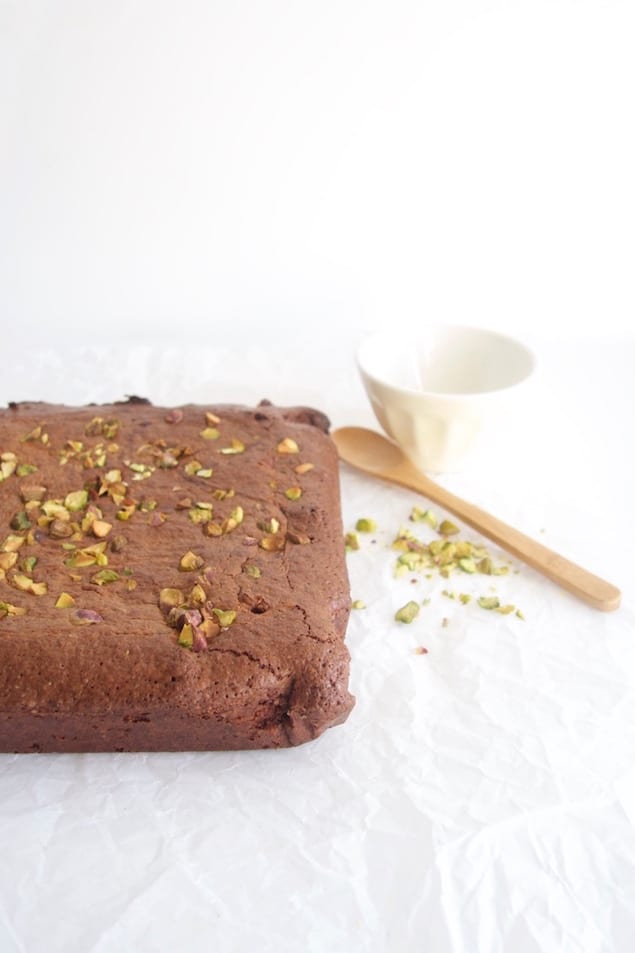 These brownies are made with almond flour. I just wanted to change a bit, and almonds and chocolate make a mighty fine pair. Everyone knows that. And if you didn't, it's about time you learn. Trust me, these brownies are moist, very chocolate-y (is that a word?) and the salty caramel is a real game changer. The pistachios were added for a little crunch, and OK, also just because they're pretty.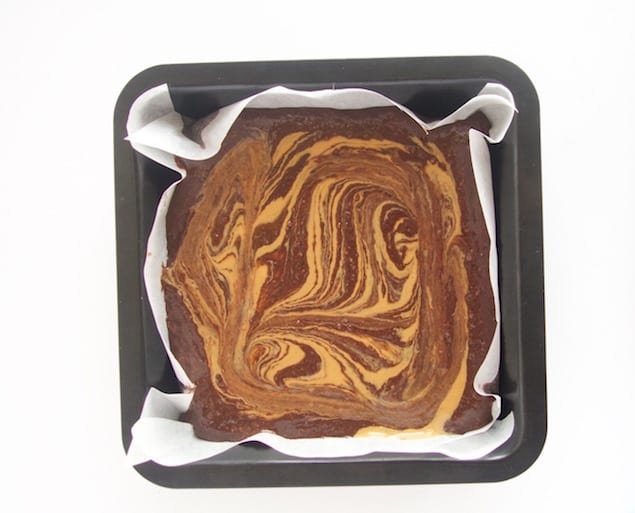 To make your own salted dulce de leche to swirl into the rich batter, try my recipe here.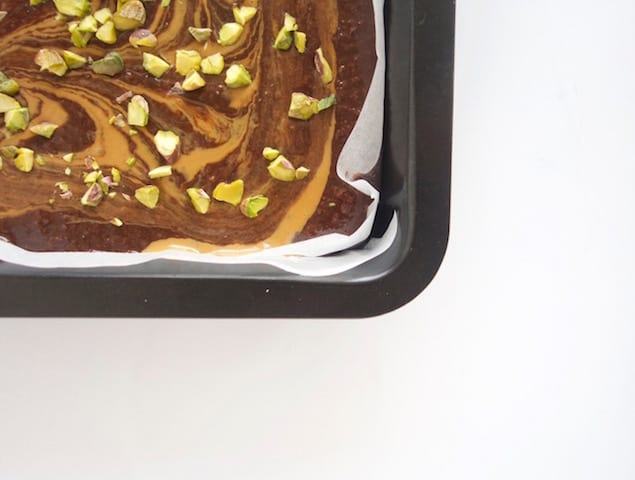 Salted Caramel Swirled Brownies with Pistachios
Rich chocolate brownie batter is swirled with salted caramel and topped with crunchy green pistachios before baking. Beautiful and delicious.
Recipe Type:
Baking, Chocolate, Dessert
Ingredients
180 gr (1 cup) dark chocolate
150 gr (2/3 cup) unsalted butter
3 eggs
200 gr (7/8 cup) sugar
150 gr (1 + ¼ cup) ground almonds
Salt
3 tbsp Dulce de Leche (see the link above for recipe)
1 tbsp pistachios (unsalted and not roasted), chopped coarsely
Instructions
Preheat the oven to 180 C / 356 F
Put the chocolate and butter in a pan with a thick bottom
Put on low heat on the stove, to let it melt without burning
Once melted, take off the heat, and set aside to cool
In a separate bowl, mix the eggs with the sugar
Mix the egg-sugar mixture in with the now cooled melted butter and chocolate
Now, add the ground almonds and a pinch of salt, and mix everything together
Line a brownie tin with baking paper, and pour in the mixture
Mix the dulce de leche with salt to your liking, and swirl over the brownie mixture (if the dulce the leche isn't fluid enough, mix it with a bit of water)
Finally, sprinkle over the chopped pistachios
Bake for 35 minutes, take it out of the oven and use a skewer to test if it's done (if the skewer comes out dry, it's done). And remember it will continue to cook a bit after you take them out of the oven.
Cut into squares and enjoy!
Eva Lambooij
Eva blogs on www.evainthekitchen.com and writes for Dutch the Magazine. Eva is Dutch and lives in both Paris, France as Utrecht, the Netherlands. Cooking for the people she loves is what makes her happy. On her blog she shares her favourite recipes, along with her favourite restaurants in Paris. She believes food should be enjoyed and although she loves cooking, her recipes don't require a full chefs training, nor 25 ingredients. Cooking is fun, so she encourages you to experiment, don't be afraid of making mistakes in the kitchen (because frankly, we all do). Who know's what you'll come up with. Bon appétit!