Rich, sweet, and totally addictive with a glass of milk or scoop of ice cream, these caramel butterscotch bars with brown butter are a fun dessert to satisfy your cravings.
By Taylor Kadlec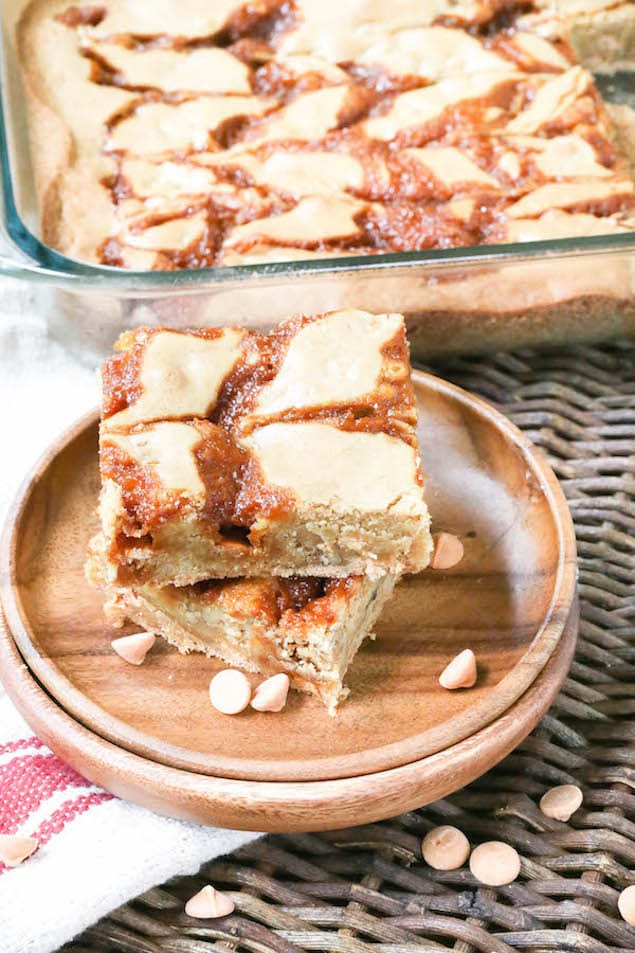 My sweet tooth has come back with a vengeance the past couple of weeks. Gummy worms, frozen yogurt, Junior Mints, cherry dipped cones, you name it. I want it.
I had a craving last week for a rich bar dessert, and these salted caramel butterscotch blondie bars with brown butter certainly fit the bill. Anything with brown butter AND salted caramel AND butterscotch just screams 'rich' right? I was going to stop with just the brown butter and butterscotch, but I figured why leave out that jar of caramel sauce in my refrigerator waiting to be used?
Even though these have quite the title and might sound a little fancy, I assure you if you know how to melt butter on the stovetop and buy a jar of caramel sauce, you're good to go. I have memorized this tutorial for making brown butter by heart and I promise once you try it once, you'll be hooked.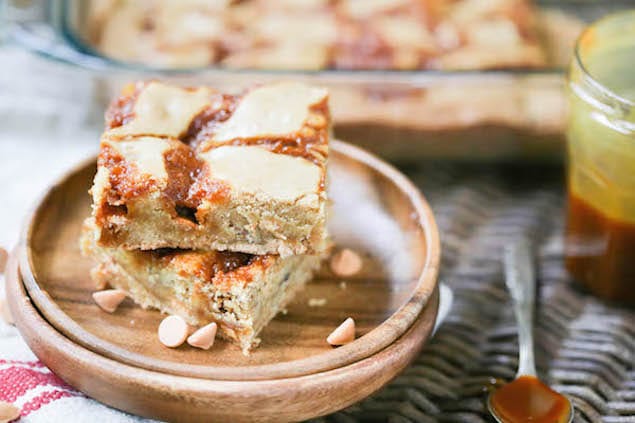 I also cheated a bit with the caramel and used a jar of it in our fridge, as opposed to making my own, so if you're a purist, make your own! (Find the recipe here.) If you like shortcuts, buy a jar. No one has to know.
These blondies were irresistible warmed up with a big scoop of ice cream on top, as well as washed down with a big glass of milk.

Salted Caramel Butterscotch Blondie Bars
Rich and addictive with a glass of milk or ice cream, salted caramel butterscotch blondie bars with brown butter are a dessert to satisfy a sweet tooth.
Recipe Type:
Dessert, Baking
Ingredients
2¼ cup all-purpose flour
2 teaspoons baking powder
1 teaspoon salt
1 cup unsalted butter, at room temperature
2 cups brown sugar
3 large eggs
2 teaspoons pure vanilla extract
1 cup butterscotch chips
½ cup caramel sauce
1 teaspoon sea salt
Instructions
Preheat oven to 350 degrees F.
Grease 9x13" pan with baking spray and set aside.
In medium bowl combine flour, baking powder, and salt, and stir to combine. Set aside.
In large bowl, beat together butter and brown sugar until light and fluffy, about 2 minutes.
Add eggs, one at a time, beating until well combined.
Add vanilla extract and beat until combined.
Add flour mixture to butter and sugar mixture, beating until combined.
Fold in butterscotch chips.
Pour and spread evenly into prepared pan.
Drizzle caramel sauce over batter and swirl with a knife.
Bake in preheated oven for 35-40 minutes, until golden brown and tester comes out clean.
Sprinkle with sea salt.
Let cool and then cut into bars.
Taylor Kadlec
Taylor Kadlec is a lover of all things food including baking, cooking, and of course, eating. She is a self-taught baker and cook, and she shares her kitchen adventures on her blog Greens & Chocolate, where healthy cooking meets sinful indulgence.