Chef de Cuisine Rita French tells us a little about a slow cooked organic salmon entrée available on the Province menu.
By Maralyn Hill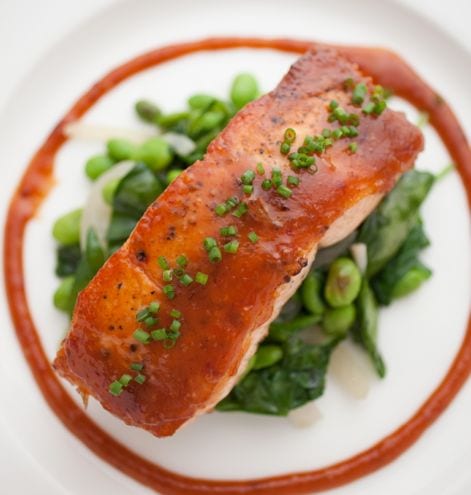 Chef de Cuisine Rita French tells us a little about a slow cooked organic salmon entrée available on the Province menu. "This dish is first cooked with vapor, then given a hard seer and finished with a chile-miso glaze once in the oven. The sugar of the glaze breaks down and caramelizes so that the salmon almost has a crust similar to a crème brûlée, yet is so moist and tender on the inside – it really does melt in your mouth."

Salmon with Miso Glaze From Province at the Westin Phoenix Downtown
Author:
Chef de Cuisine Rita French
Ingredients
• 4 each organic salmon filets (we use a 6 ounce portion)
• 32 ounce baby spinach
• 1 cup shelled edamame
• ½ cup spring onions or sweet onions
• ½ cup chile-miso glaze (see recipe below)
• 2 tablespoons honey soy (see recipe below)
• 2 tablespoons chopped chives
Honey Soy Glaze Recipe:
• ½ cup honey
• 1 tablespoon soy sauce
Chile-Miso Glaze Recipe:
• ¾ cup sake
• ¾ cup Mirin
• 2 cups white miso
• 1 ¼ cup granulated sugar
• 2 tablespoons ancho chile puree
• 2 tablespoons roasted garlic
Instructions
Honey Soy Glaze Recipe:
Combine all ingredients and store in an airtight container until ready to use.
Chile-Miso Glaze Recipe:
Combine all ingredients when ready to use.
Salmon:
In a hot sauté pan, heat olive oil until almost smoking. Season salmon with kosher salt and black pepper. Sear salmon and coat on presentation side with chile-miso glaze. Finish in 500 degree oven until desire doneness is reached (usually 3-5 minutes for medium, rare-medium). In a separate sauté pan, sauté baby spinach edamame, and spring onions in a little olive oil. Season with salt and pepper. Add honey soy and toss gently. Plate as pictured garnishing with chopped chives and chile-miso glaze around the plate. Enjoy!
Maralyn Hill
Maralyn Dennis Hill, The Epicurean Explorer, was born to travel and tell the tale. From local cuisine to Michelin Star, simple to gourmet, Maralyn enjoys it all. Discovering flavors, spices, and trends worldwide, from Bocuse d'Or to being a judge at the Turks & Caicos Conch Festival, Oregon Chocolate Festival and others, or interviewing chefs, she is intrigued by all aspects of culinary tourism and sharing her experiences. Maralyn is editor-at-large for CityRoom, Inc., contributes regularly to The Epoch Times, AFAR, JETSETextra, and others, including but not limited to Business Insider, The Wall Street Journal, and JustLuxe.com. Maralyn is past president of the International Food Wine & Travel Writers Association and continues on the board of directors as Co-Chair of the Conference & Media Trip Committee. She is always ready to experience flavors of any culture and share its tale.