Salmon Over Linguine With Agretti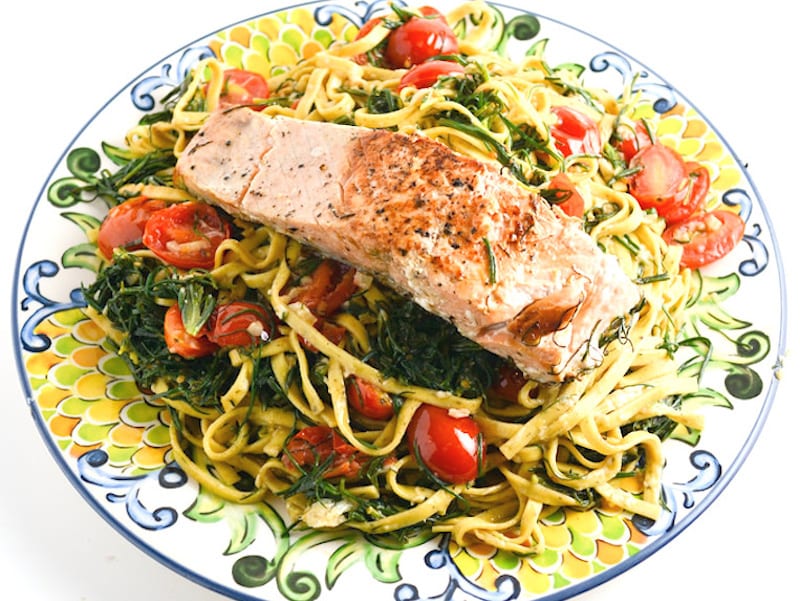 Agretti is a unique ingredient, rarely seen because of it's short growing season. Salmon Over Linguine With Agretti highlights its fresh and tangy flavor.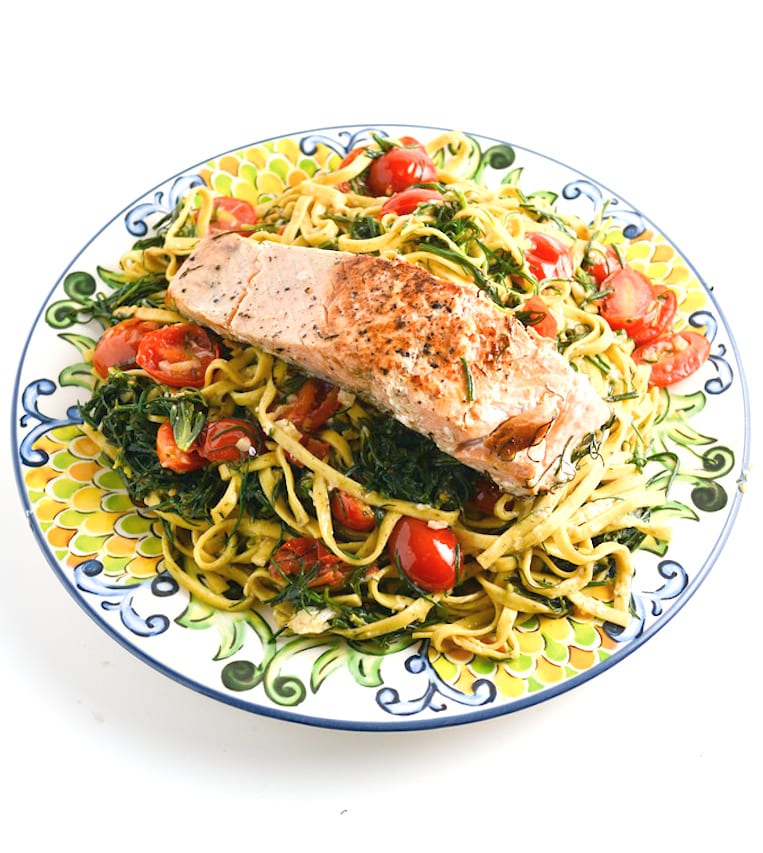 It just so happens that last week at the market I stumbled upon an ingredient I'd never heard of.
As per usual, I got intensely interested. I wanted to learn everything there was to know about this strange green grass called "agretti" and figure out the perfect way to showcase it. I asked the farmer how she cooks it, I searched the internet for recipes (there are a few), and I did my own research.
Before we get into the recipe, let's talk about what agretti actually is. Agretti is a rare Italian leafy green with a short harvesting season (late spring/early summer). It can be difficult to find, but your best bet is a farmer's market or an Italian specialty store. In Italian, it's also known as "Barba di frate" (which translates to "monk's beard") due to its thick but stringy texture. Eaten raw, agretti has a grassy and slightly acidic flavor. In Italian cuisine, it's often tossed into salads or lightly cooked in olive oil. What seemed to be the common factor among all my sources is that agretti shines when cooked just until softens and then tossed with a little lemon juice.
Since it was my first time cooking with the ingredient, I didn't want to stray too far from recommendations. I know, how unlike me to follow directions. And so what more perfect way to introduce an Italian ingredient than to pair it with pasta and fish?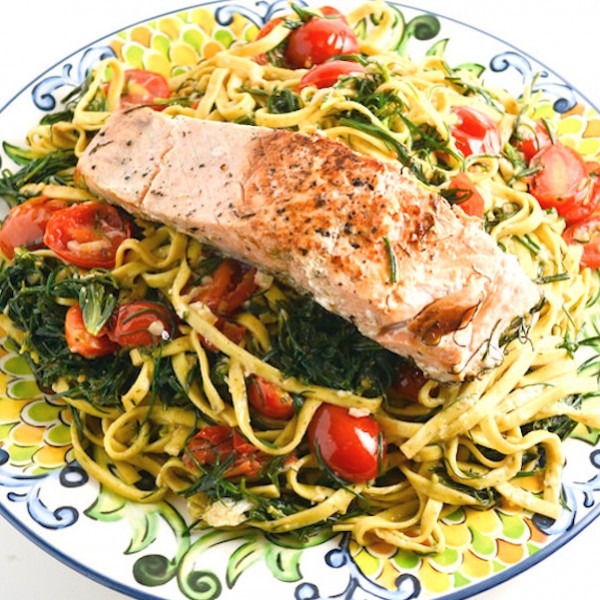 Vicky Cassidy
Ingredients
8

oz

linguine pasta

3

tablespoons

olive oil

divided

1½

pound

wild salmon fillets

skin on

Kosher salt

Freshly ground black pepper

3

garlic cloves

minced

15

cherry tomatoes

halved

6

oz

agretti

thick or yellow stems removed, then coarsely chopped

zest and juice of ½ a medium sized lemon

½

cup

Parmesan

grated
Instructions
Bring a pot of salted water to boil. Add pasta and cook until al dente. Drain water and run pasta under cold water to stop cooking. Set aside.

Meanwhile, heat 2 tablespoons olive oil in a heavy bottomed skillet over medium heat. Season salmon filets with salt and pepper. Add salmon, skin side down, to pan and cook for about 6 minutes. Flip and cook on other side for 1-2 minutes longer, until salmon is cooked through. Transfer fish to plate and cover with foil while preparing agretti.

In the same pan, add an additional tablespoon of olive oil. Add garlic and tomatoes and cook until garlic becomes fragrant, about 3 minutes. Toss is agretti and cook until it softens, about 5 minutes. Turn off heat and stir in lemon juice and zest. Add pasta to pan and mix well. Stir in Parmesan cheese and toss to coat. Adjust salt and pepper to taste. Serve salmon over pasta.
Vicky Cassidy
Vicky Cassidy can usually be found in her Madison, WI kitchen with cumin or paprika in her hair and olive oil smudges on her camera. She is a self-taught cook and the occasional baker, and she loves oversharing stories about her kitchen and life on Things I Made Today.