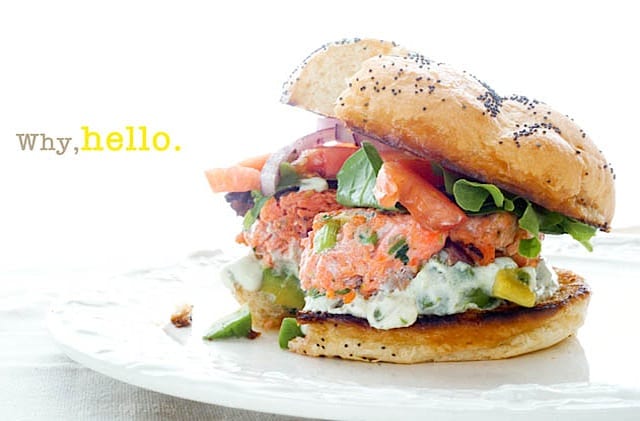 There's something about a good burger that tickles the heart: a warm soft, crusty bun, a nice flavorful patty oozing with juicy goodness and that magical condiment that just brings it all together.
By Joy Zhang
There's something about a good burger that tickles my heart: a warm soft, crusty bun, a nice flavorful patty oozing with juicy goodness and that magical condiment that just brings it all together. I've never really dappled with fish burgers. I mean I usually correlate a burger with a thick beef patty, the kind that melts in your mouth and makes your stomach smile on the inside but suprsingly, I found true love in a salmon burger this time.
I used this recipe I found through Food and Wine and made a couple modifications — I made the aioli yogurt based to give it a healthier touch and the results were fantastic. The best part is, you can freeze the left over patties to use for later. Just simply defrost and sear them in a pan or you can even freeze cooked patties to save a little extra time.
When fish is responsibly farm raised, it's a great way to go as it's a smart option to help deal with our current issues with over-fishing and usually comes at a lower price. Be sure you do your research to find a good supplier. I used some Cooper River Salmon fillets I still had frozen from the peak of Summer and do feel free to experiment with other types of flaky fish like cod or mahi.
This recipe is also a great heart-healthy option for ones that are watching their cholesterol. Fish are rich in Omega-3 oils that are important for our cardiovascular and brain health and helps lower triglycerides in our blood. Food that tastes good and heals the body? I'm diggin it.
A deliciously fresh salmon burger from Joy Zhang
Ingredients
1 pound skinless center-cut salmon fillet, finely chopped
1 egg, beaten
1 tablespoon Asian fish sauce (3 crabs brand)
1 tablespoon Tabasco
2 garlic cloves, minced
1 medium shallot, minced
½ tablespoon minced fresh ginger
½ teaspoon finely grated lemon zest
2 tablespoons chopped cilantro
1 tablespoon chopped mint
Kosher salt and freshly ground pepper
1 cup breadcrumbs or panko
3 hamburger buns, toasted
Lettuce, onion, tomato, sliced for burgers
avocado ailoi (see recipe below)
Avocado Aioli
2 Hass avocados
? cup yogurt
2 tablespoons chopped basil
1 tablespoon minced garlic
1½ tablespoon fresh lemon juice
1 tablespoon fresh lime juice
1 seeded serrano chile or unseeded jalapeño, minced
1 small shallot, minced
Salt and freshly ground pepper
Instructions
In a food processor, pulse the chopped salmon about 10 times, or until minced. Scrape the salmon into a bowl. Mix the egg with the fish sauce, tabasco, garlic, shallot, ginger, lemon zest, 2 tablespoons of the cilantro, 1 tablespoon of the mint, ½ teaspoon of salt and ½ teaspoon of pepper. Add the mixture to the salmon along with 1 cup of bread crumbs. Fold the salmon mixture together with a rubber spatula. With lightly oiled hands, pat the mixture into 4 burgers. Cover with plastic wrap and refrigerate for 2 hours.
In a large nonstick skillet, heat 2 tablespoons of the oil until shimmering. Add salmon burgers to skillet and cook over moderately high heat, turning once, until well browned but barely cooked in the center, about 7 minutes.
Spread the Avocado Aioli on the rolls. Add the salmon burgers, top with lettuce, onion and tomato, close the sandwiches and serve.
Avocado Aioli
In a medium bowl, coarsely mash the avocados with a fork. Fold in the yogurt, basil, garlic, lemon juice, lime juice, chile and shallot. Season with salt and pepper and serve.
Joy Zhang
A 25 year-old free-lance photographer, home-chef and writer from Dallas, Texas, Joy finds inspiration for her photography and recipes through music, art and nature. Her work has been featured on Elle Girl Korea and Gourmet Live. Join her culinary adventures through her kitchen and discover fresh, simple and delicious recipes.