A satisfying crumbly-top pie with thick slices of apple not quite cooked through. Use only crisp tart apples or a combo of tart and sweet for this Irish dessert.
By Michelle M. Winner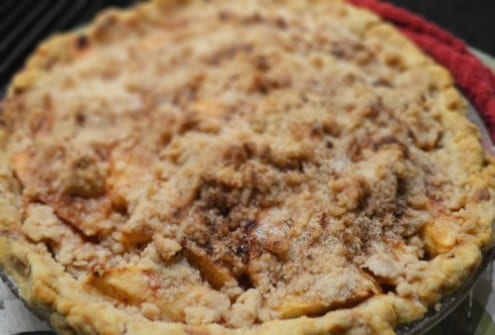 Irish Apple Pie with Crumble Top - Inspired by Jury's Hotel, Dublin
A satisfying crumbly-top pie with thick slices of apple not quite cooked through. Use only crisp tart apples or a combo of tart and sweet for this Irish dessert. Lemon juice keeps apples from turning brown and ups the tart factor.
Author:
Michelle M. Winner
Ingredients
Pastry dough to fill 9 inch pie dish (uncoooked)
Filling:
4 or 5 medium Granny Smith, or half Granny Smith/ half Red Delicious, peeled, cored and cut into thick slices
¼ cup sugar
½ teaspoon cinnamon
Juice of half a lemon, seeds removed, to pour over apples as you place in bowl after slicing- prevent browning
Crumble Topping:
½ cup all-purpose flour
½ cup sugar, white or raw
1 tablespoon sugar ( prefer larger crystals of raw sugar for this)
4 tablespoons unsalted butter
Instructions
Crust:
Preheat oven to 400F.
Prick dough all over.
Put in oven for 8 minutes to bake.
Remove.
Lower oven temp to 350F.
Filling:
In bowl mix together apples coated with the lemon juice,1/4 cup of sugar, and ½ teaspoon of cinnamon with hands.
Crumble:
In second bowl mix the flour, ½ cup of sugar and the butter.
Use fork to cut and work into a pea-sized and smaller crumble.
Set aside.
Fill warm pie crust with the apple mixture pile up in middle. Spoon crumble over, covering all apples. Sprinkle remaining tablespoon of sugar and ¼ teaspoon or more of cinnamon over top.
Bake at 350F for 25 to 30 minutes until the top is browned a bit.
Michelle M. Winner
Michelle was born with a fork in her hand. As a culinary travel writer and confirmed foodophile she delights in the world-wide discovery of new flavor profiles, spices, salts and herbs. Based in one of the world's foodie meccas; Portland, Oregon, not far from "Pinot Noir Heaven" Michelle shares culinary travel and chef's recipes. Her photography has appeared in Saveur Magazine and she has contributed culinary travel articles to Forbes online, WSJ online, Business Insider, Condé Nast Digital Media, Islands magazine and many others. A confirmed globetrotter, she still keeps her bags packed and fork in hand (well . . . except through airport security.)