These exquisite and very popular French holiday cookies are both festive and luxurious.
By Jehanne Ali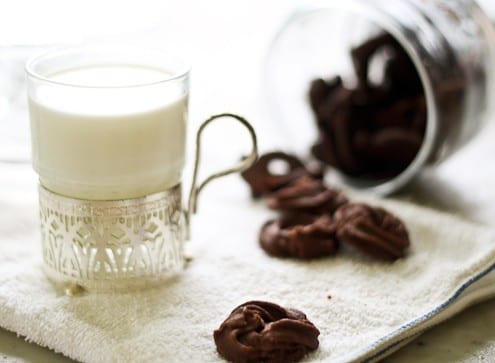 The world is definitely getting smaller. Is it a good thing, that's another question for all of us to ponder. One thing for sure, the food blog community is definitely getting stronger, and the culinary world being so diversified, it is no surprise that a lot of homemakers nowadays even know how to prepare bakes and cakes which were once foreign to our grandmothers.
Such is the beauty of the world today.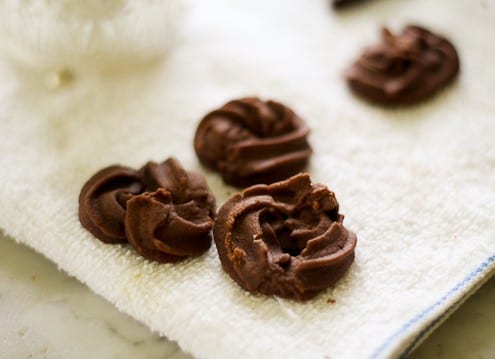 This sablé au chocolat, or easily translated as 'Chocolate sand', is one of the popular festive cookies in France, Thankfully it was also one of the popular festive cookies in my home, with almost 2 decades of yearly bakes for Eid. Growing up in a melting pot of Malays, Chinese, Indians and even Anglo-mixed races in Malaysia, each festive season is celebrated with a passion, irrespective of race, culture nor religion. I remembered vividly getting Ang Pau ( a small red packet with money) after visiting neighbours during Chinese New year, and as a child, playing fire crackers and nourishing myself on Murukku and Bombay mix from the aunties down the road from us during Diwali or Deepavali seasons. Not to forget, the excitements of school holidays and 'man-made snow' with Santa grotto that mushroomed overnight in shopping complexes, some even 2 months before the actual Christmas.
See Also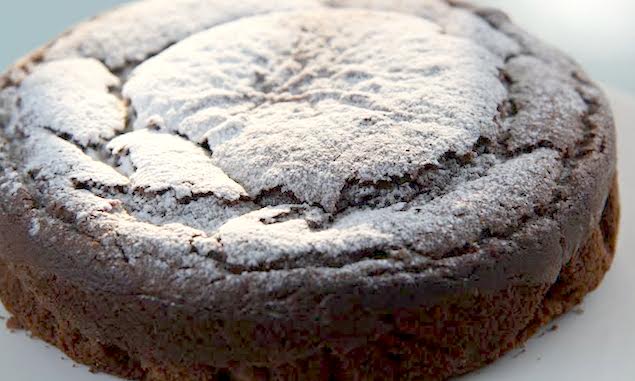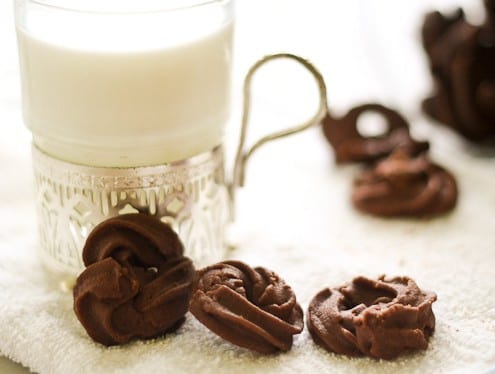 What do we give as festive tribute to our multi-ethnic neighbours? Cookies and cakes, being my mom's specialty, are esteemed highly amongst her friends. Some even came to the house to learn how to bake cookies, some took the shortcuts and asked for trays of goodies to be sent over to theirs, all in good spirit of festivities. Although we lived across the world from France then, somehow, sable au chocolat would be made at home, and sent away as gifts. Year after year. Ironically my trips to Paris and even a short stay there reinforced what I already knew, the cookies are definitely a delight and the recipe that I inherited is for keep.
Let those beauties be a reason itself to celebrate, it's time to indulge in a little bit of piping therapy.. happy baking.

Sablé au chocolat (Chocolate Sable)
Exquisite French cookies, festive and luxurious!
Ingredients
250g butter- kept at room temperature
200 g plain flour
50 g cornstarch flour
¼ tsp baking soda
30g cocoa powder
120g powdered sugar
1 egg yolk
½ tsp fleur de sel (fine sea salt)
Instructions
Cream the butter with golden castor sugar until almost fluffy.
Add the egg yolk and salt. Mix well.
Combine the flour, cornstarch flour, baking soda and cocoa powder. Using a metal spoon, add the flour mix to the creamed butter and mix only until everything is well incorporated. Do not overmix.
Spoon the dough into a piping bag fitted with a star-tip nozzle, and pipe each cookie with a swirl onto the baking sheet.
Bake for maximum 10 minutes at preheated oven of 170C.
Cool the cookies on the rack and store them in airtight container.
Jehanne Ali
Jehanne is an enthusiastic baker, food blogger, mother and wife all in one. She swaps her scalpel from her day job as a doctor to kitchen utensils in the evening and creates magical treatment of healthy treats for her family, which she shares in her blog, The Cooking Doctor. She is a firm advocate of healthy eating and always believes that honest and healthy food will steer you clear from the doctors.