Salt Grilled Mackerel or Saba Shioyaki is a popular seafood dishes served as an entrée or part of a bento combination in Japanese restaurants.
By Shannon Lim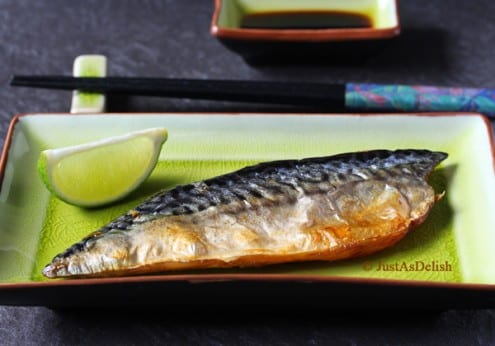 Saba Shioyaki: Salt Grilled Mackerel
Salt Grilled Mackerel or Saba Shioyaki is a popular seafood dishes served as an entrée or part of a bento combination in Japanese restaurants.
Ingredients
4 fillets of Mackerel (saba)
2 tablespoon Sake
1 teaspoon Salt
Lemon/lime wedge
Instructions
Coat the fish in a plate filled with sake. Pat dry with paper towel.
Sprinkle salt generously on both side of the fish and let it sit at room temperature for 20 minutes. After 20 minutes… you should see the fish expel water, which makes the flesh denser. Wipe off any excess moisture on the fish.
Preheat the oven grill or toaster oven to 400F (200C). Place the fish skin side down on a baking sheet lined with aluminum foil or parchment paper (spray or brush oil so it doesn't stick). Bake for 15 minutes, or until the fish is cooked through.
Flip the fish over so the skin is facing up, place tray to a higher rack, nearer to the heating element and grill for another 3-5 minutes.
Best eaten hot with squeeze of lemon juice.
Shannon Lim-de Rooy
Shannon's kitchen is her playground and creative outlet, where she loves to experiment with recipes. As a Malaysian, her food influences are mainly Malay, Chinese and Indian cuisine but her curiousity in other culture lead to cross cultural cooking. On her blog JustAsDelish.com, she pursue her mission in creating healthy and delish food.