My granny used to cook pasta with chickpeas for me since I remember. She also was accustomed to eat it as an all-in-one dish during tough times (during wars and before the economical boom in our Country), because of the completeness of the nutrients and the amount of protein in it.
But then, growing up and getting worse eating habits, I started to get belly-issues with legumes (as probably many of you) and stopped eating it.
Now I got back to be interested in plant proteins and tried to see if what everyone is saying about belly-issues is true: you're supposed to get accustomed to legumes and your belly should be more and more tolerant towards them.
So, what's best than pasta with chickpeas to train my intestines?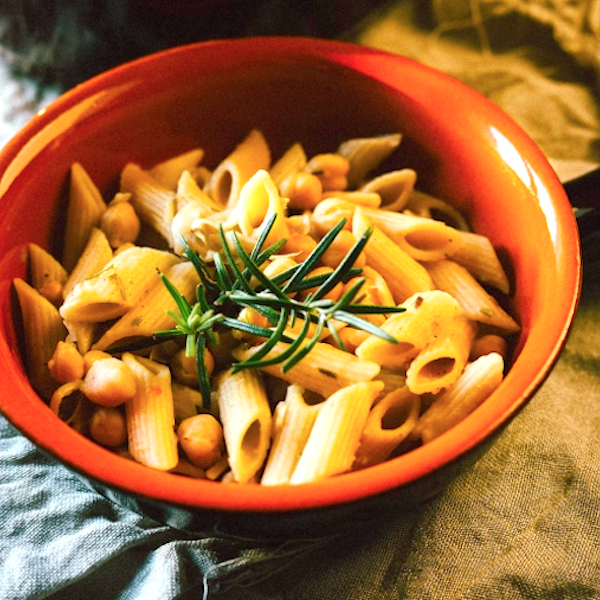 Rustic Pasta with Chickpeas
Pepe Azzurro
Rustic Pasta with Chickpeas is a traditional dish, often considered to be food for the poor, but is packed with both flavor and nutrition.
Ingredients
180

– 200 gr

6 or 7 ounces whole pasta (I like short pasta, like mezze penne)

500

gr

1 pound chickpeas (I used canned chickpeas, but you can use what best inspire yourself)

3

tablespoons

of extra virgin olive oil

1

each of finely chopped carrots

onions and celery (the classic italian soffritto)

2

tablespoons

of bio granular vegetal broth

1,5

liter

of water

dry rosemary

pepper
Instructions
Pour the water in a pot and let it boil; add the bio vegetal broth.

Meanwhile, in another pot, put the vegetables and the oil and make them sauté until you see they're browned, then pour a spoonful of broth and let it cook for 3 – 4 minutes.

Wash the chickpeas and pour them in, adding also the pepper and the rosemary. Let them cook for another 5 minutes, then pour the rest of the broth and let it go for 30 minutes, with a cover.

Now you can add pasta and let it cook for 10 minutes or for the suggested time on the package.

If you're able to not to finish it as soon as it cools, you can freeze it and use it as last minute dinner when you're late from work!
Pepe Azzurro
Daniela and Sandra are two close friends, passionated about cats and nice stuff. They live and love Italy and they adore traveling, to discover new moods and flavors. Daniela is an architect and Sandra is a photographer, and they created Pepe Azzurro to share some life's impressions of two crazy cat-ladies and the world they like to be in, one day.