Rúgbrauð: Icelandic Thunder Bread
Traditionally, Rúgbrauð is baked buried in the ground near hot springs. If you don't have access to hot springs at home, adding a water bath to your oven to create steam will work just fine.
By Swathi Iyer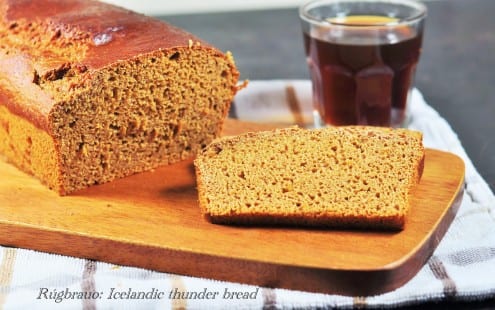 Rúgbrauð: Icelandic Thunder Bread
Traditionally, Rúgbrauð is baked buried in the ground near hot springs. If you don't have access to hot springs at home, adding a water bath to your oven to steam will work just fine.
Author:
Swathi Iyer, adapted from Nanna Rögnvaldardóttir's Icelandic Food and Cookery
Ingredients
1.6/167g cups rye flour
1 cup /150g White whole wheat flour
1cup/160g Bread flour
11/2 tsp/6g Instant yeast (if you are using active dry yeast, you must proof the yeast with 1 tsp sugar and ¼ cup luke warm water)
1 tsp/6g salt
1 tsp/6gbaking soda
⅓ cup molasses
2 cup/460g buttermilk
Instructions
In a bowl of kitchen aid stand mixer, add flours, salt, baking soda, yeast. Blend together molasses and buttermilk and add to flour yeast mixture with gradual mixing.
Mixture will be fairly thin, more like a cake batter than bread dough.
Transfer the batter into a lightly greased pan ( I used 9x13 inch loaf tin) and smooth the top. Set aside for 60 minutes covered with plastic wrap and a damp towel. You may or may not see any yeast activity at this time.
By the end of 60 minutes, preheat oven to 360F. In the lower rack of your oven place a roasting pan filled with hot water for about half while the oven is preheating. This will create a hot steamy oven.
Bake, uncovered, for about an hour and half or it register an internal temperature of 200F or until a knife inserted in the middle comes out clean. Run a knife around the edges to loosen, let sit for just a couple minutes, and then turn over onto a cooling rack.
Once it is cooled completely cut the pieces and brush with warm butter and enjoy.
Swathi Iyer
Swathi ( Ambujom Saraswathy) loves to explore cuisines from all over the world, and write about the ones that she and her family enjoyed on her blog Zesty South Indian kitchen. She loves to gives an Indian touch to several of the world cuisine, and has weakness for freshly baked bread. She is also a mom to two wonderful young kids who gives a up or down vote to the food she creates.