Ruby Red Watermelon Curry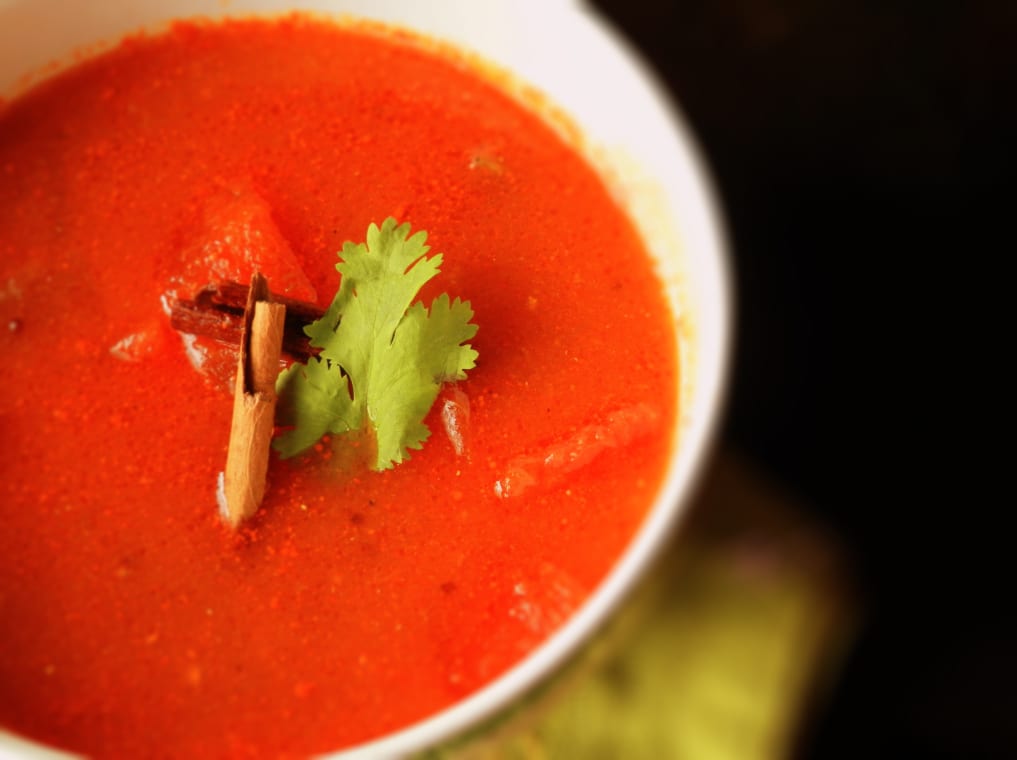 A slight twist to a classic Rajasthani curry, that is bright and attractive on first glance, sweet to taste from the fruit with warm undertones from the whole spices.
By Prathima Rao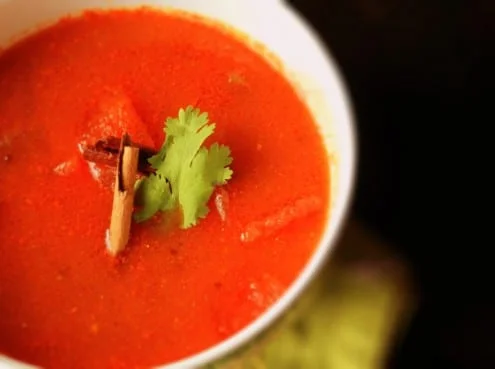 A dash of chilli powder does highlight the sweetness and also lends it that bit of 'heat', characteristic of Indian curries! Not to forget a sprinkling of fresh lime juice in the end to lift up all the flavors!

Ruby Red Watermelon Curry
A slight twist to a classic Rajasthani curry, that is bright and attractive on first glance, sweet to taste from the fruit with warm undertones from the whole spices.
Ingredients
Watermelon – 1
Ghee (clarified butter) – 1 to 2 tbsp
Mustard seeds – ½ tsp
Cinnamon – 1 small piece
Cloves – 2-3
Green cardamom – 2
Ginger-garlic paste – 1 tsp
Red chilli powder – 1 tsp
Turmeric powder (haldi) – ½ tsp
Garam masala powder – ½ tsp
Salt – to taste
Juice of half lime
To serve
Instructions
Cut watermelon into quarters. Cube and deseed the red portion. Puree half of the cubes.
In a pan heat ghee, add mustard, cinnamon, cardamom, cloves. Let mustard start to splutter. Add the ginger garlic paste and sauté for 5 seconds.
Add the pureed watermelon and bring to a simmer.
Add in the chilli powder, turmeric, salt. Continue to simmer for 3 to 4 mins. May add a tbsp or two of water if needed.
Lastly add in the watermelon cubes, garam masala powder, stir for a minute. Add lime juice and remove from heat.
Serve hot with saffron rice, coriander flavoured rice or just some plain hot rice.
Notes
Choose bright red, sweet watermelon for more depth, flavour and color. Do not substitute oil in place of ghee. Ghee gives the curry a more rich taste.
Prathima Rao
Born and brought up in South India amongst hard core food enthusiasts. Cooking and food has always been a part of Prathima's growing years with every family gathering accompanied by a scrumptious and elaborate meal. Now, traditional vegetarian food of her community has paved way to contemporary and quicker dishes.