Sautéed bacon adds a smoky saltiness to this hearty soup that will keep you warm and satiated through the colder months.
By Chris Scheuer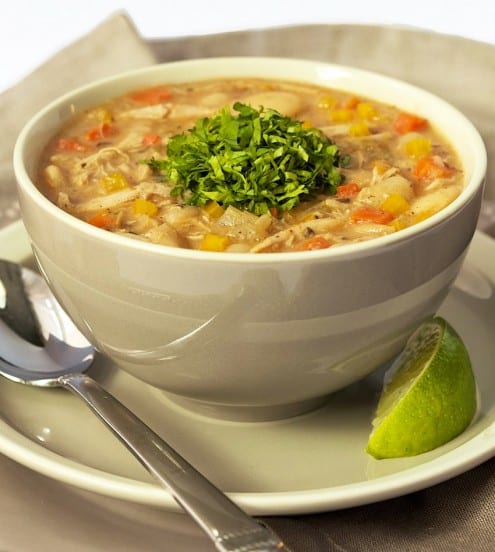 Rotisserie Chicken and White Bean Chili
Sautéed bacon adds a smoky saltiness to this hearty soup that will keep you warm and satiated through the colder months.
Ingredients
2 strips bacon, sliced crosswise in ¼-inch pieces
2 tablespoon extra virgin olive oil
2 tablespoons flour
1 medium onion, cut in ¼-inch dice
2 stalks celery, cut in ¼-inch dice
1 medium yellow bell pepper, cut in ¼-inch dice
3 medium cloves garlic, minced
1 small jalapeño, seeded and finely chopped
1 tablespoon ground cumin
1 teaspoon chili powder
1 tablespoon dried oregano
4 cups low sodium chicken broth
3 medium carrots cut in ¼-inch dice
1 teaspoon sea salt
4 19-ounce cans white beans (I like to use several different varieties of white beans in different sizes, this time I used 2 cans of Cannellini beans and 2 cans of Butter beans. Great Northern would also be fine.)
3 cups shredded cooked chicken breast (use leftover chicken or rotisserie chicken)
½ cup half and half
¼ cup chopped fresh cilantro
Instructions
Place bacon in a large dutch oven and cook over medium heat until golden and beginning to get crisp. Remove cooked bacon with a slotted spoon to a plate lined with several thicknesses of paper towels. Set aside.
Add olive oil to bacon fat in pan. When oil is hot, add onions, celery, bell pepper, garlic and jalapeño to pan and cook until soft, about 4-5 minutes. Add flour, cumin, chili powder and oregano and cook 2 minutes, stirring continually.
Slowly add chicken broth, continuing to stir. Bring to a boil then add carrots and sea salt. Reduce to a steady simmer.
Rinse and drain beans. Mash 2 cups (approximately 2 cans) of the beans with a fork until fairly smooth. Add beans, mashed bean mixture, reserved bacon and chicken to simmering broth. Cook 15-20 minutes or until carrots are very tender.
Add half and half and cilantro and stir to combine. Serve hot with tortilla chips and garnish with extra cilantro and/or a handful of cheddar cheese. It's also great with a dollop of sour cream or Greek yogurt.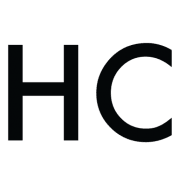 Chris Scheuer
Crescentia "Chris" Scheuer is the creator of The Café Sucré Farine food blog, which has been hugely successful since its inception in March 2011. Her recipes are seen on Foodgawker, TasteSpotting, Gourmet Live, Bon Appétit Bloggers, Foodista and other international food sites. Her inspiration for creating new, innovative cuisine comes from an insatiable curiosity, a love of travel and family connections in the UK. She has taught cooking classes in Raleigh, NC, USA.