Rosemary Shortbread Cookies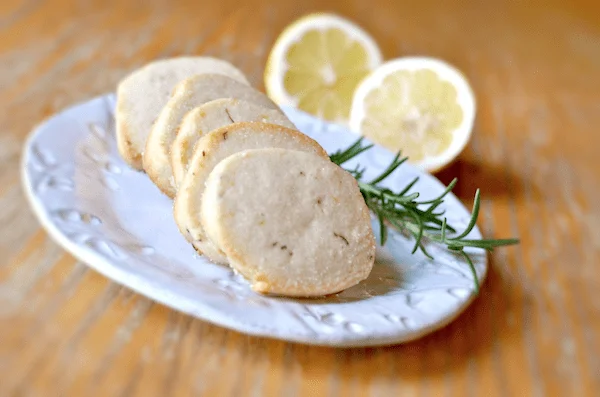 These plain shortbread cookies, are not so plain after all. The rosemary adds a whole new dimension of flavor to them.
By Jerri Green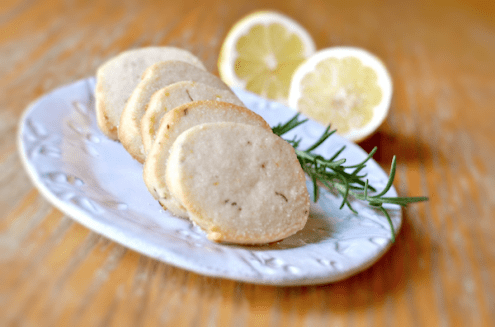 When I was a little girl my mom and I had a few food rituals. On summer days we would have picnics outside under a shady tree. Our basket was usually full of cheese straws and super big salads. In the winter we would make huge pots of chili and eat it with tiny oyster crackers. But no matter what the time of year, if my mother wanted to reward me with something special, she would take me to the cookie shop. I would always get the same thing. No chocolate chunks or candy filled cookies for me. I wanted a plain shortbread cookie. They were sweet, but not too sweet. And the buttery bits would just melt in my mouth.
I may have outgrown my trips to the cookie shop, but I haven't outgrown my love of shortbread cookies. And thanks to a good harvest of rosemary from my yard and a wonderful recipe from The Church Cook I have learned a whole new way to enjoy them.
Rosemary Shortbread Cookies
Delicious shortbread cookies with the added flavor dimension of rosemary.
Ingredients
2 sticks butter, room temperature
¾ cup sugar, extra for dusting
1 egg
1 teaspoon vanilla
1 tablespoon fresh rosemary, finely chopped
2 teaspoons grated Meyer lemon zest
2 ¼ cups all purpose flour
½ teaspoon salt
Instructions
Cream butter and sugar until light and fluffy. Add the egg and vanilla, mix until blended.
Add the rosemary, lemon zest salt and flour and mix well. Divide dough in half and shape into log. Roll logs up in wax paper about 1 ½ inch in diameter.
Chill for at least 1 hour. Preheat oven to 375 F. Cut logs into ¼ inch slices, roll in sugar and place on parchment covered baking sheet.
Bake for 12-15 minutes or until the edges are pale brown.
Jerri Green
Jerri Green is a vegetarian that lives with and loves a self-proclaimed carnivore. She makes meals work for everyone while juggling the mounting demands of motherhood. Nothing fancy but always fresh, she draws on her southern heritage to bring satisfying food to the table each and everyday.