Rosemary Pound Cake with With Baked Peach Topping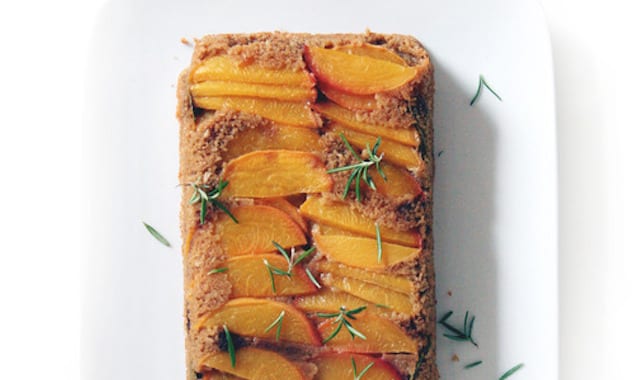 This Rosemary and Fruit Pound Cake is the perfect combination of the sweet flavors of summer fruit and aromatic rosemary, coated in a moist cake, with a delicate crumb. Made with maple syrup and dark brown sugar, and all gluten free flours, the batter bakes into a dark hued delicacy that tastes nothing short of sublime. When paired with perfectly cooked peaches each bite tastes almost boozy, and definitely unique.
By Mariela Alvarez Toro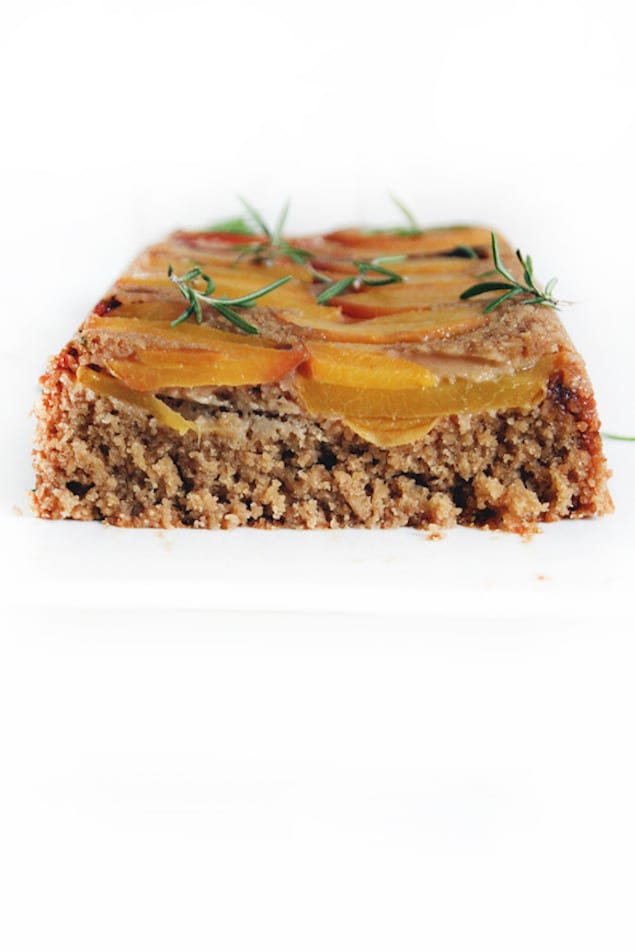 With groggy eyes and in pajamas, I started mixing oats with rice and tapioca flour, I whisked some eggs, I poured out maple syrup. I sliced those same peaches that had been tormenting me, and carefully laid them out on a loaf pan. I sprinkled them with rosemary and sea salt. I poured the batter over the peaches, placed the pan on the oven and crossed my finger as hard as I could, hoping for a miracle.
For what seemed the longest forty-five minutes of my life, I waited, anxiously. I checked maybe once, or twice, or thirty times, with my fingers still crossed. But when that cake came out of the oven, I knew it would be a winner. The air thick and dense haunted the apartment walls with a rich peach and rosemary cloud of summer goodness, every breath overwhelmed.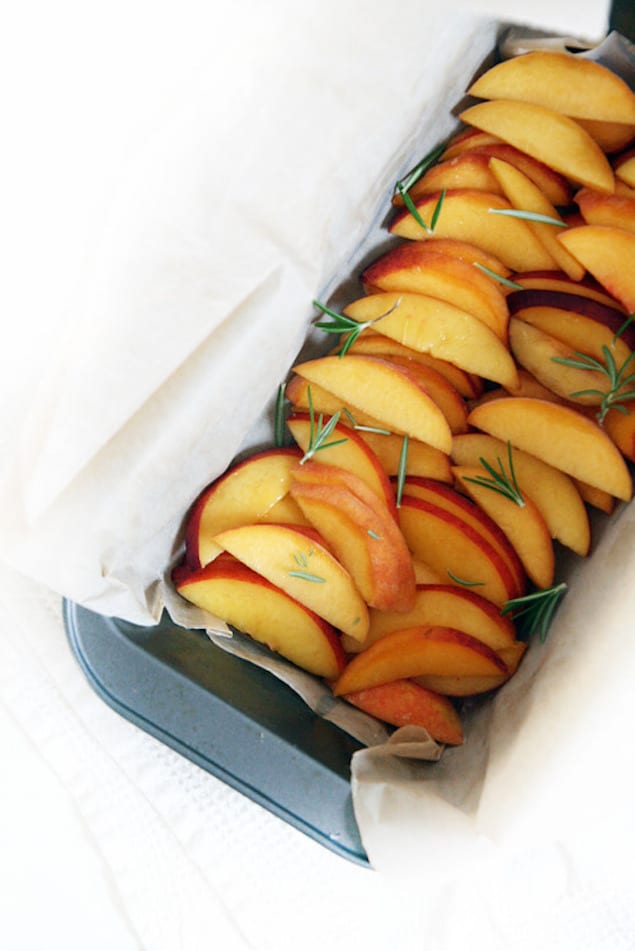 See Also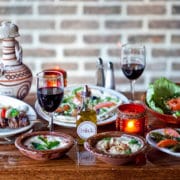 This Rosemary and Stone Fruit Pound Cake is the perfect combination of the sweet flavors of summer fruit and aromatic rosemary, coated in a moist cake, with a delicate crumb. Made with maple syrup and dark brown sugar, the batter bakes into a dark hued delicacy that tastes nothing short of sublime. When paired with perfectly cooked peaches each bite tastes almost boozy, and definitely unique. A struggle worth resolving by going with my gut.

Rosemary Pound Cake with With Baked Peach Topping
The perfect combo of sweet summer fruit and aromatic rosemary. Maple syrup, dark brown sugar, and gluten free flours, bakes into a dark hued delicacy.
Author:
Mariela Alvarez Toro
Ingredients
6 large peaches, apricots, or a combination of both
1 small sprig of rosemary
¼ cup arrowroot or tapioca flour
¼ cup rice flour
1 cup old fashioned gluten-free oats
1 tsp. baking powder
¼ tsp. kosher salt
¼ cup maple syrup
½ cup dark brown sugar
½ cup coconut oil
2 eggs
juice of half a lemon
½ cup coconut milk
Instructions
Preheat oven to 350 degrees Fahrenheit. Cut a piece of parchment paper that is the length of your loaf pan and wide enough to have at least three inches of overhand along each side of the pan. Grease the pan with a little bit of coconut oil, then place parchment paper on pan.
Wash and pat dry your stone fruit. Cut stone fruit into thin (about ⅛ inch) slices, but don't worry about them being too perfect. Line the bottom of the pan evenly with the stone fruit slices. Sprinkle fresh rosemary leaves and a tiny pinch of sea salt over fruit slices.
In a food processor place tapioca flour, rice flour, oats, baking powder, and salt. Pulse until oats resemble coarse flour. Set aside. In a large bowl mix maple syrup, brown sugar, and coconut oil. Whisk until evenly distributed. Add eggs, and whisk. Add flour, milk and lemon juice. Stir until just incorporated. Pour batter into baking loaf with peaches. Place in oven and bake for 45 minutes. Cake will be ready when after inserting and removing knife into center of the cake it comes out clean. Let cake cool slightly out of the oven, then invert pan into serving place, and carefully remove parchment paper.
Let cool. Serve with ice cream, sorbet, or summer berries for dessert, or as is for breakfast or as an afternoon snack.
Mariela Alvarez Toro
Recently graduated with from Harvard University's Graduate School of Design. She has recently completed "People in Food-Space", an ethnographic study on the cultural production of taste in space. She has also examined post-soviet food production systems and housing projects in Havana, Cuba. Originally from Puerto Rico, Mariela has been living in the United States for eight years. She has involved herself in both teaching and practice, while writing on food at tastyplan.com. Her goal as a food writer is to cook creatively, using the best ingredients to find new flavor combinations every day.