Rosemary And Parmesan Savory Cookies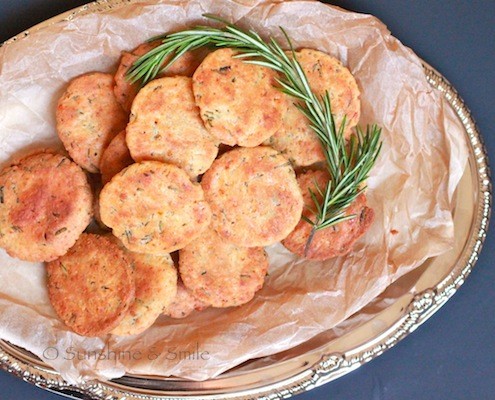 These are not the kind of cookies you dip in a huge glass of cold milk, but rather in some hot tea or a good soup.
By Kankana Saxena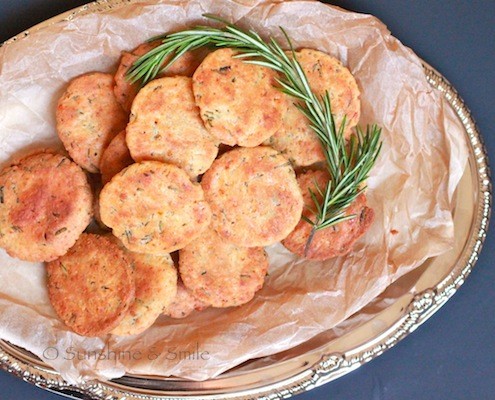 We all love cookies don't we? Take a tall glass of cold milk, dip the cookie and take a huge bite. Well, this is not one of those cookies!
These savory cookies are crispy on the outside and soft on the inside. You will love to dip them in hot soup or ginger tea or just plain as it is. The flavor combination is so amazing that as you bake them, your home will be filled with a beautiful aroma of rosemary and parmesan cheese. Trust me, you will enjoy it!
Make a huge batch and save them in an air-tight jar. Although I must say, these are so delicious, you may finish them on the same day.
I have adapted this recipe from my fellow Honest Cooking contributor Ewa Sack, and her wonderful Delishhh Blog.

Rosemary and Parmesan Savory Cookies
Crispy flavorful savory cookies that could be enjoyed either plain, with soup or tea.
Author:
Kankana Saxena, adapted from Ewa Sack's Delishh Blog
Recipe Type:
Baking, Snacks, Side Dish
Ingredients
½ cup (140 ml) unsalted butter, kept in room temperature for 30 minutes.
zest of one lemon
1 egg yolk
3 tbsp (51 ml) heavy cream
1 cup (280 ml) all-purpose flour
¾ cup (177 ml) finely grated parmesan cheese
3 tbsp (51 ml) fresh rosemary, finely cut
½ tsp (3 ml) salt
olive oil to brush on the cookies (optional)
Instructions
In a bowl, whisk butter and lemon zest.
Add the egg yolk and whisk until it's smooth and mixed properly.
Now, add the heavy cream and whisk again.
In a separate bowl, add flour, cheese, rosemary and salt and mix them.
Pour the flour mix in the butter mix little bit at a time and keep whisking. Continue till all the flour and butter is mixed properly.
Cover the bowl and let it rest for 30 mins in the refrigerator.
Finally, give it one last knead with hand and make the cookies. You could use a rolling pin to roll them and cut in shape. Or make tiny balls and press them with your palm.
At last, brush some olive oil on top of the cookies. This would give them a nice brown color.
Bake them at 350 F/176 C for about 25 minutes. Turn them and bake them for another 5 minutes.
Let them cool down and enjoy!
Kankana Saxena
Kankana Saxena shares culinary journey, travel stories and passion for photography in her blog 'Playful Cooking'. Her cooking style is mostly nutritional with little bit of indulgence here and there. She believes in the mantra 'homemade is happiness'! She is a native of India but currently resides in Santa Clara, California with her husband.