This aromatic savory quick bread makes a great snack or pairs perfectly with chili or stew.
By Faith Gorsky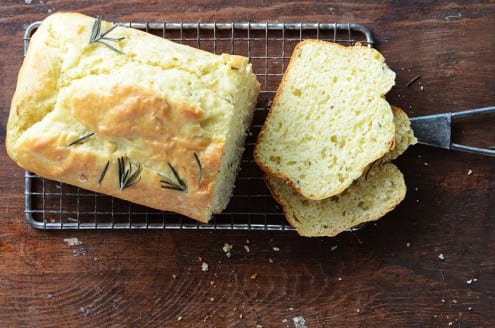 Rosemary and Onion Quick Bread
This aromatic savory quick bread makes a great snack or pairs perfectly with chili or stew.
Ingredients
1 tablespoon butter, plus more to grease the loaf pan
1 small onion, finely diced
2 cups (9 oz/255 g) all-purpose flour
2 teaspoons sugar
2 teaspoons baking powder
1 teaspoon salt
⅛ teaspoon ground black pepper
1 (slightly heaping) teaspoon minced fresh rosemary, plus a few leaves more for topping if desired
¾ cup (180 ml) milk, at room temperature (I used 1%)
¼ cup plus 2 tablespoons (90 ml) vegetable oil or melted butter
2 large eggs, at room temperature
Instructions
Preheat oven to 350F; grease a 9 by 5-inch loaf pan with butter.
Heat 1 tablespoon butter in a small skillet over medium heat; once melted, add the onion and cook until softened but not browned, about 2 to 3 minutes, stirring occasionally. Set aside to cool slightly.
Whisk together the flour, sugar, baking powder, salt, black pepper, and rosemary in a medium bowl and set aside.
Whisk together the milk, vegetable oil (or melted butter), and eggs in a large bowl.
Add the dry ingredients to the wet and stir just to combine; stir in the onion.
Transfer the batter to the prepared loaf pan and bake until golden and a toothpick inserted inside comes out clean, about 45 to 50 minutes.
Cool 15 minutes in the loaf pan, then remove the bread from the pan and transfer to a wire rack to finish cooling.
Faith Gorsky
Faith Gorsky is the writer, recipe developer, photographer, and food stylist behind the blog An Edible Mosaic. Her recently-released first cookbook, An Edible Mosaic: Middle Eastern Fare with Extraordinary Flair (Tuttle Publishing), is a collection of authentic Middle Eastern recipes handed down to her from her husband's family during her extensive time spent in the Middle East. Faith loves to travel, especially to places steeped in rich culture and history.