You can serve these roasted veggies on a bed of broken grains like dalia or couscous. Top with toasted poha rice for crunch.
By Preethi Vemu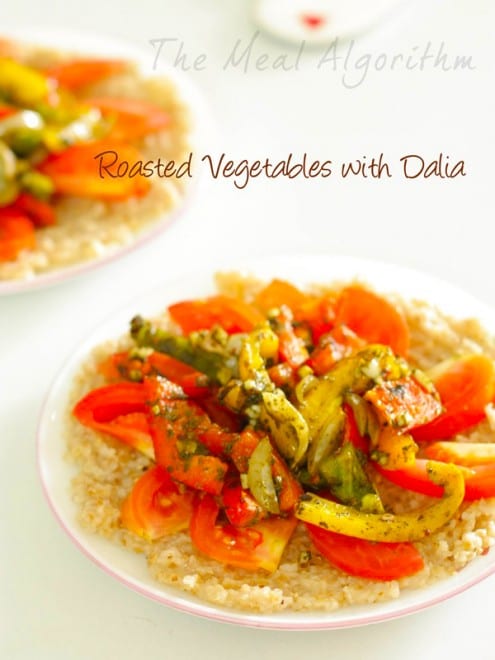 Roasted Vegetables with Dalia
You can serve these roasted veggies on a bed of broken grains like dalia or couscous. Top with toasted poha rice for crunch.
Ingredients
Yellow, Green & Red bell peppers – 1 each, sliced
Tomatoes – 2, sliced fine
Zucchini – ½, diced fine
Cucumbers – ½, diced fine
Garlic – 4-5 cloves, minced fine
Basil Pesto – 1 Tbsp
Olive oil – 1 Tbsp
Dalia or a mixture of broken whole grains or couscous – ½ C, cooked per instructions
Poha or beaten rice – ¼ C, Toasted in an oven
Instructions
Toss the peppers along with basil pesto, olive oil and garlic pieces. Spread them on a grill pan and bake in a pre-heated oven at 200 C for 10 min.
Layer the cooked dalia on the serving plate. Arrange the tomato, cucumber and zucchini pieces on the dalia.
Layer the cooked peppers on this , top with the beaten rice and serve hot.