Roasted Vegetable Sandwich Stack with Avocado-Basil Sauce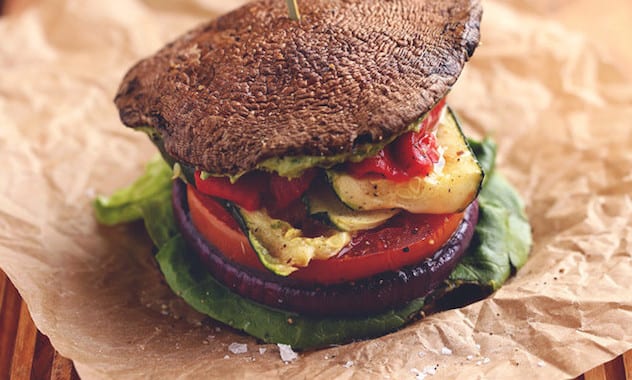 Reminiscent of a burger, this sandwich-looking stack is nothing but some flavorful veggies with a creamy sauce, no bun required.
By Ashley Melillo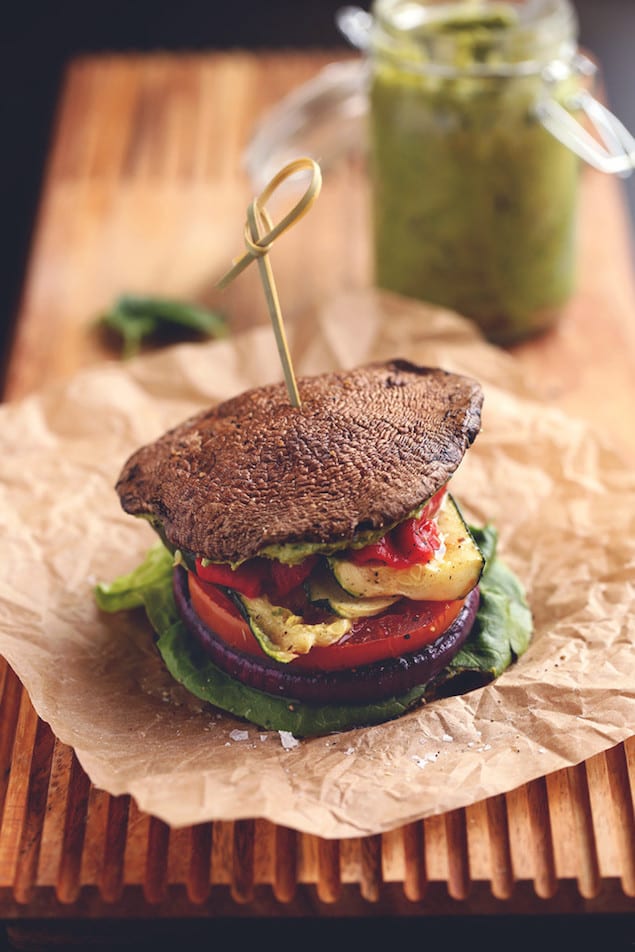 This roasted vegetable sandwich feels rather burger-like in look and heartiness. But don't be fooled. It's nothing more nor less than a stack of roasted vegetables slathered with a creamy avocado-basil aioli and jazzed up with a frilly piece of butter lettuce. Roasted portobello caps serve as buns, and roasted zucchini, tomatoes, red onion, and red peppers are piled high within to yield layers of flavor and texture. The "buns" are slathered with an avocado-basil sauce, which is simply avocado, basil, garlic, lemon juice, and a pinch of salt.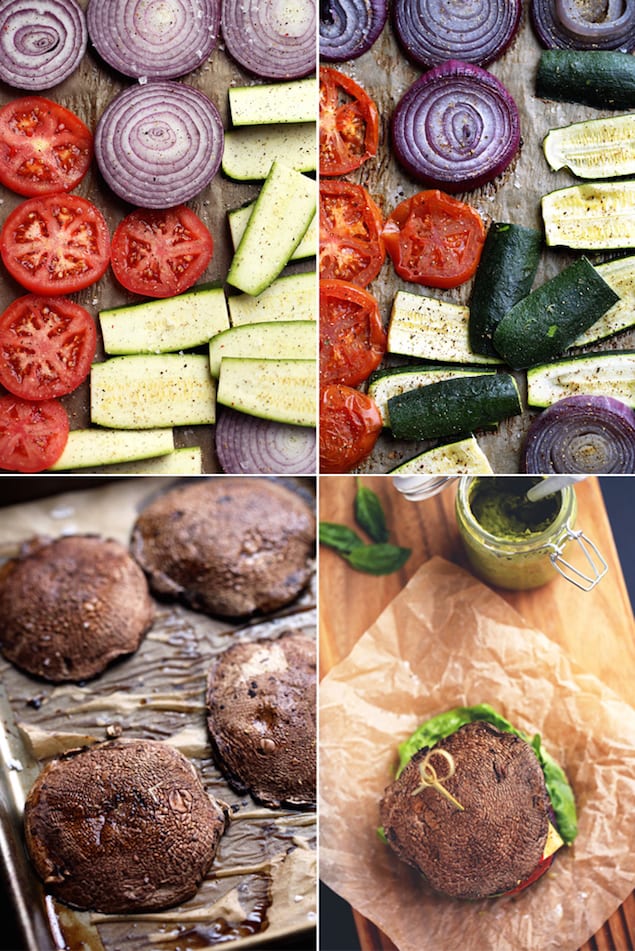 See Also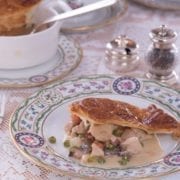 The great part about this sandwich is that all of the veggies get roasted in the oven at the same time, portobello caps included. This means that you can whip together the aioli, wash your lettuce, and set the table all while the vegetables are roasting. Once the veggies are ready, you'll slather the aioli on the portobello buns, toss on some lettuce, and pile on the zucchini, tomatoes, onions, and red peppers.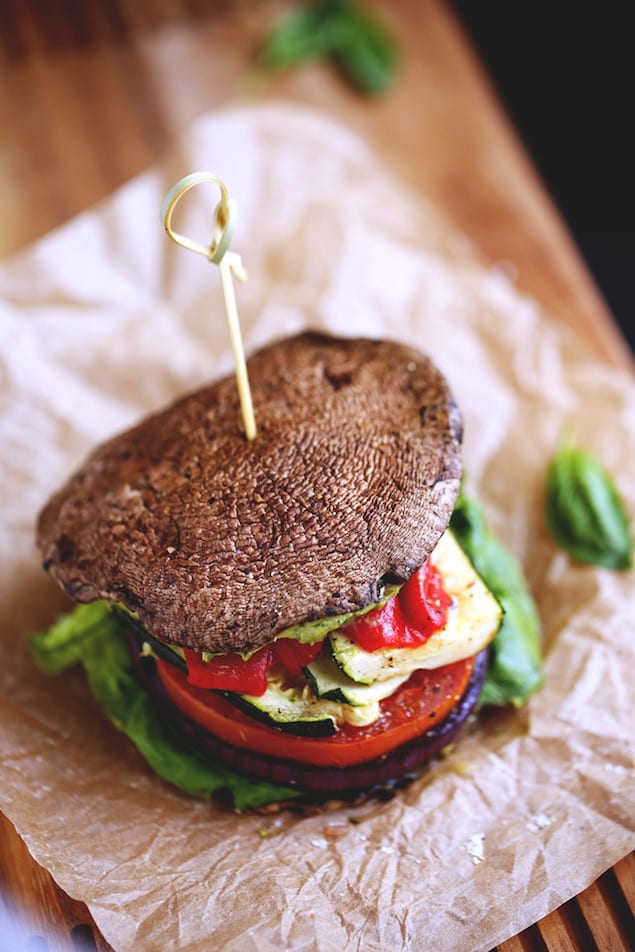 Roasted Vegetable Sandwich Stack with Avocado-Basil Sauce
Reminiscent of a burger, this sandwich-looking stack is nothing but some flavorful veggies with a creamy sauce, no bun required.
Ingredients
For the Buns
4 large portobello mushroom caps
sea salt
black pepper
For the Roasted Vegetables
1 vine-ripe tomato, sliced into ?-inch-thick rounds
½ jar roasted red peppers
1 medium zucchini, ends trimmed, halved, and sliced lengthwise
1 small red onion, peeled and sliced into ½-inch-thick rounds
½ jar roasted red peppers, sliced into 2-inch strips
For the Avocado-Basil Aioli
1 avocado, pitted
⅓ cup fresh basil leaves
1 tablespoon fresh lemon juice
1 garlic clove, peeled
¼ teaspoon sea salt or to taste
For Garnishing
4 butter lettuce or romaine leaves, washed and roughly torn
Instructions
Preheat oven to 400F.
Clean, de-stem, and scoop out the gills of the portobello mushrooms. Place all four, gill-side-down, on a large baking sheet lined with parchment pepper. Sprinkle with the tops with salt and pepper and roast for 20-25 minutes or until tender.
At the same time, add the tomatoes, zucchini, and red onion to a pan lined with parchment paper, and sprinkle with sea salt and black pepper. Bake alongside the mushrooms for 20-25 minutes or until tender, flip halfway through and season other side of veggies with black pepper and sea salt.
For the Avocado-Basil Mayo
Add the avocado flesh, basil leaves, garlic, lemon juice, and sea salt to a food processor. Process for 2-3 minutes or until smooth, stopping as needed to scrape down the sides.
To Assemble
Slather the gill-side of all 4 mushroom caps with the avocado-basil aioli. On two of the portobello caps, layer the lettuce leaves, zucchini, tomatoes, red onion, and roasted red peppers. Top with the other portobello caps, and serve.
Ashley Melillo
Ashley Melillo is the creator of Blissful Basil, a blog dedicated to unearthing the happiest side of life through wholesome, plant-based foods. Being a school psychologist and food blogger, Ashley incorporates a wide array of health-enhancing ingredients into her recipes with the hope of guiding others on their path towards improved well-being.