Potatoes, please step aside – The stage is set for something that's both more delicious and healthy.
By Suchitra Vaidyaram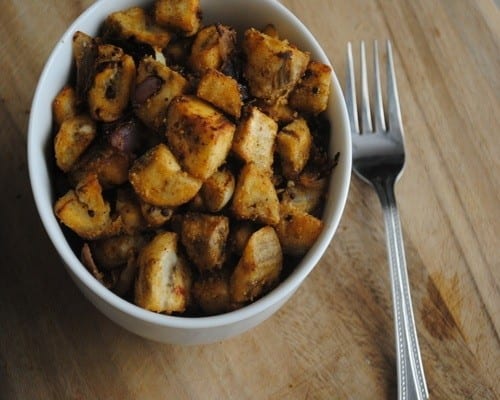 Potatoes, please step aside – Now, the stage is taken by something that's more delicious and a healthier option. The contender in question is very low in Saturated Fat, Cholesterol and Sodium. It is also a good source of Dietary Fiber, Vitamin C, Potassium, Manganese, and a very good source of Vitamin B6.
What am I talking about? Raw Bananas… I love them. I always steam them and use the inner pulp to make a stir fry. This time around I tried something different. I cooked the raw bananas on a gas flame and roasted the inner pulp with a touch of coriander seeds and notched the heat with red chillies. Makes a wonderful starter with hot chilli sauce.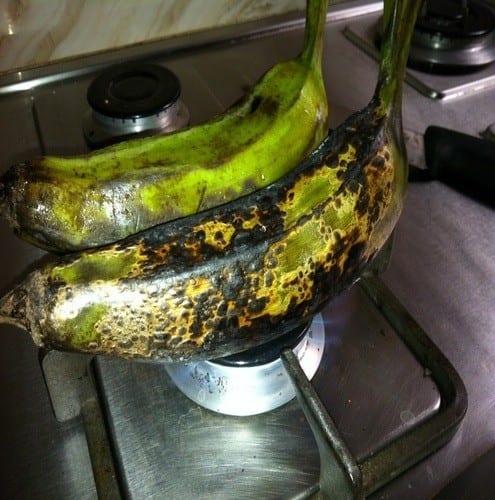 Munching on Roasted Raw Banana is both tasty, and super healthy.
Author:
Suchitra Vaidyaram
Recipe Type:
Entree, Starter
Ingredients
2 Raw Bananas
Curry Leaves- a few
one small onion- sliced
Mustard seeds- 1 tsp
oil to fry
Coriander seeds -2 tbsp
Salt to taste
dash of asafoetida powder
Dry red chillies- 3-4 (use more to make it spicier)
Instructions
Put the raw Bananas on medium flame and allow the bananas to cook. Cook the bananas till the outer skin is completely charred and the inner portion is soft.
Once cooked remove them from flame and allow them to cool.
Peel the skin and chop them in cubes.
Dry roast the coriander seeds with red chillies on a pan till they become aromatic (don't burn them)
Coarsely grind the coriander seeds with dry red chillies.
In a pan add liberal dose of oil and throw in the mustard seeds.
As they begin to sputter, add dash of asafoetida powder.
Fry the onions on a medium flame till they become golden brown.
Add curry leaves and chopped bananas.
Roast them in the pan till they start turning golden brown.
Adjust salt according to taste and throw in the spice powder.
Roast them for another few minutes till the bananas absorb the spices.
Enjoy them with spicy sauce!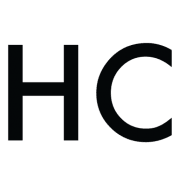 Suchitra Vaidyaram
Suchitra is passionate about cooking flavorful food and loves fusion cooking. She records her recipes on the blog Flavors, which focuses on simple and easy to cook recipes.