A deceptively simple lamb recipe that allows the inherent tastiness of the ingredients really shine.
By Ann Kaufman
During the winter months, our whole family takes on a bear-like quality. We bundle up, lay together in a pile and generally hibernate. The only exception to that is that everyone seems to want to eat, for lack of a better word, "big meat." Is it because we're storing calories up so that we can brave the cold? Yeah, that (and not general gluttony) must be the reason.
One of my favorite weekday (yes, weekday) recipes is this very, very easy roasted lamb rack using just three main ingredients: lamb, rosemary and tomatoes.
Right before the season's last gasp on really good tomatoes, I found a few boxes of really plump, juicy miniature heirlooms on sale at our neighborhood grocery store. I usually buy my lamb racks Frenched (get your mind out of the gutter! I mean with the fat/membranes/meat removed to separate out the rib bones from the meat), which makes not only for a beautiful presentation once the racks are roasted but also makes for a convenient holding stick for eating the lamb. This recipe came to me by way of Bon Appetit magazine years ago, and it's become an ingrained part of my recipe brain (also in that brain, lest you think I'm some sort of recipe savant, is a terrifying large number of quotes from "Friends." I guess sometimes brain holds what the heart wants it to?)
See Also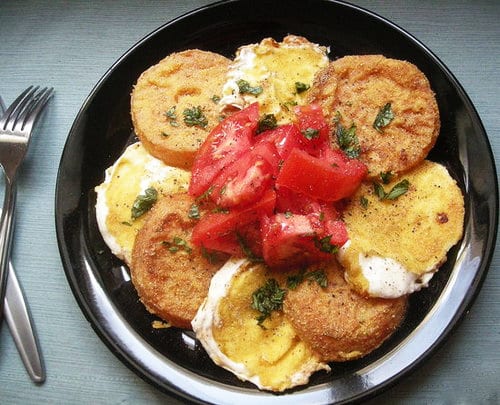 Anyway, I usually roast two racks of lamb at one time, because no one ever just eats one or two of these little ribs once I've cut them apart. The lamb roasts under high heat over a bed of the heirloom tomatoes, which burst while they're cooking in the oven. As a result, the racks absorb the tomato juices, which de-emphasizes the natural gaminess of the lamb and provides added flavor where a marinade would do otherwise. Every time I pull my roasted racks from the oven, our dinner guests (or my family, depending on who's around) always seem way more impressed than they should be. Either that, or they're just hankering for lamb and know the quickest way to get to them is to compliment the cook. After a quick rest (to let the meat re-absorb some of the juices lost during cooking), I slice these babies up between the ribs and serve them to anyone walking through the kitchen. Everyone eats lamb differently — some are nibblers, others rip at the ribs like Fred Flintstone — but my favorite people to watch are the ones who use the lamb ribs as a pointer to emphasize while they chit-chat.
I mean, if there ever was a meat to be used as a conversation piece, this would be it.
Print
Roast Lamb Racks with Heirloom Tomatoes
A deceptively simple lamb recipe that allows the inherent tastiness of the ingredients shine.
Author:

Ann Kaufman

Yield:

6

-8

1

x
Category:

main courses

Cuisine:

American
2

, 2-lb lamb racks, Frenched (your butcher can do this for you)

4

–

5

teaspoons of good olive oil, divided

3

12-ounce containers of plum or heirloom tomatoes

5 tablespoons

chopped fresh rosemary
kosher salt and pepper, to taste

2

garlic cloves, peeled and left whole (optional)
Instructions
Preheat oven to 425°F.
Cover a large rimmed baking sheet (large enough to contain both racks of lamb with some space to spare) in foil.
Rub garlic cloves (if using) all over lamb and place into roasting pan
Rub lamb with 1 tablespoon oil; sprinkle with half of the rosemary, then salt and pepper. Place on baking sheet.
Mix together 2 tablespoons oil, 1 1/2 teaspoons rosemary and tomatoes in large bowl. Sprinkle with salt and pepper and toss to coat; scatter around lamb.
Roast lamb and tomatoes until thermometer inserted into thickest part of lamb registers 135°F for medium-rare, about 30 minutes. Let rest 10 minutes.
While lamb is resting, transfer tomatoes to a large serving platter and place tomatoes around the edges.
Cut lamb between bones into individual chops.
Ann Kaufman
Ann Kaufman is an emotional food enthusiast who writes about food at Grits & Chopsticks. When she's not writing about food, she's caring for her two young children, lawyering and thinking about her next meal.