Fall is here, people! Enjoy the crisper air and apple picking dates, and get on board with this fabulous dish you can have on your dinner table all season long.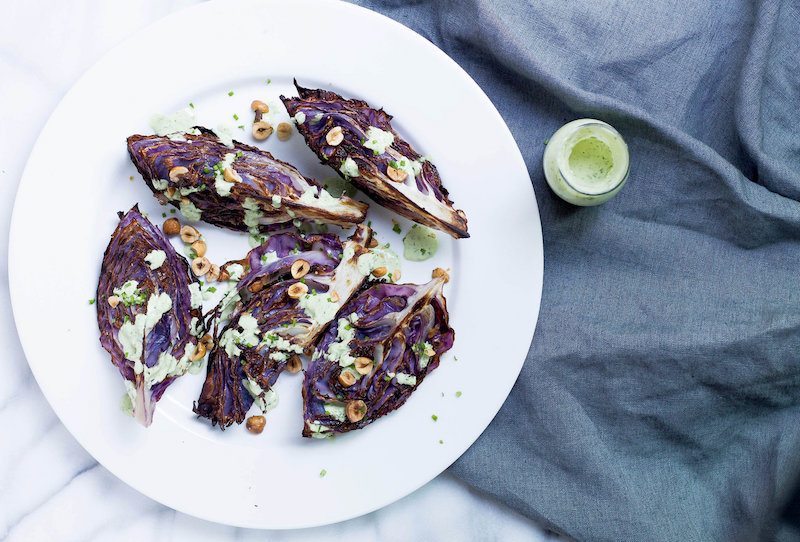 Fall is sneaking in the air as of late, it's still warm out, but in the morning you can definitely get a sneak peak of what's coming. I'd like to say this makes me whip out my roasted vegetable recipes as if they'd been hibernating over the summer, but honestly… I never stop roasting vegetables. Even in 80 degree weather, hehe. They're just too good, too easy and too good, YES– I said it twice.
Cabbage isn't something I normally eat cooked, I usually slice it or ferment it, but I recently tried grilling it which was fabulous and since I roast just about everything else… it was time this pretty purple cabbage met my roasting pan!
Guys. IT'S DELICIOUS.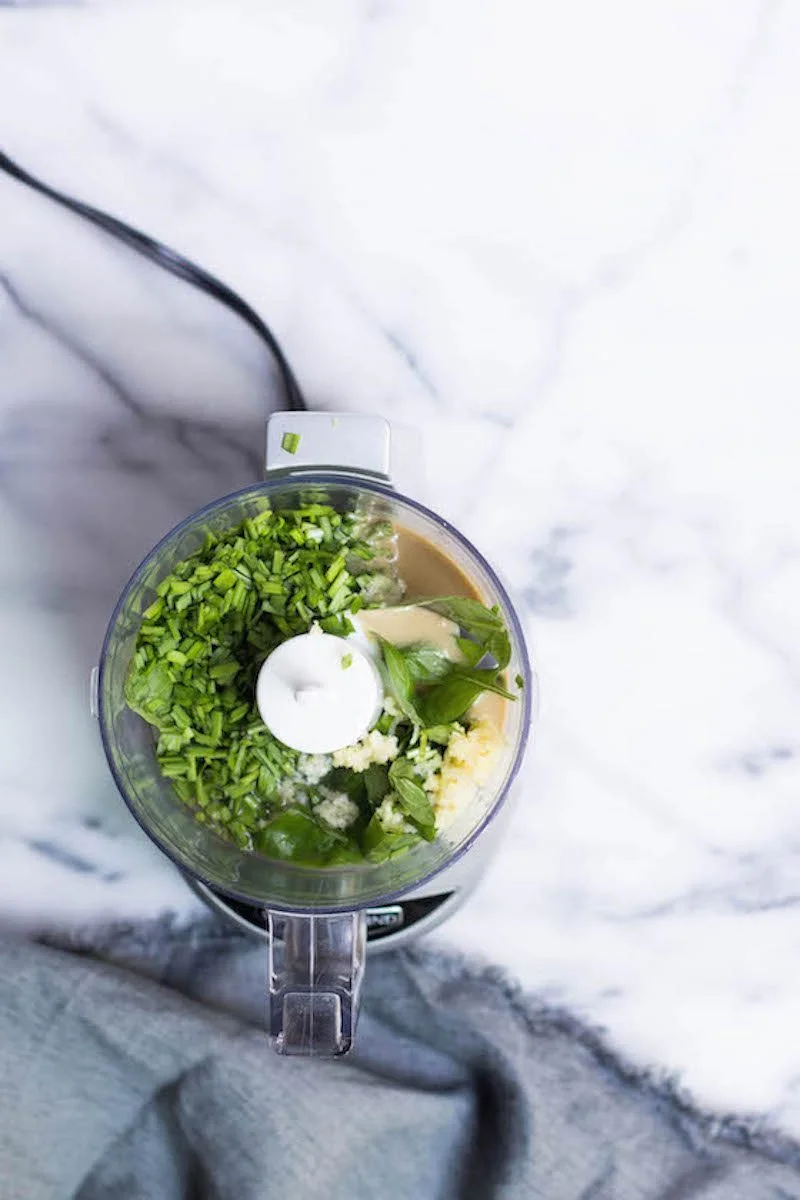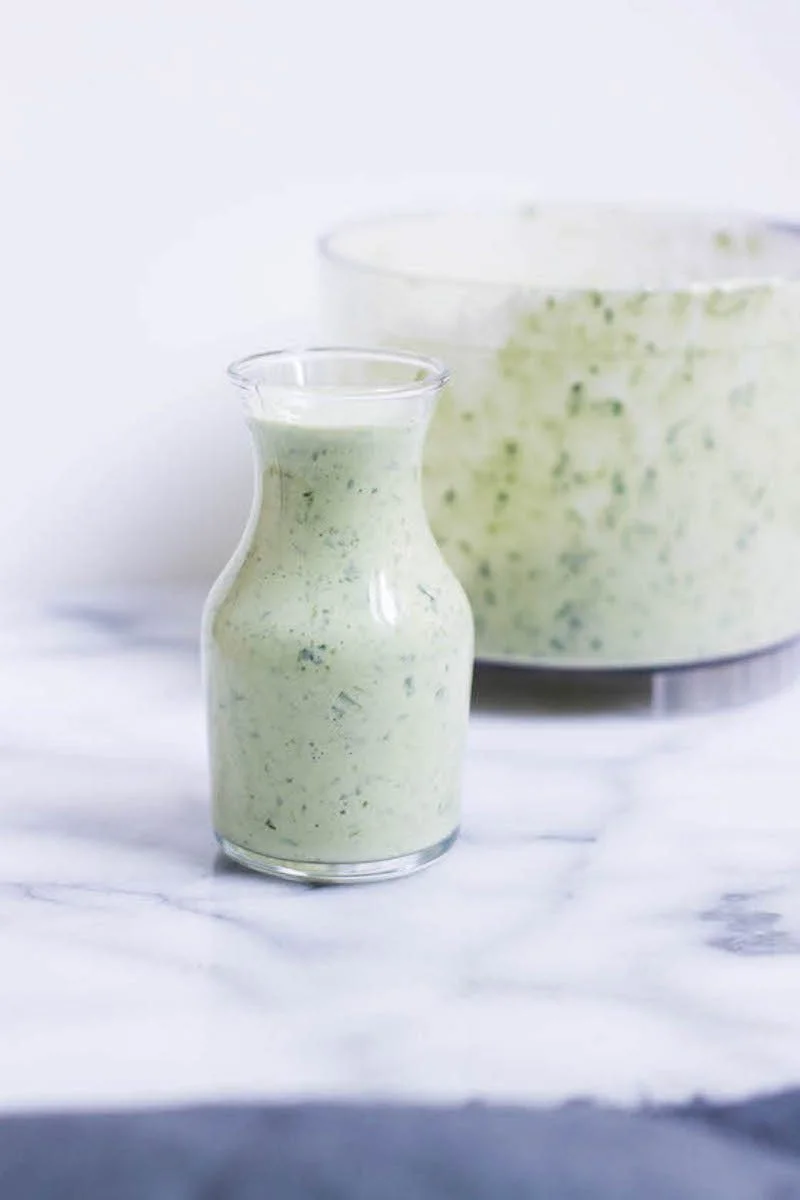 Eating it alone with some salt and pepper would be perfectly tasty as is, but I now have a basil plant outside and had some other herbs lying around that were begging to be used. LIGHT BULB – Green goddess dressing!! Green goddess dressings can vary in the herbs used, so I put my own spin on it with a little basil and chives, tahini and WOW. This is my new favorite. This recipe makes enough so you'll have leftovers too :)
See Also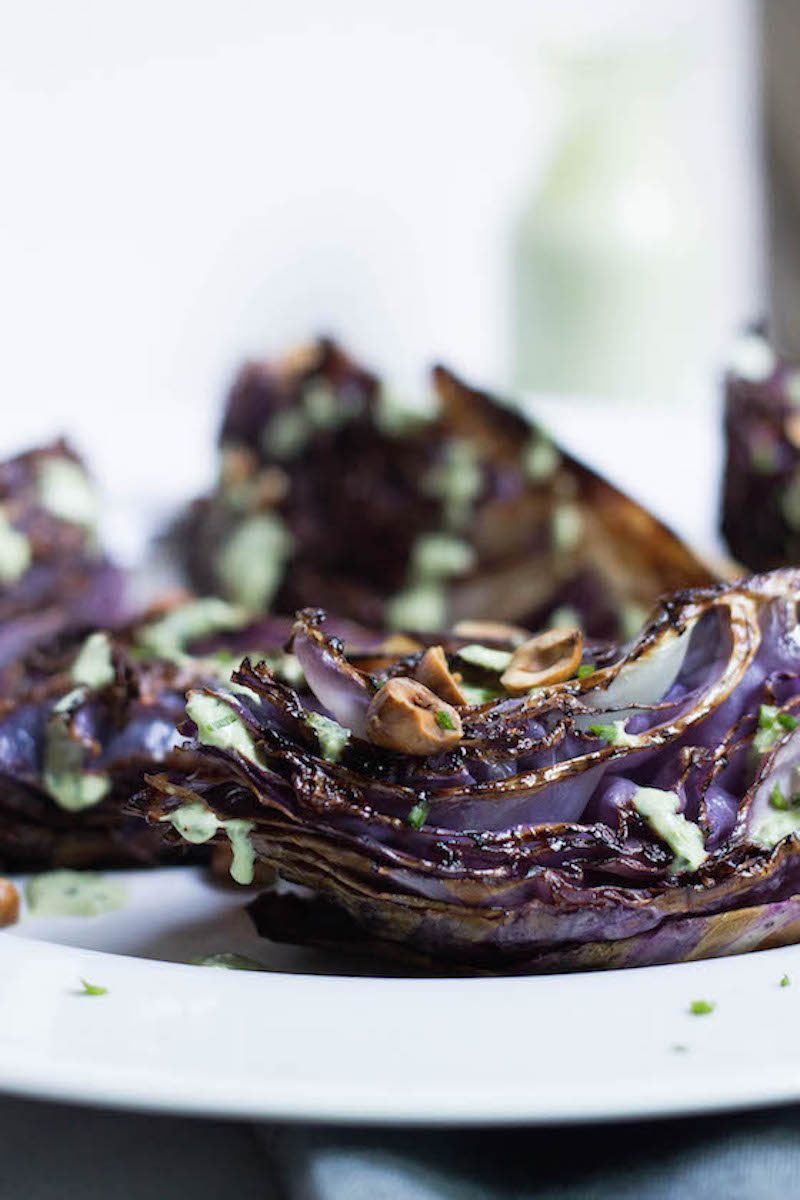 Marrying these two was a better combo than I imagined and is very simple. The deep roasted flavor from the cabbage and herbaceous, creamy dressing hits all the notes for me. If you have nuts, preferably hazelnuts – toast those up and throw them on top for added crunch. YEAH. It takes just about 40 minutes to do everything and if you're an expert multi-tasker, maybe less.
Print

---
1

head of cabbage

1

–

2

Tbsp olive oil
sea salt
Topping: roasted hazelnuts
Green Goddess Dressing

1/4 cup

tahini

1/4 cup

fresh basil leaves

1/4 cup

chopped chives

1/2

lemon (juiced)

1/2 tsp

apple cider vinegar

1/3 cup

almond milk
---
Instructions
Pre-heat oven to 450f degrees and line a baking sheet with parchment paper.
Chop the head of cabbage in quarters, leaving the core intact as that's what will hold it all together. If you can get more slices out of it while still keeping the core, go for it – I was able to get 6 total based on how the cabbage was shaped.
Lay slices down onto baking sheet on a flat side, drizzle olive oil and coat two sides of each slice with some. Sprinkle sea salt over top and roast for approx. 25-30 minutes, flipping halfway through.
In the meantime, make the green goddess dressing by adding all ingredients to a food processor, set aside.
Take a handful of hazelnuts and lay on a baking sheet, roast in the same oven for 3 minutes or so – be very watchful not to burn. The outer layer will be cracking off and you can remove it after it cools off a bit with a paper towel. Chop hazelnuts in half and set aside for topping.
Once cabbage is all done, using tongs, add to your plate. Drizzle green goddess dressing, top with any leftover chives and hazelnuts – serve!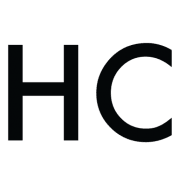 Alison Marras
Food by Mars is a Clean, Seasonal, Celestial Recipe Blog featuring gluten-free, vegetarian, vegan, and lactose-free recipes including a Monthly Horoscope inspired recipe!