With some crispy leaves, these roasted brussels sprouts with pears, hazelnuts, and thyme are a simple stunner.
By Traci York
Brussels sprouts seem like a dinner party no-brainer, but for me they're something more. A quintessential piece to a meal, they are never boring, versatile and so simple to dress up.
I didn't discover the beauty and flavor of Brussels sprouts until several years ago when I saw them at the farmers market. I always turned my nose up previously, just because they were unfamiliar and I didn't know what to do with them.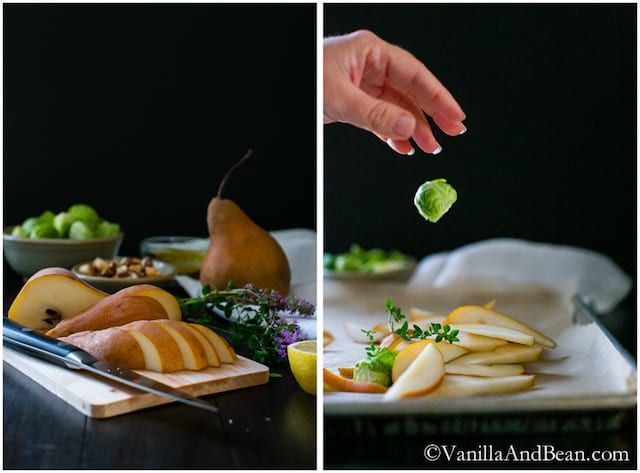 There was a time in my adult life when I didn't know Brussels sprouts from kale. Not kidding.
Usually, Brussels sprouts can be purchased on or off the stalk. When buying Brussels sprouts, look for firm heads that are compact and vibrant green. Off the stock, choose sprouts that are of equal size so that they cook evenly.
See Also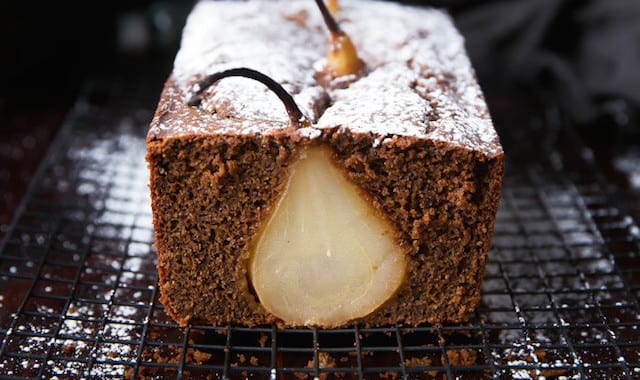 This recipe is quite versatile. I've made it with apples and pears, pecans instead of hazelnuts and a little drizzle of maple is quite tasty for a sweet touch.
I imagine rosemary instead of thyme would be delicious too.
The sprouts' leaves and outer edges crisp up while the insides remain tender. The pear offers a bit of caramelized sweetness while the thyme, shallot and seasonings pull it all together. Hazelnuts (or pecans) add a delicious earthy crunch.
Roasted Pear and Brussels Sprouts
Traci York
With some crispy leaves, these roasted brussels sprouts with pears, hazelnuts, and thyme are a simple stunner. Slightly adapted from Power Foods
Ingredients
1

lb

450g Brussels Sprouts, trimmed and sliced in half

1

300g Bosc Pear (2 if small), cored and sliced ¼" thick lengthwise

1

78g Large Shallot, sliced thin

7

Sprigs of Thyme

plus a few more for garnish

¼

tsp

Sea Salt

1/8

tsp

Black Ground Pepper

2

Tbs

Extra Virgin Olive Oil

1

tsp

Fresh Lemon Juice

½

C

50g Hazelnuts, whole or Pecans, rough chopped
Instructions
Preheat oven to 425F (218C). Line a sheet pan with parchment paper.

Gently toss Brussels sprouts, pears, shallots, thyme, salt and pepper, and olive oil together on the sheet pan and spread evenly (if doubling the recipe, use two sheet pans).

Roast on center rack for 20-25 minutes rotating the pan ½ way through roasting. Leaves will be crispy and the pears are slightly caramelized.

Toast the hazelnuts or pecans in same oven for the last 7-8 minutes of roasting. If using hazelnuts, and while the hazelnuts are still warm, place them in the center of a kitchen towel and bring the corners up together. Gather the towel just above the hazelnuts while closing the towel tightly with one hand. Rub the bottom of the towel with the other hand, agitating and rubbing the hazelnuts together in order to remove their skins. Open the towel and remove the hazelnuts that have almost all their skin gone. Repeat the process at least two more times. Rough chop the hazelnuts.

Drizzle the lemon juice over the sprouts and pear, toss in the nuts. Gently turn the veggies and fruit over using a spatula, taste for season adjustments.

Garnish with extra springs of thyme. Serve immediately.
Traci York
A Texas native and former omnivore, Traci is the author and photographer behind Vanilla And Bean, a vegetarian food blog where you'll find savory and sweet recipes and photography to inspire. Although flavors of TexMex influence her cooking, she now resides just North of Seattle WA where farms and farmers markets abound. This is where she finds her inspiration. After a career in education, Traci set off to pastry school to learn in the French style and hone her baking skills. While working at an organic, artisan bakery Traci started Vanilla And Bean to share her love of good food.