PARTNER POST: Be inspired this season to make little changes to your holiday menu by adding the merriest berry – blueberries — into your recipes.
A tender rack of lamb is easily roasted and served with a creamy, tangy, bright blueberry crème fraîche sauce.
By Becky Winkler
I'm a total berry fanatic, and I especially love blueberries. Whenever I go grocery shopping, I troll the produce section to see if fresh blueberries are on sale, and often end up buying them even when they're not. I'm a fan of frozen blueberries, too, but until recently, I'd only used them in smoothies and desserts.
When the U.S. Highbush Blueberry Council asked me to create a savory recipe featuring frozen blueberries, I was almost instantly inspired to create this very dish: a simple roasted rack of lamb with an easy but vibrant sauce made with blueberries and crème fraîche. Blueberries pair really well with tart ingredients like lemon juice, buttermilk, and crème fraîche, and with my recently discovered love of lamb, putting blueberries, crème fraîche, and lamb together seemed like a no-brainer. Click here for the full recipe.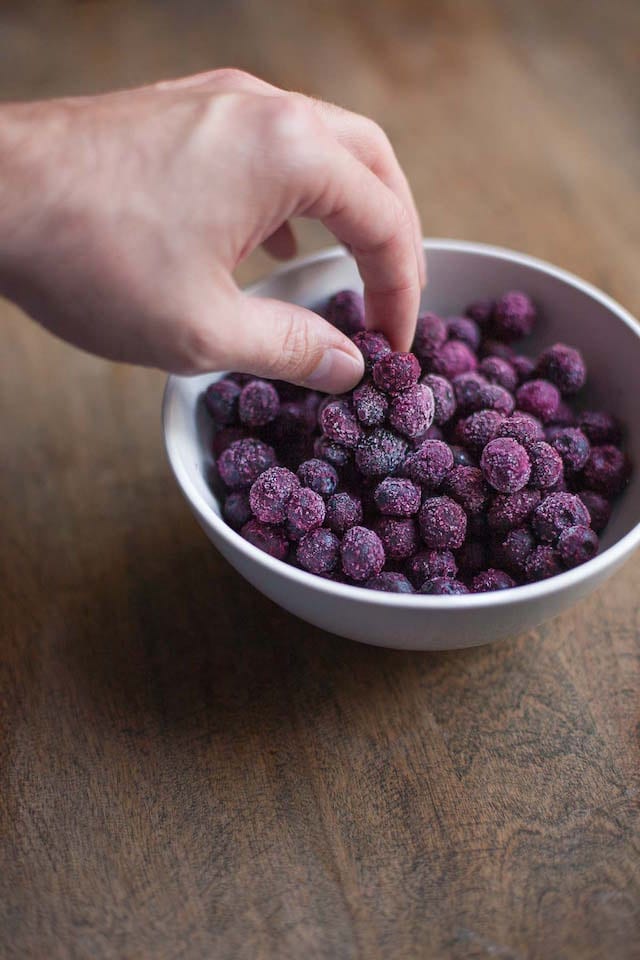 The results were outstanding! I made two racks of lamb in one day while I was testing this recipe, and I may or may not have eaten almost an entire rack myself. And as long as you're not a ravenous food blogger who has to take dozens of photos before sitting down to eat, you'll get two good main dish servings or an appetizer for four from this recipe. As a main dish, it would be perfect for a romantic New Year's Eve in, especially if you're someone like me who much prefers not to brave any crowds to ring in the new year. As an appetizer, it would be an elegant start to a dinner party during the holiday season or anytime. And if you're feeding more of a crowd, you can easily double the recipe, either by using two cast iron skillets or a roasting pan that will hold two racks of lamb.
Using blueberries in this sauce is a triple win. Obviously they make the sauce tasty, but they also make it gorgeous, so it looks like it's something fancy that took you ages to whip up when in reality it's totally simple. And, last but not least, blueberries make any meal healthier because they're packed with vitamins and polyphenols.
One of the best things about this roasted rack of lamb with blueberry sauce is that it's really easy. First, you whisk together softened butter and crème fraîche with a little salt and pepper, rub it on the lamb, and roast it in a cast iron skillet. Other than a few minutes to rest after it comes out of the oven, that's all the meat needs!
That leaves you plenty of time to make the sauce, which I can't wait to drizzle on pretty much everything all winter long. You don't need to defrost the blueberries to make it (or for them to be a delectable snack! I recommend buying extra in case someone steals a few of yours). The frozen blueberries go right into a saucepan with chopped shallot and a squeeze of lemon, and cook just until they're nice and saucy.
After a quick whir in the food processor with crème fraîche and a tiny bit of honey, the sauce is ready to go. Just try not to eat too much of it plain while the lamb rests!
Don't miss out! The Blueberry Council is hosting a holiday sweepstake offering $500 in groceries to the winner.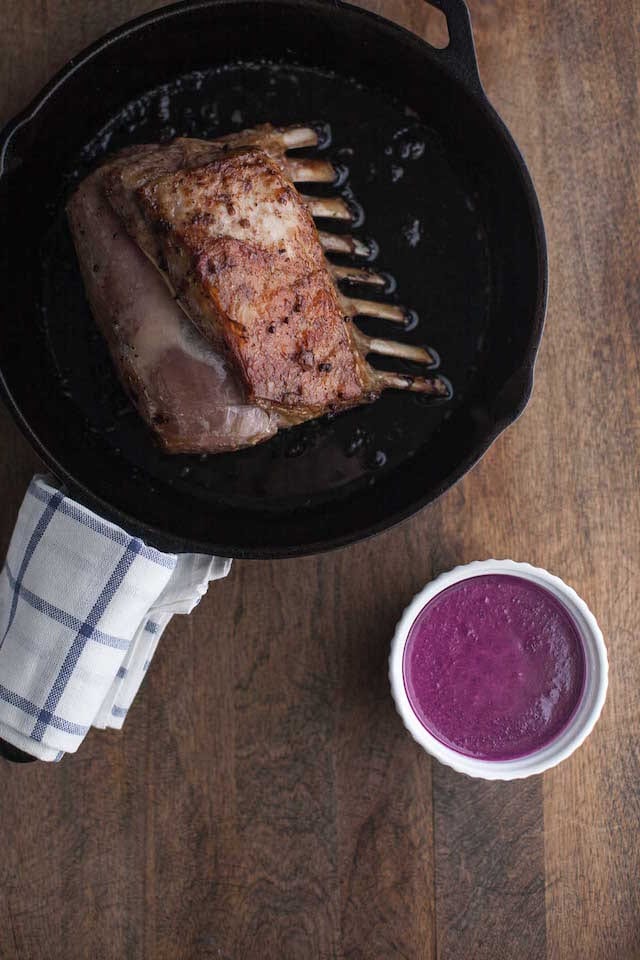 Becky Winkler
Becky Winkler is an enthusiastic eater who shares paleo and gluten-free recipes on her blog, A Calculated Whisk. She enjoys chopping chocolate, salting dessert, searing short ribs, and taking pictures. In her other life, she's a grad student in Boston.