This roasted carrot side dish is perfect for an easy weeknight meal but also elegant enough for a dinner party. The honey caramelizes during the roasting process and gives the carrots a bit of sweetness to balance out the kosher salt.
By Taylor Kadlec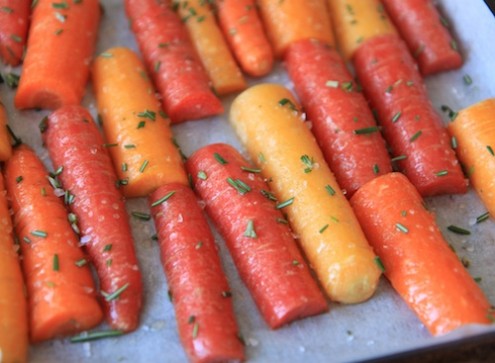 Roasted Honey & Rosemary Carrots
Ingredients
2 lbs carrots, each carrot cut in half, then sliced long ways
2 tbsp olive oil
1 tbsp honey
2 tbsp fresh rosemary, chopped
Kosher salt to taste
Instructions
Preheat oven to 425 degrees F.
In large bowl, combine chopped carrots, olive oil, honey, and rosemary. Stir well to combine.
Place onto baking sheet lined with parchment paper or foil, or just a baking sheet sprayed with cooking spray.
Sprinkle carrots with kosher salt.
Bake in preheated oven for 20 minutes, turn the carrots, and bake for 15-20 minutes more, until well done. Serve immediately.