Roasted Hokkaido Pumpkin Soup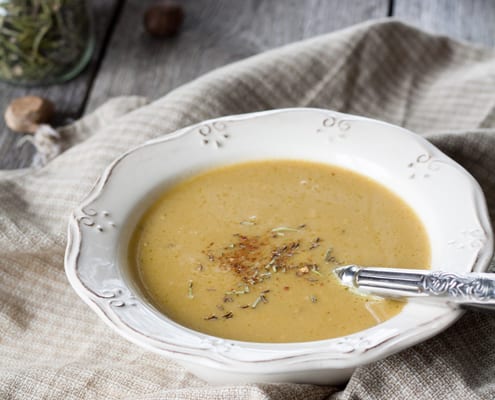 The perfect fall soup: Sweet and creamy Hokkaido Pumpkin Soup.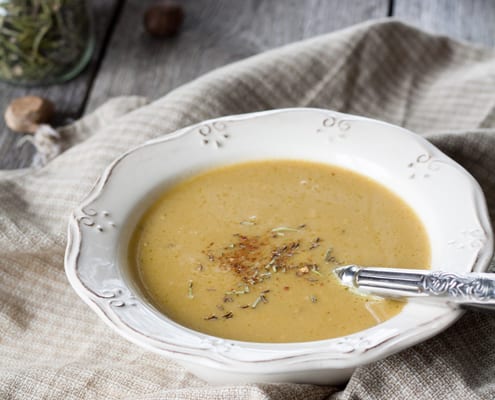 It's pumpkin season and great time to turn them into a hearty, warm soup. Pumpkin soup is creamy, straightforward and comforting. I recommend roasting pumpkins prior to cooking them into a soup, it intensifies their flavor and makes the final result slightly smokey, which is great in soups like this. I used hokkaido, but butternut is also great for this dish.

Roasted Hokkaido Pumpkin Soup
The perfect fall soup!
Ingredients
35.2 oz (2 kg) hokkaido pumpkin
1 onion
1 garlic clove
3½ cups (875 ml) chicken stock
1 cup (240 ml) heavy cream
salt
pepper
1 tbsp honey
sour cream for serving
Instructions
Preheat oven to 220 C. Cut pumpkin in half lengthways, take out the seeds. Place it cut side up on a baking tray lined with parchment paper. Peel onion and garlic cloves, cut onion in half, place everything on a baking tray together with pumpkin. Drizzle with little oil and sprinkle with sea salt. Bake for about 50 minutes, until the pumpkin softens and starts to brown.
Scoop the pumpkin out of the skin and put into a blender, together with onion and garlic. Puree pumpkin and onion (you can also use hand mixer).
Heat some oil in a pot and add pureed pumpkin with onion and garlic. Add chicken stock and cream. Cook until it boils. In the end, add honey. Puree with hand mixer and season with pepper.
Serve with sour cream on top.
Tamara Novakoviç
Tamara Novakovic is a passionate self-taught cook, food blogger, freelance food writer and photographer behind bite-my-cake.blogspot.com. Her life journey has led her through Faculty of Humanities in Zagreb, Croatia to discovering passion for making cakes. She is currently a weekly food columnist for Croatian newspaper V magazine and food magazine Repete.