Roasted Grapes and Goat's Cheese Bruschetta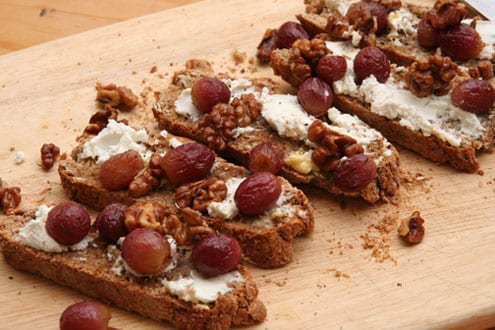 Autumn is here with this comforting snack or appetiser, crunchy bread, soft melting cheese and warm juicy grapes.
By Selina Periampillai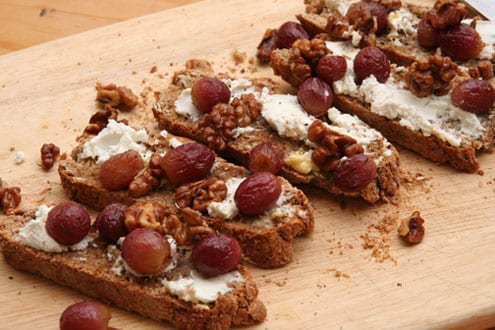 This delicious starter or lunch time snack is healthy and a somwthing that will have you warming up this Fall. Grapes are not famoulsy used in this way, but here I have roasted them with some fresh thyme. When they are ready, they are bursts of sweetness on small toasted bread with a slathering of goats cheese, its a real winner!
Soda Bread, Roasted Grapes & Goats' Cheese
Autumn is here with this comforting snack or appetiser, crunchy bread, soft melting cheese and warm juicy grapes
Author:
Selina Periampillai
Ingredients
2 slices of Soda Bread
10 red grapes, seedless
1 handful of Goats cheese
1 tsp Dried thyme or fresh leaves
extra virgin olive oil
½ garlic clove
1 handful of walnut halves
Salt and Pepper
Instructions
Preheat the oven to Gas Mark 5.
Scatter the grapes over a baking tray, dust with thyme leaves and a drizzle of olive oil, salt and pepper
Shake the tray and place in the oven for 10 minutes or until they colour. Place the walnuts in a little olive oil in the oven for 5 minutes, make sure you don't burn them
Remove both and set aside.
Toast the bread slices, rub the garlic clove over the bread, top with chunk of goats cheese, olive oil and the roasted walnuts and grapes. Serve warm!
Selina Periampillai
Selina runs a Mauritian Supper Club, in South London where she cooks for diners wanting to experience homemade mauritian cuisine, learnt from family generations of recipes. Her food is comfort food, nothing fancy or fine dining just down to earth delicious home cooking. She is a self taught wedding cake maker and cook, she recipe writes for websites, is a regular contributor to online food magazines, loves to travel especially to experience different food cultures and is a keen charity walker. You can see her culinary creations and adventures on her food blog Yummy Choo Eats.