Homemade grilled flatbread comes together quickly and its smokey taste is combined with creamy gorgonzola, spicy, arugula and sweet roasted grapes for a perfect backyard meal.
By Mallory Leicht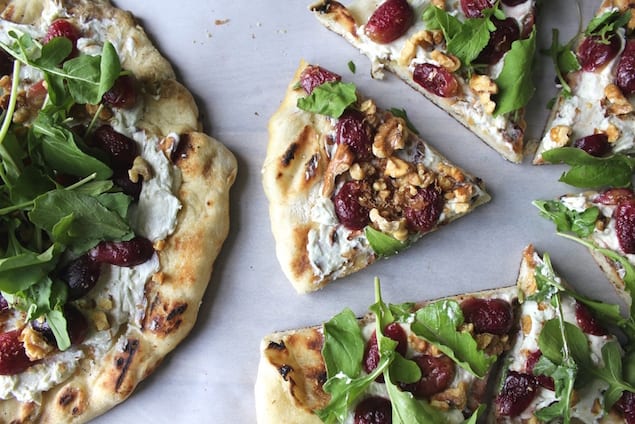 If you've never grilled bread before and the concept peaks your interest even in the slightest, I hope you'll take the next opportunity you have to try it. It's hard to beat fresh bread (think flatbread, pita, or pizza) perfumed with smokiness and loaded with fresh ingredients. I don't know about you, but once we fire up the grill I'm tempted to grill anything in the kitchen that's remotely grill-able.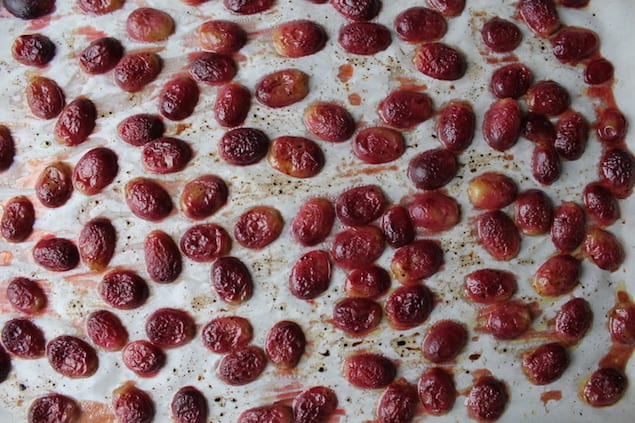 Consider giving this flatbread a try for your next dinner party. Arugula is everywhere right now, so this particular recipe brings together sharp, earthy Gorgonzola, peppery arugula, and sweetly roasted grapes. The walnuts bring in a soft, tannic crunch to the mix. Why not double the recipe consider other fruit and topping combinations, too, like roasted strawberries with goat cheese and basil, or roasted cherries with sage and mascarpone? Basically, many combinations of grilled bread + roasted fruit + spreadable cheese are utterly divine.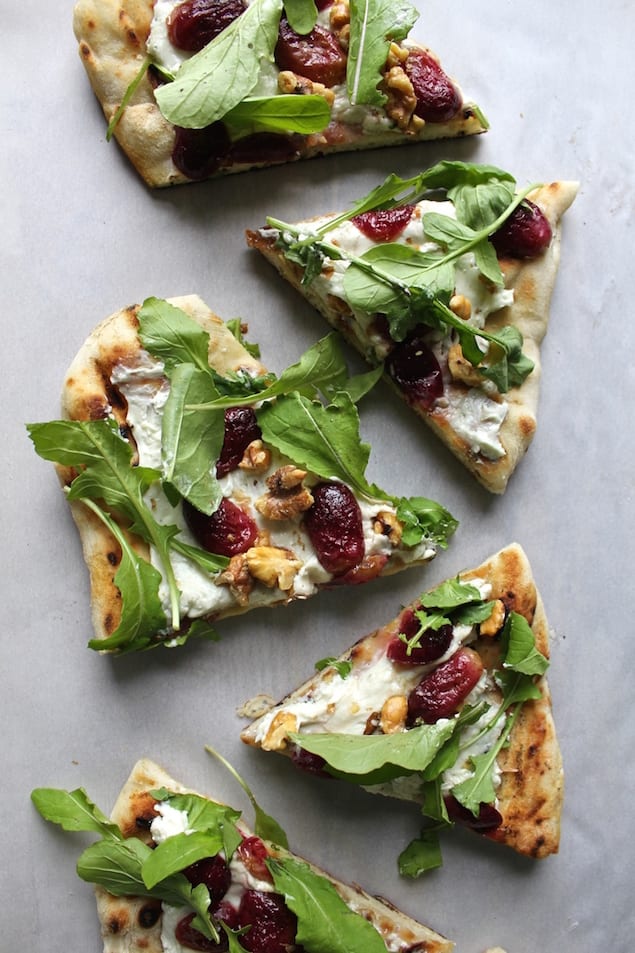 And good news for busy folks who crave freshly baked bread, but don't have a ton of time – this flatbread comes together quickly. It takes less than an hour from start to finish with mixing, kneading, fermenting, and grilling, during which time you can prep the toppings.

Roasted Grape and Arugula Grilled Flatbread
Homemade arugula grilled flatbread comes together quick and its smokey taste combines with creamy gorgonzola and sweet roasted grapes for a backyard meal.
Serves:
two 9-inch flatbreads
Ingredients
For the the flatbread:
6 ounce water, warm
¼ teaspoon active dry yeast
2 cups flour
1 teaspoon salt
1 ounce olive oil
For the toppings:
1½ cups red seedless grapes, sliced
1 teaspoon balsamic vinegar
2 ounces Gorgonzola
5 ounce cream cheese
½ cup walnuts
1 cup arugula
Instructions
For the the flatbread:
Whisk together warm water and yeast in a large mixing bowl, or the bowl of a stand mixer. Let sit for 10 minutes to give the yeast a chance to bubble. Add in flour, salt, and olive oil. Stir vigorously by hand using a wooden spoon for 6-8 minutes, until the dough forms a ball and becomes elastic. It will pull away from the spoon, but remain a bit sticky. If using a stand mixer, attach the bread hook to the mixer and mix on low for 5-6 minutes. Next, cover the dough with plastic wrap and let it sit at room temperature for 30 minutes to lightly ferment.
Meanwhile, fire up the grill or, if baking, preheat the oven to 400 degrees fahrenheit.
While the grill heats up, lightly dust a baking sheet with flour, then transfer the dough to a working surface also dusted with flour. Cut the dough into two equal pieces. Flour a rolling pin then roll out the pieces until they just under ¼" thick. Transfer them to the baking sheet.
Brush the first flatbread with olive oil and place it on the hot grill with the oiled side down. Grill for 1-2 minutes on each side, carefully checking with tongs to make sure it doesn't burn. Once both sides have been grilled, remove from heat, and repeat with the second flatbread.
If baking, disregard brushing with olive oil; just slide the baking sheet into the oven and bake for about 25 minutes. The bread will be soft and chewy on the inside with a crisp and toasted exterior.
For the toppings:
Preheat oven to 400 degrees fahrenheit. Place the grapes on a parchment paper-lined baking sheet and brush them with balsamic vinegar. Transfer to the oven and cook for 15 minutes, or until the grapes begin to shrivel and wrinkle.
Toast the walnuts in the oven at 400 degrees fahrenheit for about 5 minutes. This can be done while the grapes are baking.
Meanwhile, stir together blue cheese and cream cheese. Spread each cooled flatbread with cheese, then add roasted grapes, toasted walnuts, and top with fresh arugula.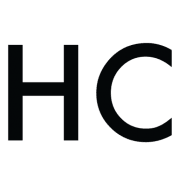 Mallory Leicht
Mallory is a food and beverage blogger and organizer of flavor-focused workshops with Chase the Flavors, a do-it-yourself resource with a Midwest perspective that celebrates savoring the special in every occasion with recipes and everyday inspiration in the kitchen, home, and beyond. Mallory is a librarian with a special interest in information access across new technologies, seed libraries, audiobooks, and non-dowdy cardigans. She loves to see the ways people use libraries to bring their dreams to life and believes that information access and education empower joyful, creative living. Beyond blogging and books, is coffee. Mallory keeps connected with the specialty coffee industry as a competitions committee member for the Specialty Coffee Association of America, helping judge deliciously inspiring coffee competitions.