Roasted fennel gives this simple pasta dish a nutty, caramelized flavor that is hard to find anywhere else.
Fennel is quickly becoming one of my favorite ingredients. I was a bit hesitant to use it at first. When most people describe it, they say it tastes like licorice. It DOES. But not overbearingly so.
With its light anise flavor, it melts into a savory sweetness when slowly cooked, which is how I prepared it the first time around. This Sausage & Fennel Ragout with Creamy Polenta slow simmers spicy Italian sausage, with fennel and white wine. The result is a fabulously salty/sweet/spicy combination. And, to date, it's still one of the recipes I get asked for most by those who've tried it.
After that first fennel experiment, I got my courage up to try fennel raw. I was a bit more timid to try fennel this way because I thought it would be extra potent in it's natural state. Not so when it's thinly sliced. This Fennel & Celery Salad is crisp and refreshing, with a bit of saltiness from the parmesan and a blast of buttery flavor toasted pine nuts. The flavors all play really nicely together.
With this pasta dish, I took on a new way (for me) to serve fennel – Roasted. Baking fennel at a high heat gives it a nutty, caramelized flavor – A perfect compliment to the zesty lemon sauce that we're tossing it with and serving over fresh linguini, topped with toasted breadcrumbs and a dollop of ricotta cheese. Yep… Yum. Crunchy, creamy, tangy. Plus, we're garnishing it with the fennel fronds – The frilly little leaves, that look like dill, growing off the stocks of the fennel. Yep, fennel comes with its own garnish – Bonus points Mr. Fennel.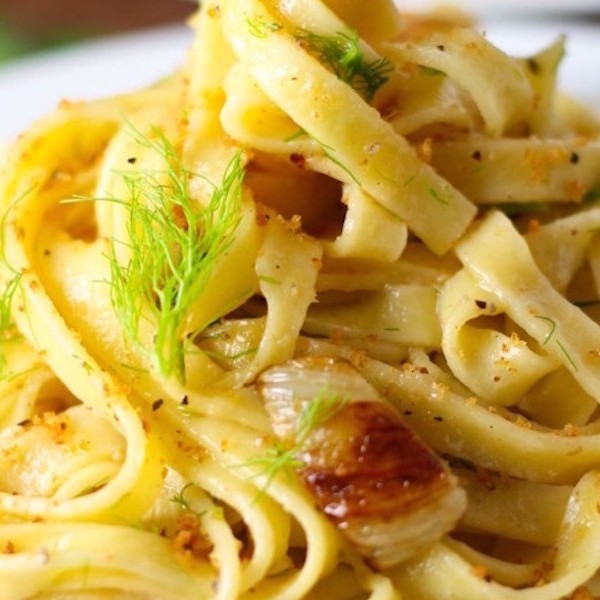 Roasted Fennel Linguine
Erin Rebecca
Roasted fennel gives this simple pasta dish a nutty, caramelized flavor that is hard to find anywhere else.
Ingredients
10

Ounces

Fresh Linguine Pasta

1

Fennel Bulb

1

Tablespoon

Olive Oil

2

Tablespoons

Butter

? Cup Part-Skim Ricotta Cheese

3

Cloves

Garlic

minced

1

Lemon

zested and quartered

¼

cup

chopped parsley

1

Shallot

minced

¼

Cup

Breadcrumbs

Salt and Pepper
Instructions
Preheat the oven to 450°F.

Heat a medium pot of salted water to boiling on high.

Pick off and mince a few of the fennel fronds. Cut off and discard the fennel stems. Halve and core the fennel bulb; slice into ½-inch-thick strips. Place the sliced fennel on a sheet pan, drizzle with olive oil and season with salt and pepper; toss thoroughly to coat. Arrange in a single layer and roast, 18-20 minutes, tossing halfway through, until tender and golden.

While the fennel roasts, combine the ricotta cheese and the juice of 2 lemon wedges; season with salt and pepper to taste.

In a large skillet, melt butter over medium heat. Add garlic, shallot and half the parsley. Cook until fragrant and softened. Add the breadcrumbs and toast over medium heat, until browned. Season with salt and pepper to taste. Wipe out the pan.

In the now clean skillet, combine lemon zest, juice of remaining two lemon wedges, ½ cup water, and 2 tablespoons olive oil; heat to boiling on high heat and stir to combine. Remove from heat.

Boil the pasta until just short of al dente. Reserving ¼ cup of the pasta cooking water, drain the pasta and add it to the skillet of sauce. Add the roasted fennel, minced fennel fronds and reserved cooking water. Cook on medium-high, stirring occasionally, until the pasta is well coated in the sauce.

Remove from heat and season with salt and pepper, to taste.
Erin Rebecca
I'm Erin - a self-taught weeknight cook. I occasionally like to delve into the more complicated recipes, like homemade pasta, Cioppino, and boeuf bourguignon. But for the most part, I work full-time, come home, pour a glass of vino and start cooking away.