Roasted Eggplant Lentil Soup with Crispy Sage Leaves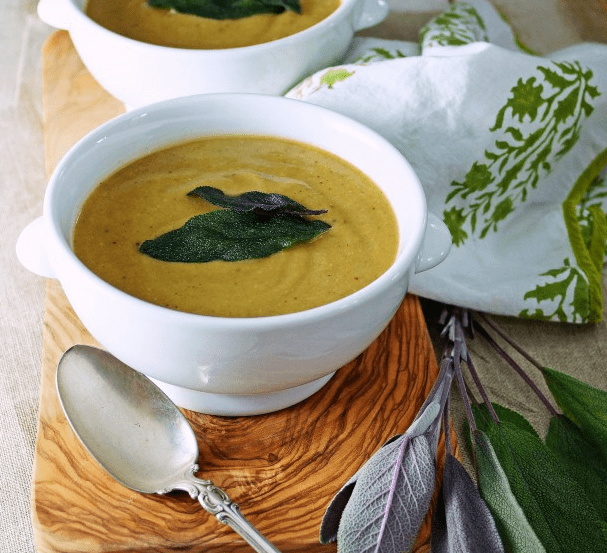 Turning on the oven to quickly roast eggplants coated with spices for this earthy flavored eggplant lentil soup for an easy to prepare Summer soup is so worth it.
By Patty Price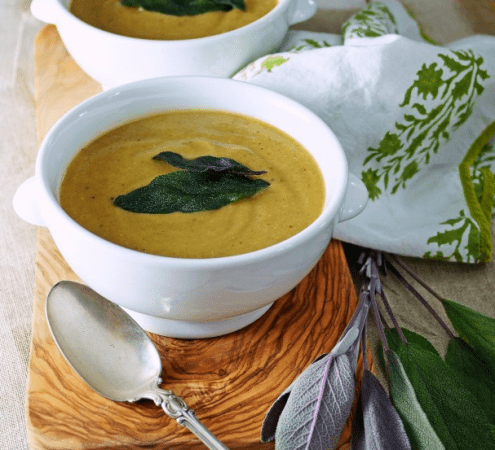 We've been having such cool morning weather the past few days I decided to make soup with my first eggplants from the garden.
Roasted Eggplant Lentil Soup with Crispy Sage Leaves
Turning on the oven to quickly roast eggplants coated with spices for this earthy flavored eggplant lentil soup for an easy to prepare Summer soup is so worth it.
Author:
Patty Price, adapted from Food and Wine.
Ingredients
2 1-pound eggplants
2 tablespoons extra-virgin olive oil
½ teaspoon Garam Masala
¼-1/2 teaspoon Chili Powder
½ teaspoon brown mustard seeds
½ teaspoon cumin seeds
Sea salt and freshly ground black pepper to taste
1 cup Red Chief lentils, I used Zursun Idaho Red Chief heirloom lentils
12 sage leaves
2 cups vegetable stock
Olive oil for frying sage leaves
Instructions
Preheat the oven to 425F.
Line a baking sheet with parchment paper.
Combine the spices, salt and pepper in a small bowl, stir in the olive oil.
Cut the eggplants in half and brush with the olive oil spice mixture.
Place the eggplant halves on the prepared baking sheet and bake for 25-30 minutes or until the eggplant is very tender and tops are golden brown.
While the eggplants are baking cook the lentils.
Place the lentils in a soup pot and cover with about 2 inches of water.
Add 2 sage leaves to the pot and a ½ teaspoon of salt, bring to a simmer and cook lentils for about 20 minutes or until tender.
Drain the lentils, leaving a small amount of cooking water in the pot, remove the sage leaves.
Place the lentils with small amount of water plus 1 cup of vegetable stock in a blender and puree until smooth, place back in the cooking pot.
Scrape out the soft eggplant flesh and place in blender with 1 cup of the vegetable stock, blend until smooth and stir into the cooking pot with the lentil puree.
Bring to a simmer and check the seasonings.
In a small skillet heat enough olive oil to fry the sage leaves, cook about 30 seconds on each side, or until crisp.
Ladle the soup into bowls, garnish with the fried sage leaves and serve.
Patty Price
Patty Price is a former assistant pastry chef at Bizou (currently CoCo500) who was previously recognized for her signature dessert by The New York Times. She also spent time learning classic French cooking techniques at a three-star Michelin restaurant in France which she incorporates into her personal food blog, Patty's Food. Inspired by the diversity of seasonal vegetables, fruits and herbs available locally in the San Francisco Bay Area, Patty hopes to inspire her readers to cook seasonally and try new recipes.