Roasted Eggplant Chickpea Soup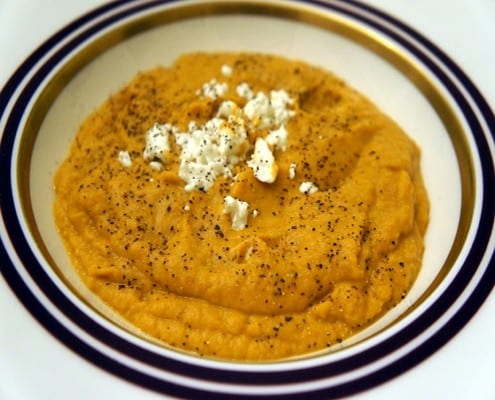 This simple soup is sensual and aromatic, bursting with Middle Eastern flavors of eggplant, chickpeas, cumin, nutmeg and tahini.
By Ashley Gaudiano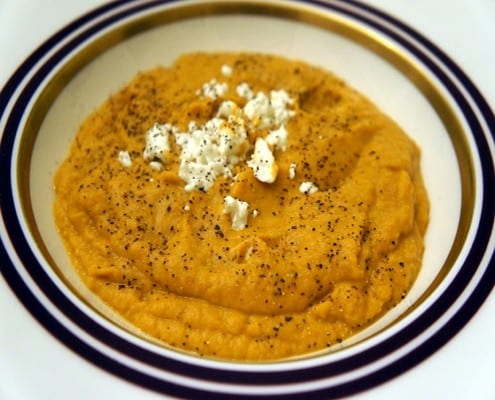 Eggplant is a go-to ingredient for me. It is such a versatile food and can be used in almost any course. It bursts with flavors, regardless of whether it is roasted, baked, or sauteed. The eggplant used in this recipe is no exception. Roasting the eggplant with chickpeas, onions and a blend of cumin, nutmeg and sea salt resulted in a fabulous, aromatic set of flavors and smells.
I have been trying to pay more attention to my senses as I cook because I don't feel like my words adequately convey to you the sensual nature of my recipes. I am filled with a gratifying, overwhelming feeling of success and love for this food. Not always, trust me, there are many a times when I think a recipe was a bust. But sometimes, just sometimes, I feel like I hit the nail on its head. I think I hit it big with this soup. The flavors flow together so perfectly and in such cohesion that I was momentarily dazed, unsure of whether this soup was too much. I ate a second bite and the smells flooded my nose, first the eggplant, than the chickpeas. A bit of lemon too. The tahini added to the flavor of roasted vegetables perfectly, accentuating the already present Middle Eastern flavor. I quickly decided I couldn't get enough. Served piping hot, with freshly grated aged cheddar and a large slice of homemade french bread, I hope this soup hits it big with you too.

Roasted Eggplant Chickpea Soup
This simple soup is sensual and aromatic, bursting with Middle Eastern flavors of eggplant, chickpeas, cumin, nutmeg and tahini.
Ingredients
1 large eggplant, peeled and cubed
4 garlic cloves, smashed
1-14oz (396.9g) can chickpeas, drained
½ sweet yellow onion, chopped
1 tsp (5mL) cumin
1 tsp (5mL) nutmeg
1 tsp (5mL) sea salt
2 tbsp (30mL) olive oil
1 tbsp (15mL) lemon juice
1 tbsp (15mL) tahini
1.25 cups (300mL) vegetable stock
1-14oz (396.9g) cup diced tomatoes, drained
¼-1/2 cup (60mL-120mL) low fat or skim milk
Instructions
Preheat oven to 400 degrees F.
Coat a baking sheet with nonstick cooking spray.
Place eggplant, garlic cloves, chickpeas, tomatoes and onion into a large bowl. Coat with olive oil, cumin, nutmeg and salt. Mix thoroughly so that the vegetables are covered.
Spread the coated vegetables onto the baking sheet and place in oven. Roast for thirty minutes, mixing every 10 minutes to prevent sticking and burning.
Remove vegetables and place in pot, preferably a heavy, cast iron pot.
Add vegetable stock, tahini, and lemon juice. Simmer on low-medium for 20 minutes. Stir occasionally.
If using an immersion hand blender, add ¼ cup of milk and blend. Add milk 1 tbsp at a time, until the soup reaches the desired consistency. If using a regular blender, place the vegetables in the blender, doing it in batches if necessary. Add ¼ cup of milk, slowly adding milk 1 tbsp at a time until desired consistency is reached. Remember to cover the hole on the blender with a towel and not the cap in order to let steam escape and prevent the soup from exploding.
Serve hot with freshly grated aged white cheddar cheese or goat cheese and fresh french bread.
Ashley Gaudiano
Ashley Gaudiano is an avid food blogger based just outside of New York City. She is passionate about cooking with healthy, organic ingredients and creating recipes for the everyday chef. Ashley believes in food as a powerful connector of people and as a means to transform one's own health and happiness. You can read about her adventures in and out of the kitchen at her blog, Simple Food Healthy Life.