Roasted Butternut Squash Salad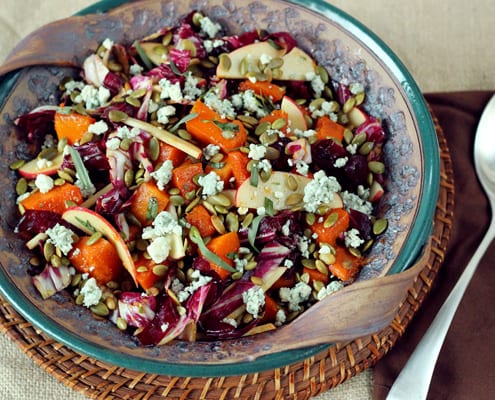 This salad has a nice balance of flavors and textures. The butternut squash is roasted with a coating of brown sugar and cayenne pepper, for sweetness and heat.
By Brittany Everett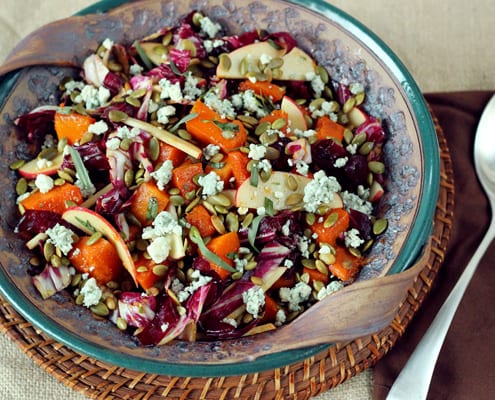 A fall without butternut squash is a fall that I want no part in. It's always one of the first things I reach for when the leaves start to change.
It's a bit of an odd looking character that seems to intimidate a lot of people, but if you have a knife and a vegetable peeler, you're good to go.
Just cut off the top and bottom ends for stability, stand it up and slice the skin off with the vegetable peeler. From there you can cut it in half vertically, remove the seeds with a spoon, and chop as you like. In this case, we're cubin' and roastin'.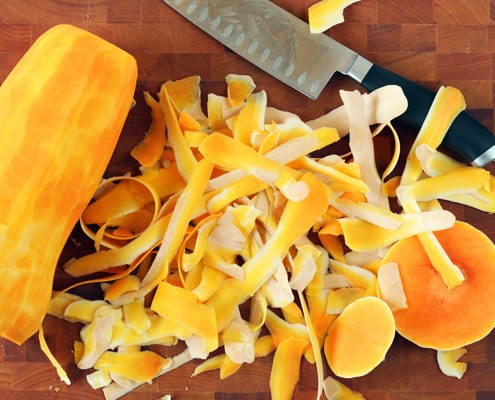 This salad has a nice balance of flavors and textures. The butternut squash is roasted with a coating of brown sugar and cayenne pepper, for sweetness and heat.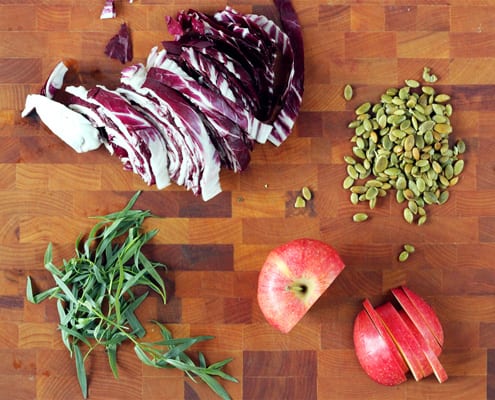 We also have radicchio for bitterness, pepitas for a hearty crunch, apples for a mild sweetness, and tarragon for a fresh finishing punch of flavor. Blue cheese brings its famous funkiness to the party as well. It just isn't a party without some funk.
All the fun of fall is hanging out in one bowl, just begging you to eat it and all its healthy glory. So dig in!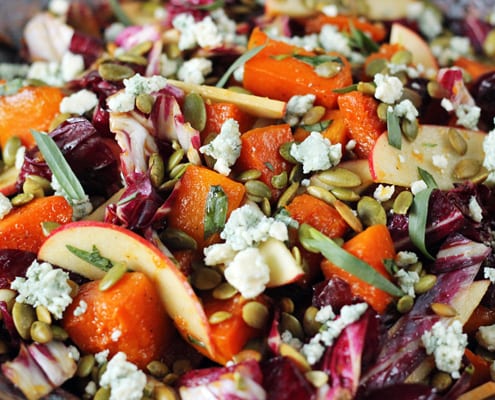 Roasted Butternut Squash Salad
A hearty fall salad with a kick. Delicious served warm or room temperature.
Ingredients
3 lb butternut squash, peeled, seeded & cut into 1" pieces
3 tablespoons olive oil
2 tablespoons brown sugar
½ teaspoon cayenne pepper
kosher salt & freshly ground black pepper
2 cups sliced radicchio, loosely packed (from about ½ small head)
1 apple, thinly sliced (I used gala)
¼ cup blue cheese crumbles
¼ cup pepitas
Maple Tarragon Vinaigrette
2 tablespoons olive oil
1 tablespoon maple syrup
1 tablespoon apple cider vinegar
1 teaspoon dijon mustard
kosher salt & freshly ground black pepper
1 tablespoon roughly chopped tarragon, plus extra to garnish
Instructions
Preheat the oven to 400 degrees F. On a baking sheet, toss the butternut squash with the olive oil, brown sugar, cayenne pepper, 1 teaspoon salt, and a little freshly ground black pepper. Bake for 25-30 minutes, just until tender. You don't want the squash to fall apart in the salad, so take it out as soon as it can be easily pierced with a fork.
Transfer the squash to a large bowl and mix with the radicchio to warm it through. To make the dressing, whisk together the oil, maple syrup, vinegar, and mustard. Season to taste with salt and pepper, then whisk in the tarragon.
Add the apples and vinaigrette to the squash mixture and toss to combine. Top with the blue cheese, pepitas, and a little extra tarragon.
Notes
The butternut squash packs a good amount of heat from the cayenne pepper. If the ½ teaspoon intimidates you, cut it down to ¼ teaspoon - you'll get just a hint of warmth.
Brittany Everett
A graphic designer by day, Brittany enjoys cooking, eating, photographing and discussing food with every other waking moment. She created Kitchenette, a food blog dedicated to making delicious comfort foods from scratch and with love.