Roasted Butternut Squash & Chunky Chicken Soup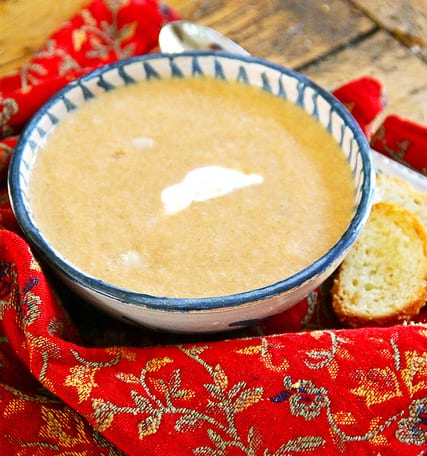 Thick and creamy butternut squash soup gets upgraded from appetizer to main course with the addition of some chunks of chicken.
By Susan Benton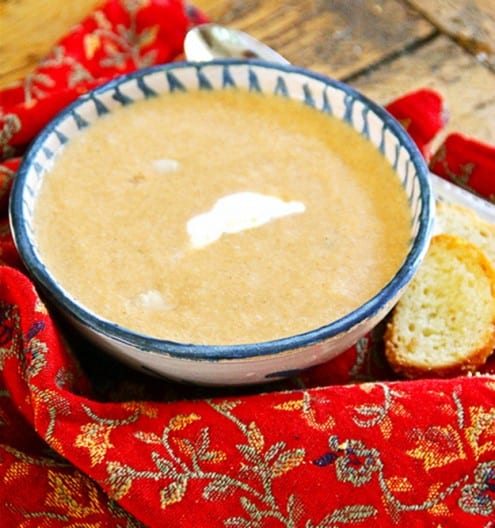 Roasted Butternut Squash & Chunky Chicken Soup
Thick and creamy butternut squash soup gets upgraded from appetizer to main course with the addition of some chunks of chicken.
Ingredients
8 cups chopped butternut squash
8 tablespoon extra-virgin olive oil
2 cups sliced shallots
4 smashed and chopped garlic cloves
1 teaspoon fine sea salt
½ teaspoon ground nutmeg
1 teaspoon ground cinnamon
¼ teaspoon cayenne pepper
1 bay leaf
1 fresh thyme sprig
½ cup white wine
7 cups low sodium natural chicken stock
1 cup plain Greek yogurt
3 boneless skinless chicken breasts cooked and cubed
Instructions
To roast the squash, preheat the oven to 350°F.
With a vegetable peeler, remove the skin from the squash. Carefully cut the squash in half lengthwise. Scoop out and discard the seeds. Chop into cubes and place the squash on a baking sheet and drizzle with about six tablespoons of the olive oil. Roast the squash until it is soft and caramelized, about 25-30 minutes.
To make the soup, in a large soup pot over medium heat, add the remaining 2 tablespoons of oil and then add the shallots, garlic, salt, pepper, bay leaf and thyme. Cook until the shallots are soft and translucent, about 3 minutes. Add the wine and cook until the mixture is reduced by half, about 3 minutes. Add the squash, stock, and yogurt. Cook until all of the flavors meld together, 25 minutes. Remove the bay leaf and thyme sprig.
Puree the soup in a Vitamix or blender, being careful not to overload the blender with the hot soup. (Before turning on the machine, be sure the lid is tightly secured to prevent the hot mixture from escaping.)
Add the chicken to the soup and top with a dollop of crème fraîche, sour cream or greek yogurt if desired.
Susan Benton
Susan Benton is the go to resource for foodies visiting Pensacola to Panama City Beach. She is a food and travel journalist with published articles and photography in many local, regional and national publications. Her website is 30AEATS.com where she writes about the secrets of Gulf Coast food.