Bad tasting Brussels sprouts is a thing of the past with this delicious recipe.
By Nancy Lopez-McHugh
I know there are many Brussels sprout hatters out there and this probably won't be a popular post. Which is fine with me because I happen to love those cute miniature cabbages. Growing up in my Mexican home Brussels sprouts were nowhere to be found. I only heard of their existence from one of my friends. She would complain and try to hide out at my house when her mother put Brussels sprouts on the dinner menu. So I just figured they were another one of those weird foods Americans ate, like Sloppy Joes. Mind you that opinion was formed without ever having tried one, much less laying eyes on a single Brussels sprouts.
The first time I saw or tasted Brussels sprouts was at one of my in-law's Thanksgiving dinner. My husband was surprised I had never eaten a Brussels sprout so he  insisted I have a taste. Let me tell you, I was so very pleasantly surprised. They were roasted to perfection with walnuts and red onions, heavenly. From then on I often asked my hubby to make them for me. My husband prepares his Brussels sprouts different then those at my in-law's and I love his just as much. He likes to boil them with very little water and lots of butter, and a few seasonings. Since learning to cook I continued to prepare them like my hubby taught me. Usually we just buy frozen for the convinience and fact that they are available year round. But the other day I found fresh, raw Brussels sprouts and I did a little happy dance.
I've been waiting to get my hands on fresh Brussels sprouts for a long time so you can imagine how excited I was to see them. Immediately I knew they would be roasted with a little oil and garlic. The almonds came to mind as a way of adding a little crunch and a bit more nutritional value to the side dish. So I kept it simple and below is what I did.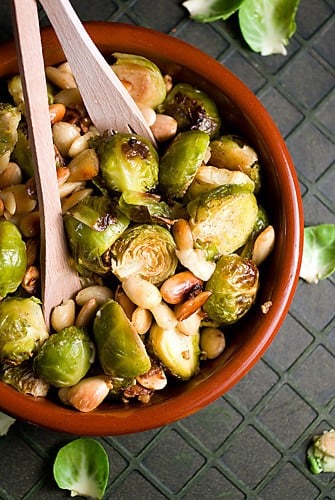 Many of you have probably asked yourselves, do Brussels sprouts come from Brussels? According to Wikipedia "many historian do not believe the plant originated there." So then why are they named after a city in Europe which they do not come from you ask? What I read said that they were cultivated in ancient Roman times in modern day Italy and in the 1200s in Belgium. What we know today as a Brussels sprout was cultivated in Belgium during the late 1500s in mass quantities and apparently that is the reason behind the name.
Did you know that Brussels sprouts are quite nutritious? Well they are! They are a good source of fiber, loaded with vitamins k and c, can help lower cholesterol, antioxidant, anti-inflammatory, good for your heart, they are just really good for you okay? I know the Brussels sprout haters are saying if they are so good for you then why do they taste so bad? Well, I'll tell you. It's because you or whomever cooked them for you overcooks them. Apparently overcooking Brussels sprouts causes them to release an unpleasant sulfur smell giving them that bad taste. So don't over cook them. But not just because of that smell but also because they loose their nutritional value. Since I'm guilty of overcooking Brussels sprouts I wont give you the best time to cook them but just know that the shorter the cooking time the best results you'll have. So give Brussels sprouts another chance won't you? Nod your head yes. Good foodie, now get in that kitchen.
Roasted Brussels Sprouts With Almonds
Bad tasting Brussels sprouts is a thing of the past!
Author:
Nancy Lopez-McHugh
Recipe Type:
Side Dish, Vegetable
Ingredients
500 gm or 1 lb. fresh raw, Brussels Sprouts
3 garlic cloves, minced
100 gm or 3.5 oz blanched almonds
olive oil, about 1-2 tbsp - adjust to taste
salt, to taste
ground black pepper, to taste
Instructions
Preheat oven to 200c or 392f . Properly rinse the Brussels Sprouts, remove any damaged outer leaves. Cut off bottom stem, then cut in halves. In a large bowl gently toss the Brussels Sprout halves with the remaining ingredients. Making sure to evenly coat the Brussels Sprouts.
Place in center of oven and roast until desired firmness. Please note that I roasted them for 20 minutes to our personal taste. But know that overcooking Brussels sprouts will cause them to release an unpleasant odor.
Nancy Lopez-McHugh
Nancy Lopez-McHugh is a food blogger, photographer and published author. Most recently she has published "Yummy Pics: A Food Blogger's Guide To Better Photos".