Roasted Brussels Sprouts and Fresh Radicchio with Eggs and Bacon Vinaigrette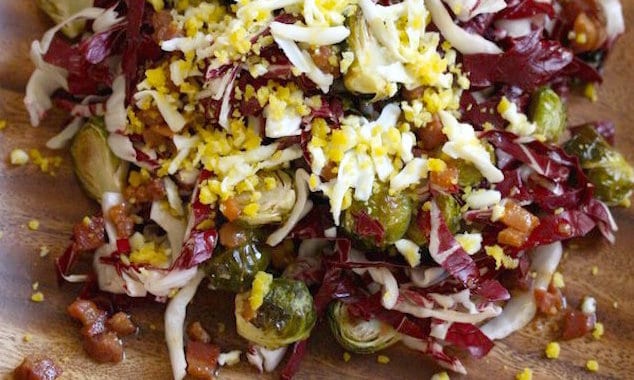 This roasted brussels sprout salad with bacon recipe is the perfect holiday side dish. The egg mimosa and salty vinaigrette is a great addition to the bitter radicchio and caramelized sprouts.
By Phoebe Lapine
Now that the temperatures have dropped I can't bring myself to buy anymore bags of prewashed arugula. I want something warm that can stand up to a little bit of cooking, something like a roasted brussels sprout salad with radicchio and bacon.
Since I'm notoriously bad at following cookbook recipes, this salad evolved via inspiration from several sections of Bitter. An overarching rule of thumb when faced with several of these pungently and surprisingly bitter vegetables seems to be add bacon whenever possible. I had done this recently with quick sautéed Dandelion greens and topped them with egg mimosa, which helped cut the bitter flavor with even more richness.
Instead of dandelion greens this time, I used a combination of pungently bitter warm roasted Brussels sprouts and born-to-be-bitter raw radicchio. When you toss the lettuce with the hot sprouts and vinaigrette, it wilts slightly and that bitter flavor seems to mellow all the more.
This has become one of my favorite fall side salads. Use a thick cut slab bacon or pancetta and a really good French Dijon mustard for the vinaigrette. It's a play on one of my favorite bitter salads, Frisee with a poached egg and lardons, and if you've ever had that dish, you know that the lardons are the first things to disappear from the plate.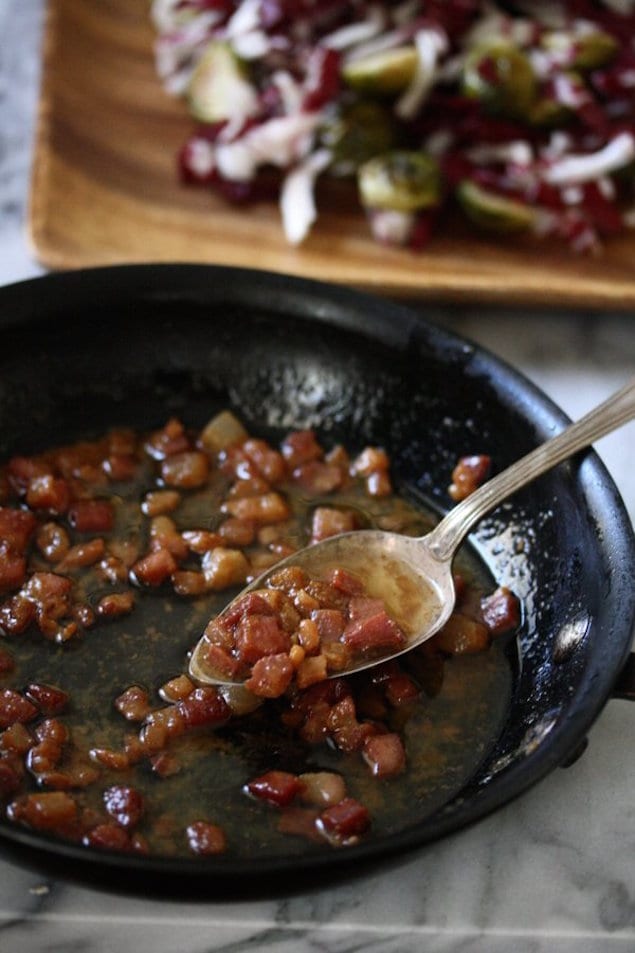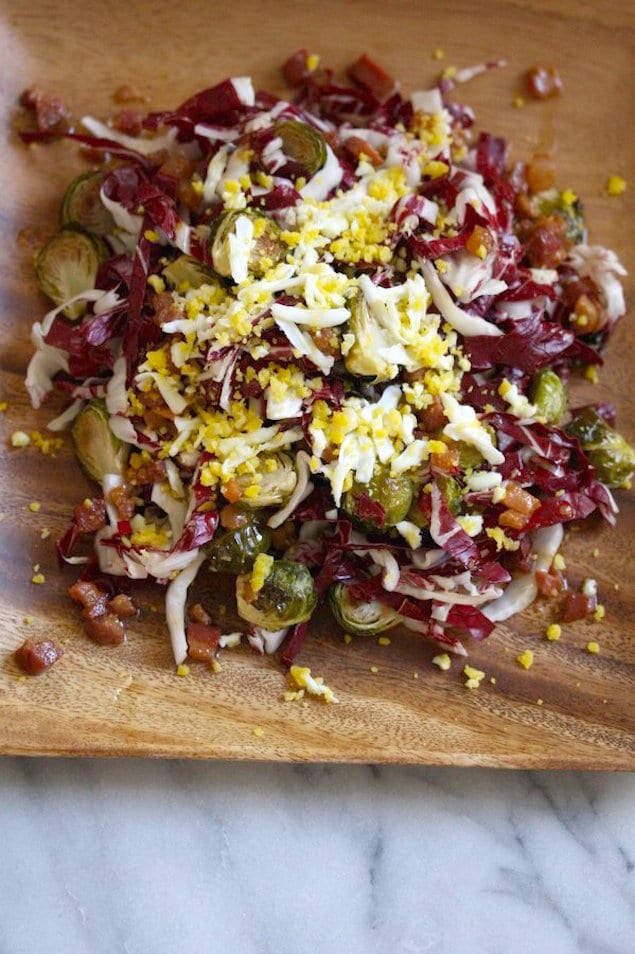 Roasted Brussels Sprouts and Fresh Radicchio with Eggs and Bacon Vinaigrette
This roasted brussels sprout salad with bacon recipe is the perfect holiday side dish. The egg mimosa and salty vinaigrette is a great addition to the bitter radicchio and caramelized sprouts.
Ingredients
1 pound brussels sprouts, halved
1 tablespoon olive oil
Sea salt
2 eggs
1 head radicchio, halved and thinly sliced
4 ounces diced slab bacon or pancetta
1 teaspoon Dijon mustard
2 tablespoons red wine vinegar
Instructions
Preheat the oven to 425 degrees F.
On a parchment-lined baking sheet, toss the Brussels sprouts with the olive oil until well coated. Arrange cut-side down and season with salt. Bake in the oven until browned and caramelized, 30 minutes.
Meanwhile, place the eggs in a small saucepan and cover with cold water by 1 inch. Bring to a boil. Remove the eggs from the heat and allow to sit in the water until cool enough to touch. Peel the eggs and press them through a coarse-mesh sieve into a bowl. Set aside.
In a small skillet, cook the bacon over medium-high heat until nicely browned and crispy. Remove from the heat. In a medium mixing bowl, whisk together the Dijon and vinegar. Add the bacon fat, a few drops at a time, and whisk until smooth. Fold in the remaining bacon and fat.
Arrange the radicchio and Brussels sprouts on a serving platter. Drizzle with the bacon vinaigrette and top with the egg mimosa. Serve immediately.