This delicious roasted vegetable recipe with Indian flavors is a great companion to almost any dinner.
By Chritra Agrawal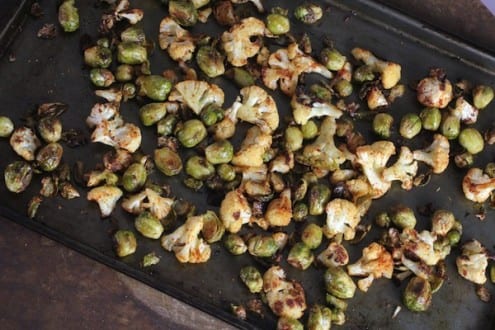 This is a special roasted vegetable recipe that is quickly becoming one of my favorites. This recipe calls for vangi baath powder, a South Indian masala mixture traditionally used to make an eggplant rice dish. It's one of the most flavorful spice blends made from clove, roasted dals, cinnamom, black pepper, red chili, curry leaves, etc. sounds good right? I wrote more about this dish here and gave the recipe for the powder, which you can also buy at the Indian store.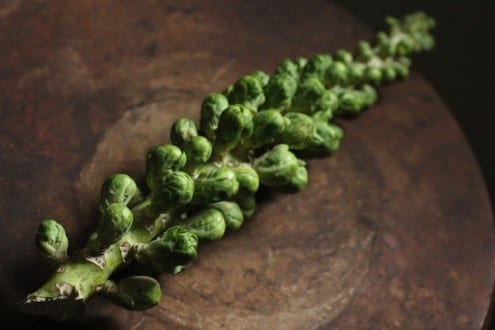 For an event I hosted at Jimmy's No. 43 with my friend Cathy, we kind of turned the traditional vangi baath recipe on it's head, using faro and roasted pumpkin and cauliflower instead. I ended up roasting the pumpkin and cauliflower with ghee and vangi baath powder and liked it so much that I've been following suit by roasting many of my winter vegetables in the same manner.
This time the lucky vegetables were brussels sprouts that I got off the stalk and a small head of cauliflower, which I picked up at the Fort Greene farmer's market. If you don't have access to vangi baath powder, you can sub in a good curry powder.
Vangi Baath Roasted Brussels Sprouts & Cauliflower
This delicious roasted vegetable recipe with Indian flavors is a great companion to almost any dinner.
Ingredients
1 pound brussels sprouts
1 small head cauliflower
3 tablespoons canola or vegetable oil
1 tablespoon ghee or melted butter
1-2 teaspoons vangi baath or curry powder (depends on how hot your spice mixture is)
salt to taste
cilantro for garnish (optional)
Instructions
Preheat oven to 400 degrees fahrenheit.
Mix together the oil and ghee and set aside.
Wash and cut brussels sprouts off of stalk and half them if they are large, making sure they are all similar in size.
Wash and break off florets from cauliflower and make sure they are all similar in size.
In a bowl, combine the brussels sprouts, cauliflower and oil/ghee mixture. Mix gently and add as much of the mixture to coat.
Place the brussels sprouts and cauliflower on a baking sheet and place in the oven.
Mix around the vegetables from time to time so they are evenly cooked. After the vegetables have been roasting for about 25 minutes (they should be close to done), take them out and gently mix the vegetables up with the vangi baath or curry powder. Depending on how hot your spice mixture is, you may want to use from 1-2 teaspoons of the powder and go from there.
Place baking dish back in the oven until the vegetables are fully roasted (5 more minutes).
Take the roasted vegetables out of the oven to cool. Add salt to taste and serve garnished with cilantro.
I had these atop brown rice with some yogurt and Indian pickle.
Chitra Agrawal
Chitra writes the food blog, The ABCD's of Cooking, which chronicles her adventures cooking American Born Confused Desi recipes. When she is not recipe blogging, Chitra can be found hosting her online cooking show and a supper club featuring Indian-inspired, vegetarian cuisine. She also teaches cooking classes and sells Indian street foods (sometimes yummy Indian tacos!) at events and artisanal markets in Brooklyn. Her cooking has appeared in the New York Times Dining Journal and she is a contributor to The Huffington Post, Gojee, The Daily Meal and Brooklyn Based.