Roasting beets concentrates their flavor to an intense, mouth-filling sweetness in this hearty side dish.
By Kathy Bechtel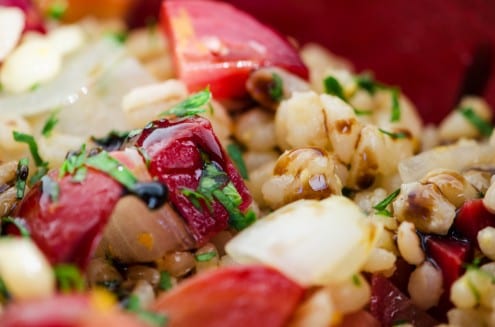 Roasted Beets and Barley
Roasting beets concentrates their flavor to an intense, mouth-filling sweetness in this hearty side dish.
Ingredients
1 cup pearl barley (for a gluten free version, substitute brown rice)
2½ cups chicken stock (or water)
1 - 4 roasted beets (depending upon size), cut into ½ inch dice
1 roasted onion, cut into ½ inch dice
2 tablespoons extra virgin olive oil
Zest of 1 orange
2 tablespoons chopped parsley
Kosher salt and freshly ground pepper
Balsamic glaze
Instructions
Preheat the oven to 400°.
Cut off the tops of the beets at the base of the stems and save to cook later. Trim the root ends of the beet bulbs. Wash the beets in cold water, then wrap them all together, or in two packets of aluminum foil, crimping the edge of the foil to seal tightly. Put them on a sheet pan.
Place the sheet pan in the upper part of the oven. They are done when they feel tender but firm when tested with a knife, about 1 to 1½ hours, depending on their size.
While they are still warm, but cool enough to handle, pull off their skin.
Rinse the barley under cold running water. Place in a large pot, add the chicken stock or water, and bring to a boil. Reduce heat to low, cover, and cook for 35 to 40 minutes, until the barley is tender. The actual amount of time will depend on how much the barley is 'pearled', or processed. Check, as more liquid may be needed.
Add the beets, onions, olive oil, zest, and parsley to the warm barley. Stir to combine, and season to taste with salt and pepper. Warm a bit over low heat if the beet and onions were cold. Serve, garnished with a bit more parsley and balsamic glaze.
Kathy Bechtel
Kathy Bechtel's obsession with food and cooking began as a teenager. After years following a traditional career path as a telecommunications engineer, she left to attend culinary school and wine training, and is now combining her passions for food and wine, the outdoors, and travel as owner and Culinary Tour Director of Italiaoutdoors. In this role, Kathy leads small bicycle, skiing and walking tours that explore the authentic regional cuisines, local products and undiscovered wines of Northeastern Italy.