An Austrian chef came up with this roasted beef roulade recipe that can be served with vegetable and potato filled dumplings to be a delightful comfort food meal.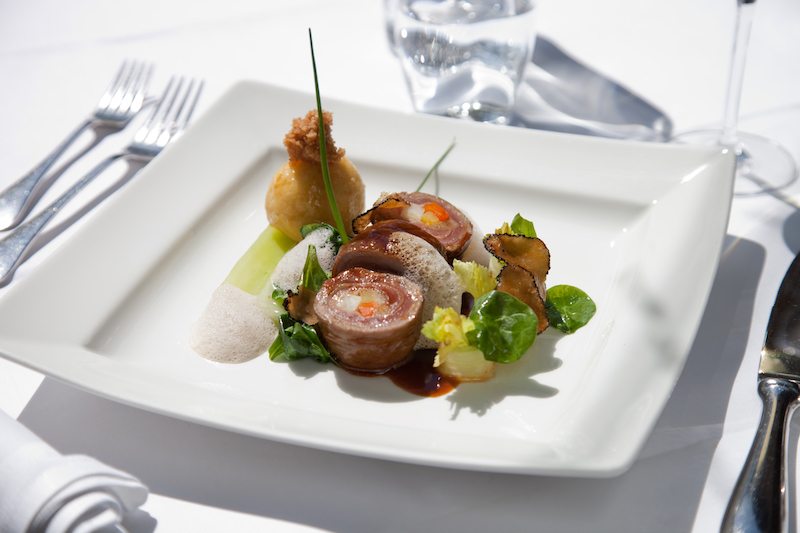 The best way to travel around Austria is with a car – you find some family-run hotels and restaurants which do not break the bank and offer delicious hide-aways for self-professed gourmets
I walked away very satisfied, even if my tummy was begging for mercy at the end of my Summer Vacation in the Austrian country-side. Loved it!
For more great places to visit, check out a truly authentic collection of gourmet hotels
Schlosshotels and Herrenhäuser – you really can not go wrong with any of these family-run places
Roasted Beef Roulade with celery vegetables and potato dumpling
Recipe by  Chef Christian Kastenmeier of Hotel Gmachl Elixhausen

Roasted Beef Roulade with Vegetable and Potato Dumplings
Author:
Christian Kastenmeier of Hotel Gmachl Elixhausen
Ingredients
For the Beef Roulade
4 slices of beef loin
salt and pepper
2 carrots
2 yellow turnips
1 leek
1 tbsp Dijon mustard
some olive oil
thyme
rosemary
2 shallots
Celery
1 stick celery
1 celery root
olive oil
1 clove of garlic
salt and nutmeg, to taste
½ liter of milk
Dumpling
500 g mealy potato
3 tbsp ricotta
200 g firmed flour
50 g butter
100 g bovine marrow broken
100 g cornstarch
5 yolk
Instructions
For the Beef Roulade
Season with salt and pepper on one side of the loin and spread with mustard. Cut vegetables into thin strips for short cooking. Cut the strip lengthwise into strips. Then place leeks and vegetables on the side of the short loin, which is covered with mustard, and form a roll. Combine the roll with the spatula and brown it in olive oil. Add the thyme, rosemary and quarter-cut shallots, and let it boil for 10 minutes at 75 degrees in the oven.
Celery
Peel the celery root and cut into 5 cm pieces. Then blanch in boiling water and quench in cold water. Fry the celery stalks in olive oil, season with salt and pepper. Remove from pan and cut into cubes. Then softly boil in milk with the celery root, remove from the milk and thoroughly purify. If necessary, sift through a sieve with salt and nutmeg and finish with the finely chopped chervil.
Dumpling
Hold the marrow under running, cold water for 10 minutes until the marrow becomes completely white. Then heat the marrow to room temperature and beat with a snow beaker until the mass reaches twice the volume. Season with salt and pepper and shape from the mass 20 grams of heavy balls, cold these in the freezer.
Cook the potatoes with the dish at 180 degrees for about half an hour in the oven and then cut in half. Use a spoon to hollow out the potatoes and allow them to evaporate briefly. Using a potato press, gently press on a work surface and make a small trough into which the melted butter and the remaining ingredients are gently worked in (not kneading). When the dough is smooth, season with salt and pepper and leave to rest for 5 minutes.
Divide the potato dough into 60 gram pieces, roll it lightly and fill with the marrow. Then quickly form a dumpling and boil in salt water for 10 minutes. Then pour it out of the water, drain and roll in brown butter
Dressing
Remove the meat from the spit and cut into 3 equal pieces. Place the celery puree in the middle of the dish and arrange the bars in parallel. Place the meat on the celery puree, sprinkle with some beef sauce and place the dumpling next to it. Sprinkle with fresh herbs!